Anyone who plays video games has some knowledge of what Minecraft is. That is the sheer presence it has in the gaming community. The idea that you can choose how to play your video game is something that can draw almost anyone in.
You can choose to be creative and construct whatever you want, or be smart with how you use the raw materials you collect. How you play your game is up to you, and the best part is that you can bring your friends in on the fun.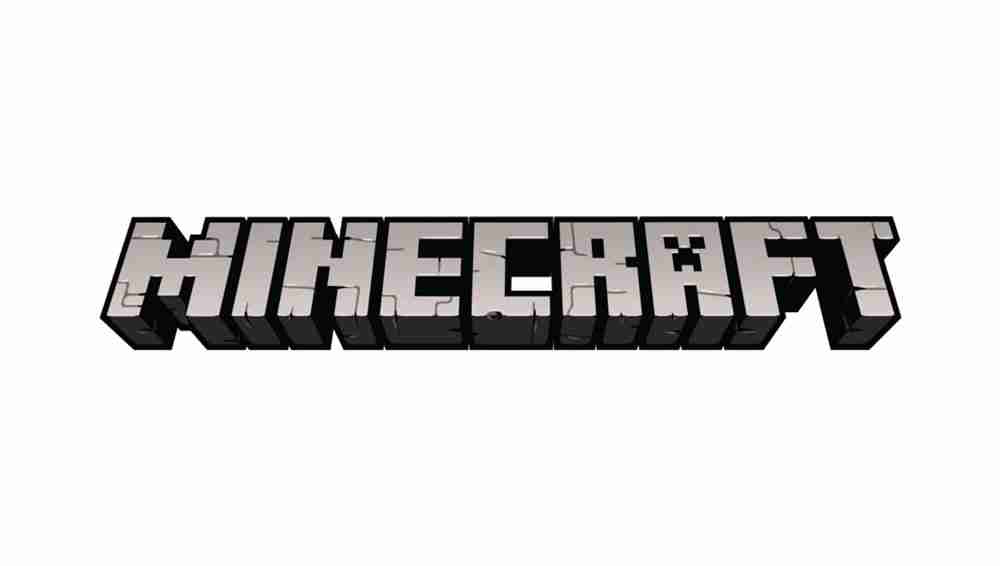 If you are one of the few people who don't know about the game or are an active user who wants to learn how to lodge your complaints, this article will help with that. Minecraft offers a comprehensive list of different pages online that answer different queries may have. What's more, it has an active social media presence in which you can communicate with a representative for any of your questions.
About Minecraft
One of today's most popular video games began with a Swedish coder who wanted to bring something new to this world. Markus Persson released an alpha version of the game in 2009, and soon after its release there was an immediate growth in the number of paid users of the video game. It was not until November 2011 that the beta version of the game was released to the public.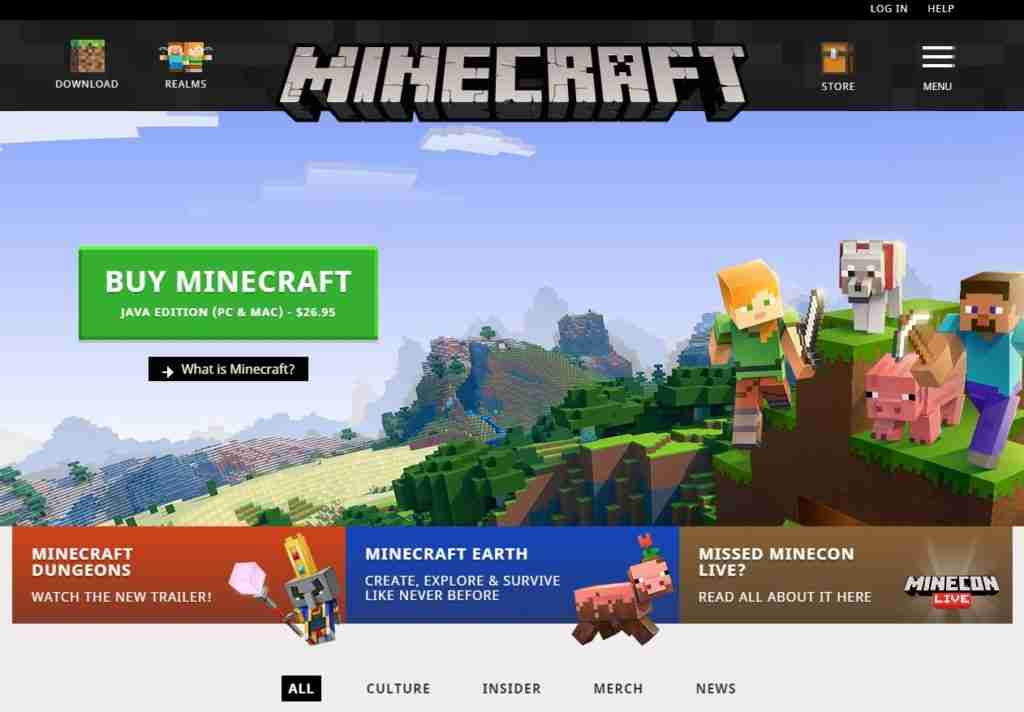 The sandbox game excels at giving its players the freedom to play it how they want to. There are two main modes for the game: Creative mode and Survival mode. Creative mode gives players the opportunity to use an infinite number of resources to build to their heart's content. Survival mode, on the other hand, leaves it to the player to explore the virtual world searching for resources to feed and shelter themselves.
Minecraft is game about building and creating new structures using raw materials. The different modes dictate how the player uses the materials they manage to collect. The nature of the video game's gameplay offers its users to be creative with how they use the materials at their disposal.
What's more is that players don't have to play alone. They can play along with up to 10 friends in a realms (servers) created and designed for you. You can then choose to do whatever you wish to. This includes, and is not limited to, creating, competing or surviving.
Minecraft's support services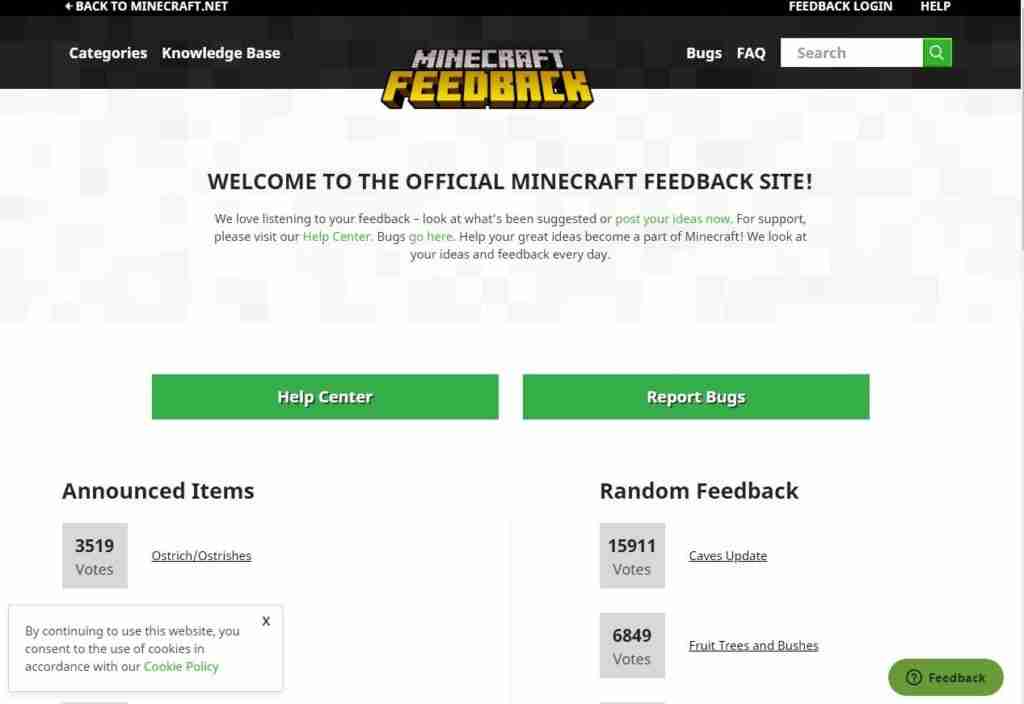 Minecraft has a feedback website which offers two links that direct you to its Help Center and its Bug Reporting website— both of which are comprehensive and offer answers and resolves a range of topics and bugs related to the game.
Help center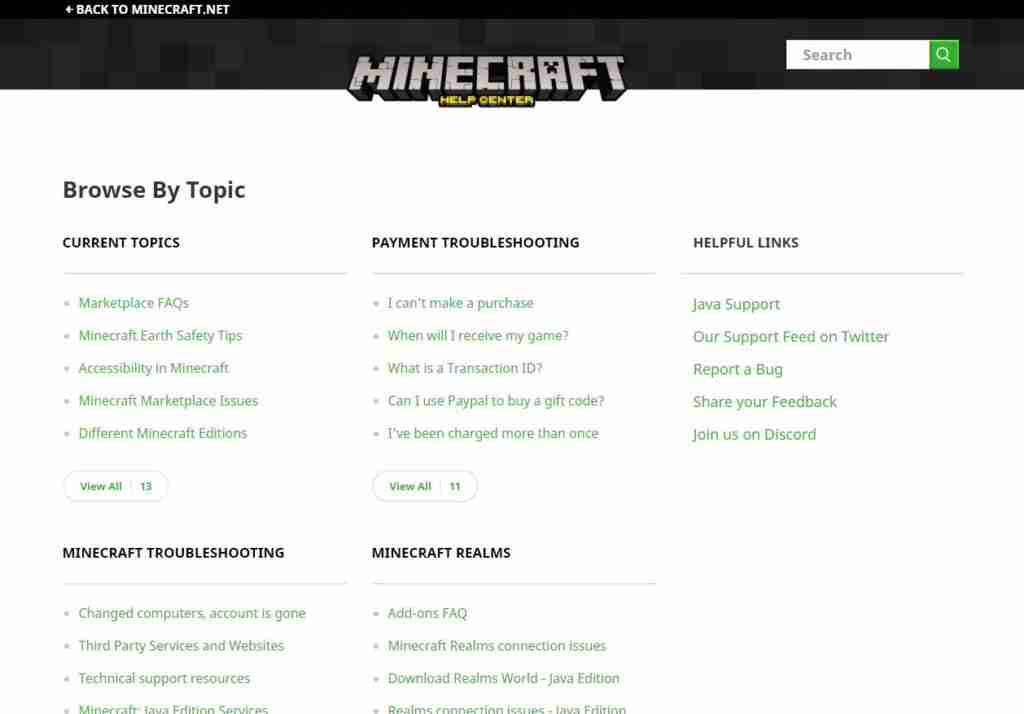 Minecraft's website includes a dedicated Help Center which has multiple sections divided according to the topics they address. The Help Center has an exhaustive list of topics ranging from the game's accessibility to account support and payment problems. Rest assured, this section has an answer to whatever question you may have.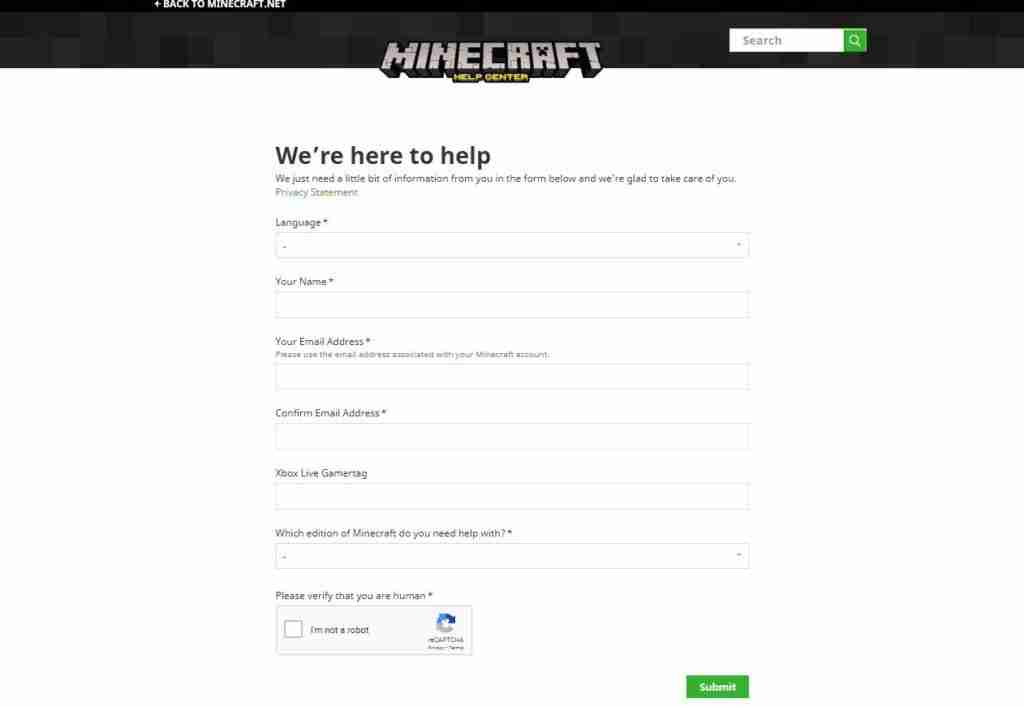 Minecraft is a video game and its contact section is designed for people who want to quickly get in a request at one place. The contact section on the video game's website is ticket-based. The list of questions asked are your name, email address, Xbox Live Gamertag, and the version of Minecraft you need help with. Here, you can post any requests which you would like to make and then wait for a representative to get back to you.
Minecraft bug reporter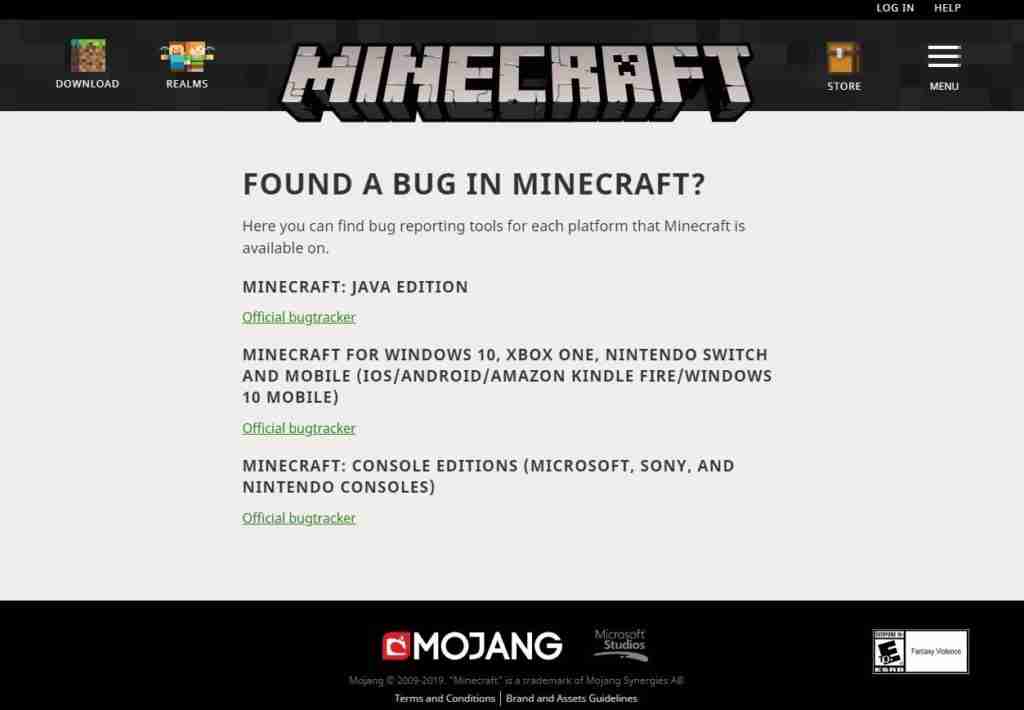 There is, however, a different process for reporting a bug you may have encountered in the game. The game's website includes a page dedicated to the Minecraft bug reporter. This is a platform for reporting any bug you encountered and the gaming console on which you came across it.
It is divided into three sections depending on the platform you encountered the bug on. They are as follows:
Minecraft: Java Edition
Minecraft for Windows 10, Xbox One, Nintendo Switch and Mobile (IOS, Android, Amazon Kindle Fire, Windows 10 Mobile)
Minecraft: Console Editions (Microsoft, Sony, And Nintendo Consoles)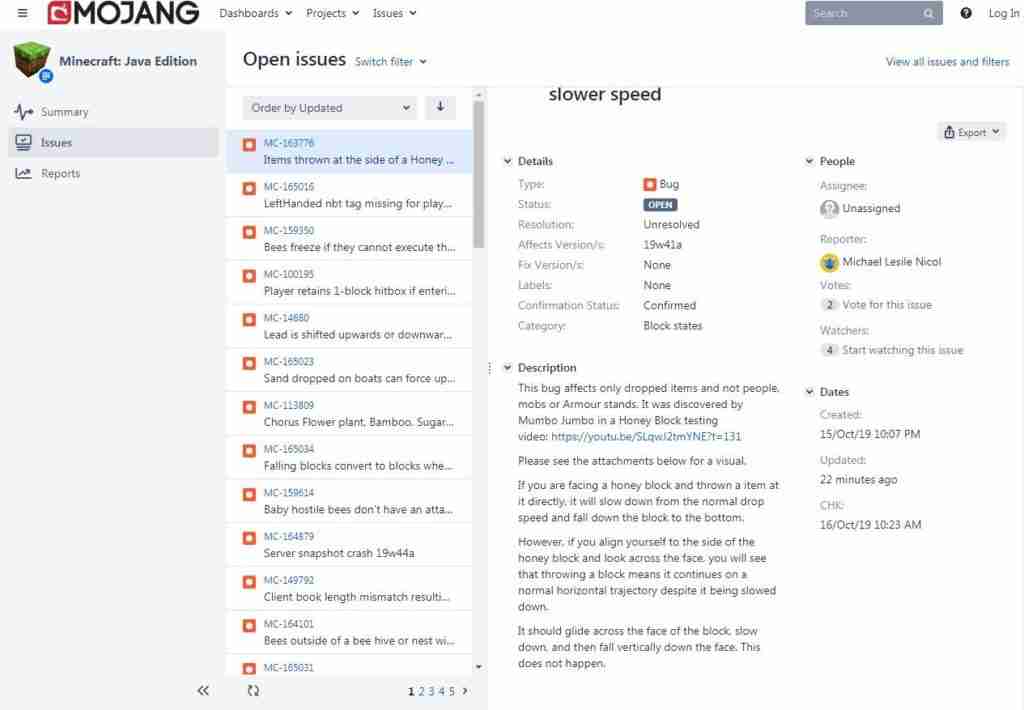 The Bug Tracker requires an account for reporting your bug with a list on the left of the exact bug. Within each section of the bug the details of the bug are present on the right. This includes the resolution status of the bug, a description of it, and a comments section for users. There is also a search bar at the top right for easy searches for the details and status of a specific bug.
Social media support
Minecraft exists on 4 of some of the largest social media platforms – Facebook, Instagram, Twitter and YouTube. Each of these is the official accounts of Minecraft and can be used to ask questions about the video game as well. Like the game, the pages have a large following with Facebook taking the lead with 11.4 million likes.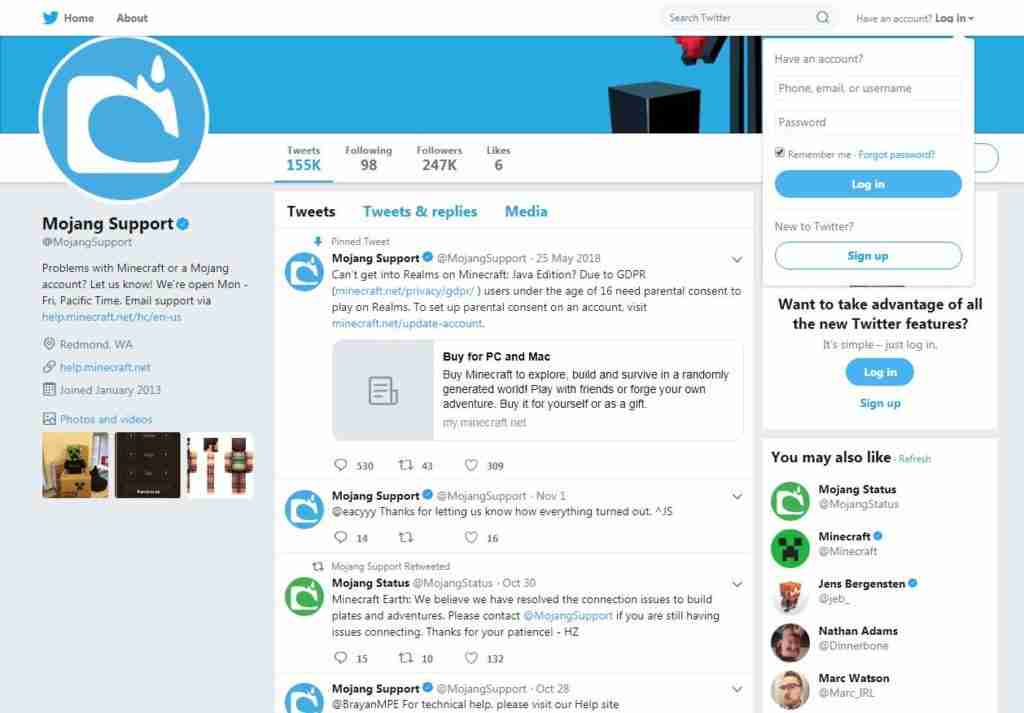 In addition to that, Minecraft also has a Twitter page called Mojang Support that addresses any problems users may have with the game or their accounts. The description of the page dictates that they are open from Monday to Friday, Pacific Time. They have also attached a link to their help center. Minecraft has taken steps to make their customer support accessible by including a social media page dedicated for customer support, and users should make use of it.
Stay in Touch with Minecraft
How much more freedom can players ask for than what Minecraft already offers? It also releases new texture packs, adventure maps, and character skins so that players have something fresh each time. You can even get a realm and come up with a gameplay strategy just for you and your friends. Learn more about the endless possibilities Minecraft offers by visiting their website and then be on your way in the virtual world.