Miele is Canada's premium supplier of high-end home appliances and commercial equipment.
Established in 1989 and headquartered in Vaughan, Ontario, Miele Canada is well-known for its high-quality products and impeccable customer support services.
It sells almost all of its domestic products direct to consumers via meticulously chosen Miele Chartered Agents.
Thanks to Miele's ever-growing popularity in Canada, it has established Experience Centers in multiple Canadian cities – Calgary, Montreal, Toronto, Vancouver, and Yorkdale.
Customers can explore, experience, and buy Miele appliances at these centers. Miele Canada also offers special events, cooking classes, and demonstrations to its users.
Miele Canada strictly operates with the motto, "Forever Better." You can see this philosophy in its impressive products and the high standards of customer service that Miele Canada upholds via its official website.
How to Get in Touch with Miele Canada Customer Support Services
Here are some ways in which Miele takes exceptional care of its customers:
Contact Miele Canada
You can contact its customer service representatives by dialling:
If you want customer care support, you can call on this number between 8:30 am and 7:00 pm EST, Monday to Friday. On Saturdays, you can call the company between 9:30 am and 6:00 pm EST. If you want technical support, you can call between 8:30 am and 7:00 pm EST, Monday to Friday.
Alternatively, you can also dial to talk to the store staff:
You can reach out to them from 10 am to 6 pm, Monday to Friday, and 10 am to 5 pm on Saturdays.
You can also mail the company's headquarters at this address:
161 Four Valley Drive
Vaughan, ON
L4K 4V8
If you want to contact the individual stores, then you can e-mail them. Here's how to reach Miele Canada's stores:
Customer Service Forms
Miele Customer Service provides you with the opportunity to get in touch with its representatives by filling out the following forms:
Once you have filled all the required fields in your chosen form and sent it to the company, one of its expert customer service representatives will reach out to you and solve your problem.
Miele Canada's Customer Support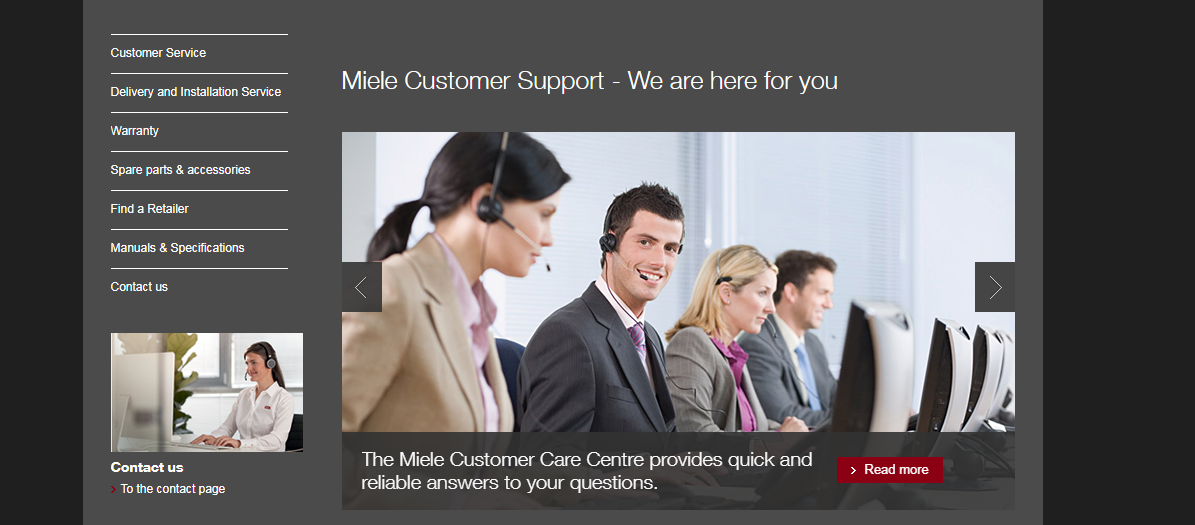 Miele Canada offers its customers the following customer support services:
Miele Customer Services
When you buy a Miele appliance, you can rest assured that the company will provide you with rapid and effective service assistance if you face any difficulties with it.
The website provides you with a comprehensive troubleshooting guide. It enables you to search for your product and figure out how to fix the problem you are facing with it.
Miele also provides you with at-home service appointments with factory trained Miele and independent service technicians. If you set an appointment with the Miele Service Department, an expert can come to your location and fix your product in-person.
To set up a service and repairs appointment, you can call the company on the following number:
The company also provides you with a comprehensive FAQs webpage, where you can browse through a wide array of FAQ categories based on Miele Canada products.
You can select a product category and browse through the tips on installing, using, and maintaining your product. Each tip category has numerous questions with helpful answers.
Self-Help Videos
Miele Canada wants to help its customers in whatever capacity possible. In this stride, the company offers you handy Self-Help videos, which you can watch to learn tips and tricks on using and maintaining your Miele appliances. You can watch these videos to find solutions to your queries.
Delivery and Installation Service
Miele wants you to know that it will be there for you every step of the way. It's why the company offers its customers delivery and installation services for its products. Miele Canada tracks every delivery with GPS so that it can provide you with the exact time of delivery.
Warranty & Product Registration
Miele Canada provides its customers with unique service packages with specific benefits. You can opt for the extended warranty package, which promises durability and premium quality. The extended warranty program offers an exclusive warranty of up to ten years.
The company also offers you the opportunity to fill an online Vacuum Warranty Registration form on its website. It will hardly take a few minutes of your time, and you will be able to secure a warranty for your product.
Furthermore, it offers a comprehensive Miele Forever Care package with multifold benefits. These include an extended warranty, delivery and installation services, service and repair facilities, extended warranty of two years, and a range of everyday and specialty care products to maintain your Miele purchase.
Spare Parts and Accessories
Miele offers a wide range of original spare parts and accessories for all its products. It enables you to use your appliances efficiently and conveniently.
You can easily order original Miele accessories for your appliances from the company's online shops. You can also choose from a wide array of cleaning products to maintain your Miele appliance.
Find a Retailer
Miele Canada provides you with a helpful "Find a Retailer" webpage. All you have to do is enter your postal code or city and click on the appliance or product you need. The website will generate Miele retail store locations that are closest to your location.
Alternatively, the website offers you the opportunity to shop for your chosen product from the comfort of your home. Miele provides you with a one-on-one live video or telephone call service with its sales team. You can book an appointment for your chosen product and decide if you want to buy it or not.
Brochures and User Manuals
Miele offers its customers helpful user manuals and brochures for all of its products. All you have to do is enter the product name, serial number, and operating instruction manual material number to access the manual.
Miele Canada's Social Media Platform
Miele Canada is active on the following social media platforms: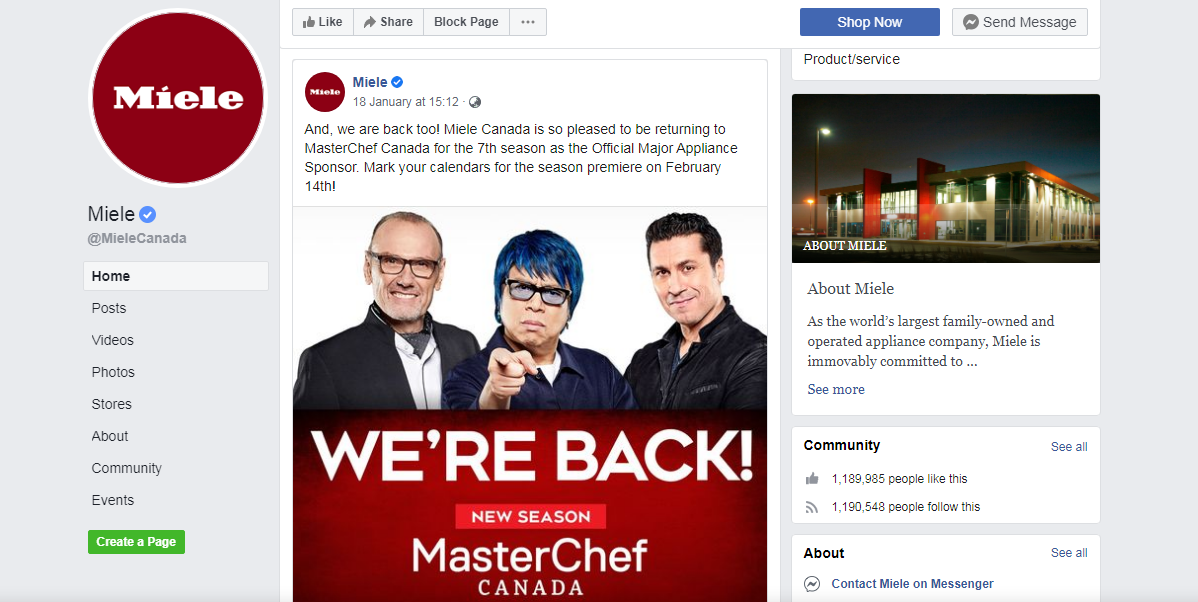 Miele Canada ensures to post on Facebook and tweet on Twitter regularly to keep its followers informed about all of its latest products. It uses its YouTube channel to share informative videos with its subscribers on how to use its products.
You can follow the company on these platforms to stay updated. You can also use these platforms to get in touch with Miele Canada's customer service representatives and discuss your concerns, queries, or suggestions with them.
The Bottom Line
Miele Canada is devoted to offering exceptional support services to its customers. Whether it's via its meticulously detailed website, active social media platforms, or customer service representatives, Miele wants you to know that it has got your back!