The dream car of every young man and woman – Mercedes Benz is truly a prize to own. The German automobile giant found its foothold in 1926 under Daimler Benz. But, the roots go way back. Karl Benz – the rightful owner of the first automobile in 1886— is considered to be the co-founder of the monumental Mercedes Benz. Gottlieb Daimler was the other luminary in the making, who gets credit for producing the first gas-powered car engine.
Together, Benz & Cie. and Daimler-Motoren-Gesellschaft founded the Daimler-Benz motor company in 1926, which later evolved into the esteemed Mercedes-Benz motor company that we know today. With its head-quarters sitting in Stuttgart, Baden-Württemberg, Germany, Mercedes Benz is truly a marquee in the context of cars.
One of its finest models that illuminated the 1930s-40s was the world-class Mercedes-Benz 770. The luxurious high-end vehicle was the epitome of class, style, and performance. Frequently used as a state vehicle by the likes of Pope Pius XI and Paul Von Hindenburg, the car model can be easily found in German archival footage.
However, the automobile behemoth has left its footprint all across the globe. Mercedes Benz has received a total of ten awards in the Automotive Brand Contest in 2016 and has won the top award twice.
Now in 2019, the company is just as dynamic and stylish as it was in the 90s. With innovative and tech-savvy efforts, Mercedes Benz aims to take over the world with artificial intelligence.
Mercedes-Benz Customer Support Services
With such an excellent acclaim to its name, Mercedes-Benz boasts a powerful slogan, "The best or nothing". And, truly, its success lies in crafting high-quality, stylish vehicles that have stood the test of time. The company has proved itself with terrific customer support service.
Purchasing a high-end car can be a daunting experience, but Mercedes-Benz takes care of all your questions, concerns, and queries. Serving as the first port of call, the company offers prompt call, live chat, and E-mail response for both international and national inquiries.
They have a highly professional and skilled retail network that liaises closely with business partners to problem shoot and resolve every issue a customer has. Over time, Mercedes-Benz has cultivated various channels to connect with their customers, whether it's through a phone-call, a letter, a quick E-mail, or social media.
It also introduced a fantastic customer support feature known was Mercedes me – a digital service exclusively designed for Mercedes drivers. This service helps to set up an online Mercedes account, understand the terms and conditions, and find a Mercedes-Benz dealer in your area.
Here's a break-down of how to get in touch with the company.
Place a Request
The company has an international website with options that transfer you to your respective country. The international website has an extensive page where you can fill out your personal details, the country where you're from, and your personal request.
In most cases, the company replies on the same-day or a day later. Placing a request regarding your warranty issues or seeking help to find a dealer can be discussed over here.
Finding a Dealer
As a customer, Mercedes-Benz is fully aware of your uncertainties and doubts before buying a car, and therefore offers a great feature to instantly locate a reliable dealer. It allows customers to find a dealer in their specific region through a real-time Google map.
Call
Mercedes-Benz is available for both national and international countries on the following number:
1-800-FOR-MERCEDES (00800-97777777).
It also offers a Takata recall hotline – 1-877-496-3691 – that offers prompt support in case of passenger-side and driver-side airbags. The company offers a safety recall to fix any sub-standard issues, free of charge.
On the website, the Mercedes hotline has detailed steps on which numbers to press for the respective customer issue. Whether it's Roadside assistance, Financial Services, Connected Car Service, or Customer Care, the hotline immediately contacts you with a representative for fast and speedy assistance.
Most of the services are available 24/7. However, if you need support for older vehicles or roadside assistance, you will have to contact the centre between 9am and 9pm.
Other useful Mercedes numbers:
Mercedes customer relations: You can contact the Mercedes-Benz Canada Customer Relations calling the toll-free number 1-800-387-0100. The service is active from 9am to 5pm
Mercedes roadside Assistance: You can call the toll-free, 24/7 number 1-800-387-0100
Mercedes Financial Services customer relations: The number to dial is 1-888-LEASE MB (1-888-532-7362)
E-mail Service
The company's website offers a detailed form to fill in for an E-mail. After entering your details and VIN, you can type in an E-mail or letter that can be sent to any of their given office locations. On the page, just beside the "E-mail Us" section, you can find the address to their Main Office, Regional Office, Customer Assistance Center, and Parts Distribution Center. The ready references make it easy for the customer to contact the specific agent for their vehicle or warranty issue.
Live Chat
Next up is the company's Live Chat feature, which has been making rounds recently. A live chat feature offers the perfect opportunity to connect with the customers in real time. The agent will know exactly when a customer has logged in and will answer all their questions there and then through an online chat.
Live chat is far more convenient than placing a call and eases agent-customer communication. However, the chat service isn't available 24/7. It's available from Monday-Friday between 9 am and 4 pm.
Social Media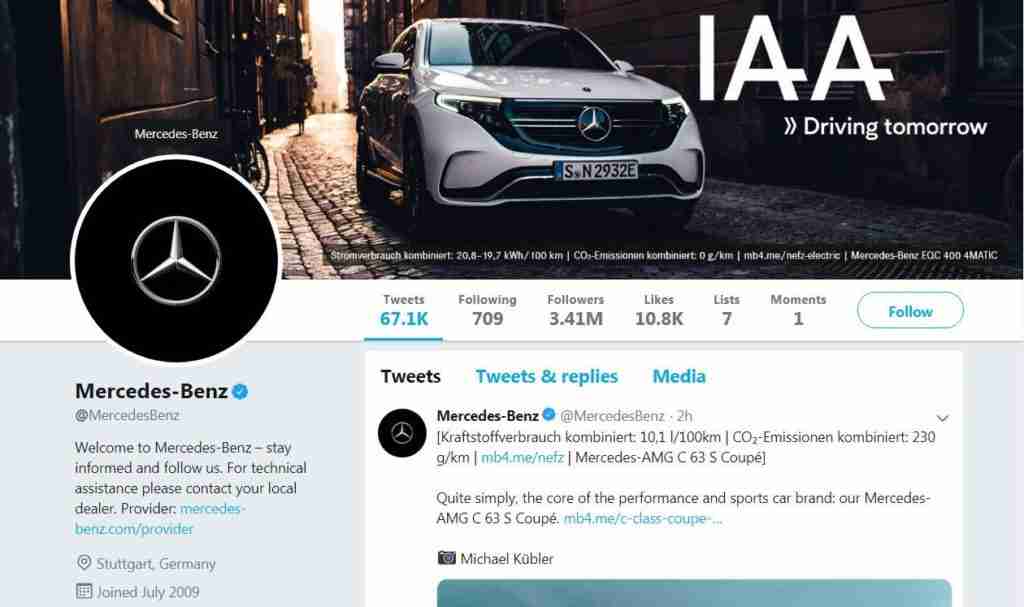 You can also get in touch with Mercedes-Benz and stay updated with their offers and promotions through their Twitter handle, YouTube, Facebook, and Instagram.
FAQs
Mercedes-Benz also has an incredibly helpful and user-friendly FAQs page, which provides ready answers to your queries concerning warranty policies, gasoline and mileage issues, how to set up your Mercedes account, and even minor issues like paint sealants.
Stay In Touch with Mercedes-Benz
Mercedes-Benz has proved that they truly value their customers and are ever-ready to offer immediate support for any issue or trouble that you may have. You can use the above-mentioned numbers, E-mail page, and social media handles to get in touch with them!