McCain provides people with the best snacks and frozen foods. It is one of the best multinational frozen food companies in Canada.
It has built a stellar reputation in the past 60 years by not only offering people with quality food but also by serving its customers and making sure that each individual is treated with respect and dignity, as mentioned in their accessibility plan.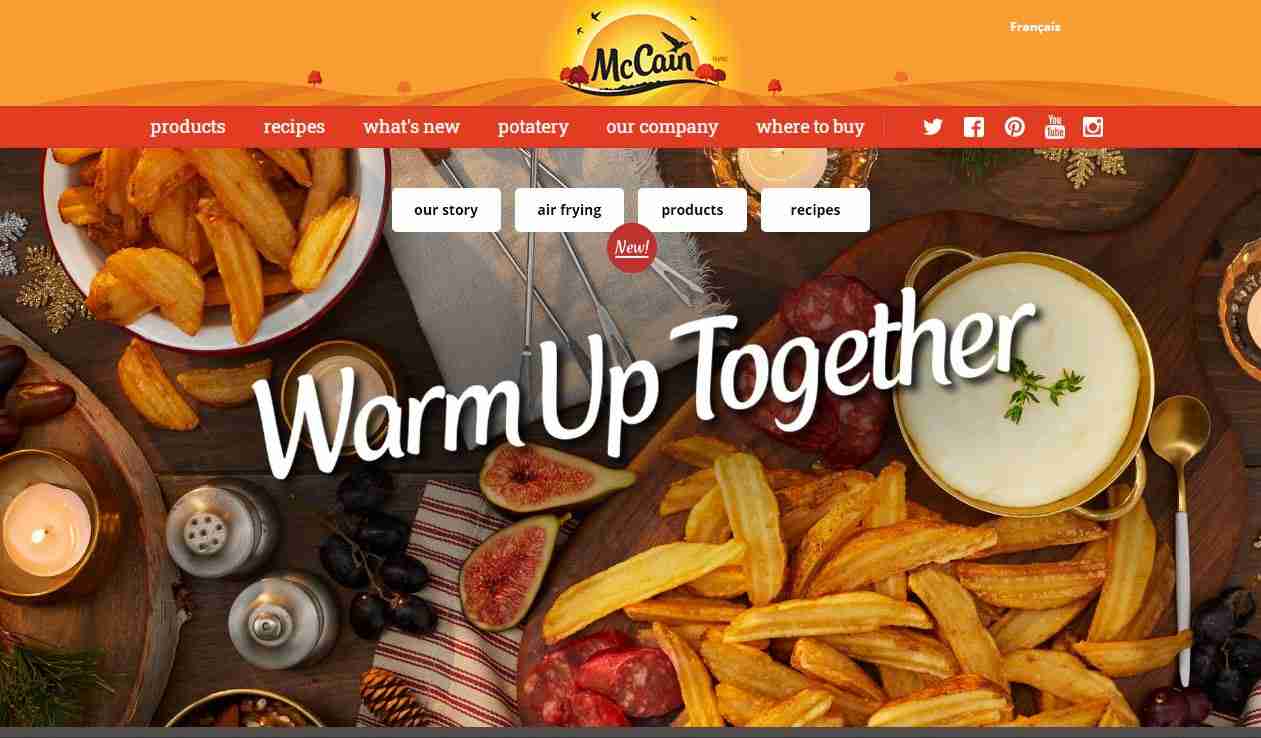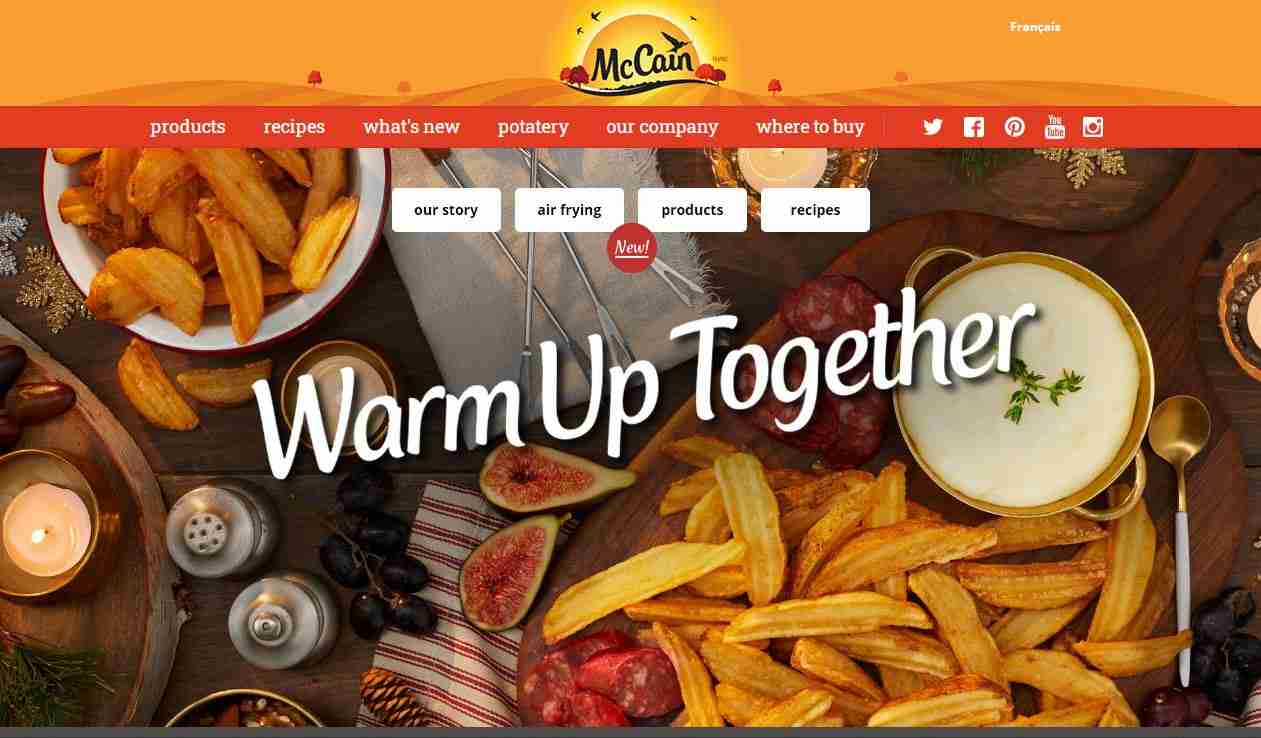 About McCain
Co-founded by brothers Wallace McCain and Harrison McCain, McCain food was introduced to the public in 1957. This Canadian company started with one goal — to offer people wholesome food.
The first ever snack they offered was potato chips and after their popularity, the brothers expanded their business to the frozen food market, which included frozen vegetables, pizzas, breakfast and sides for meals.
The secret to their exceptionally-tasting snacks is top quality potatoes that are grown by Canadian farmers who have honed their skills for decades. To know more about McCain's top quality produce, get in touch with them.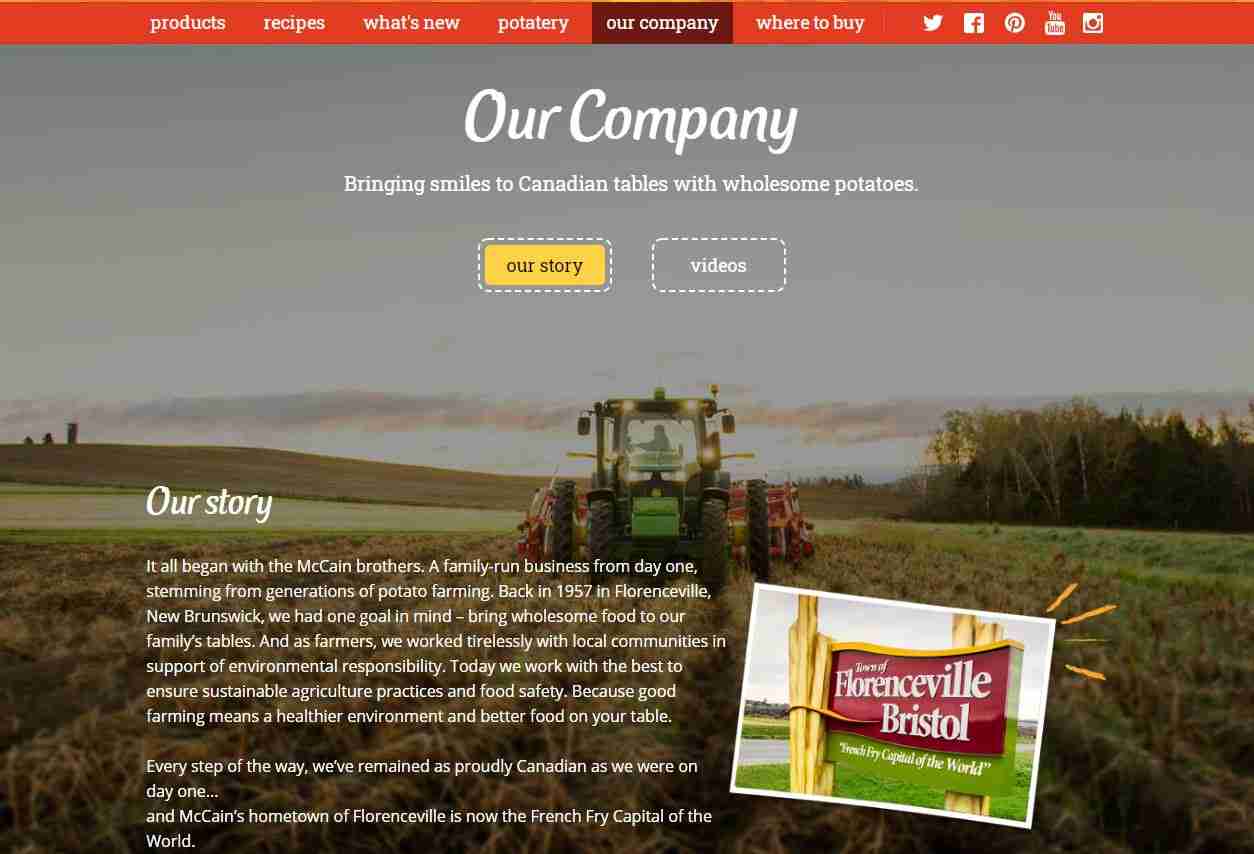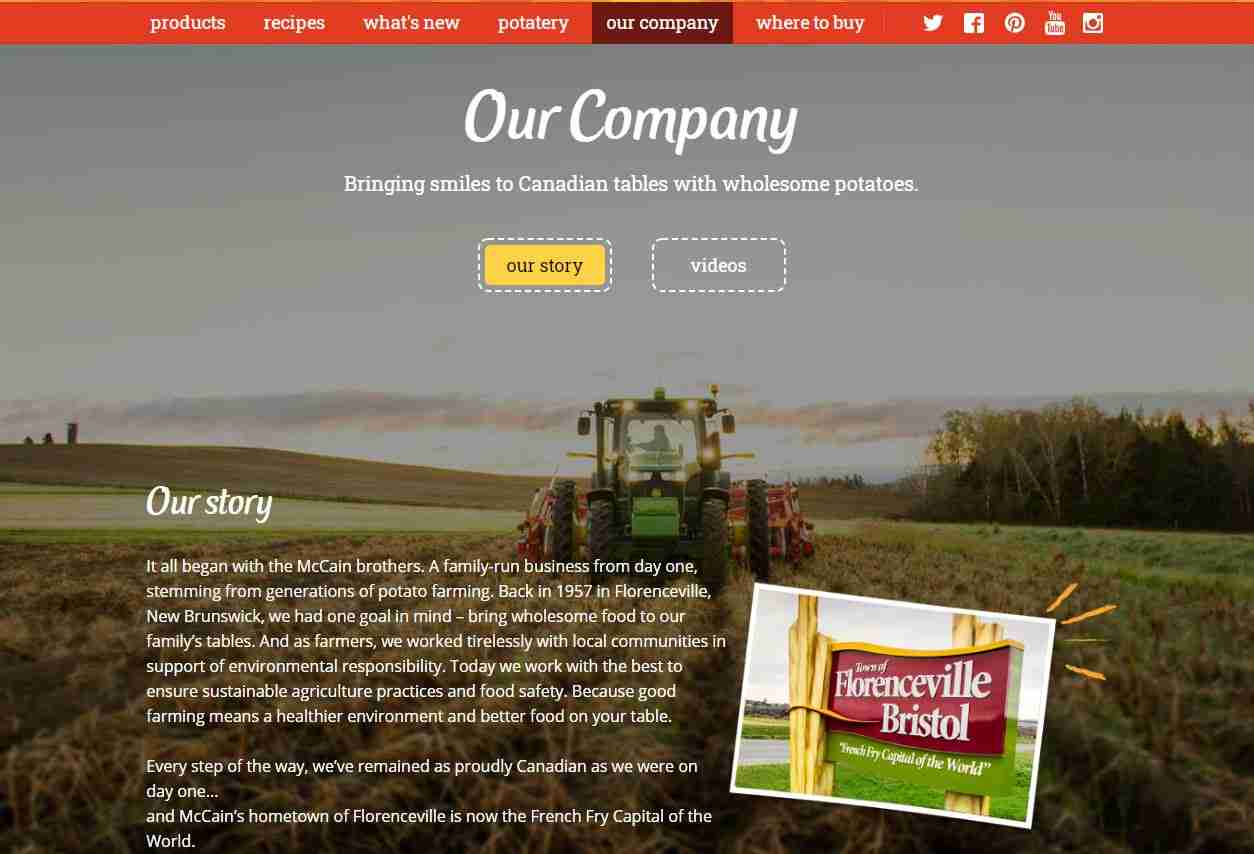 McCain's Customer Support Services
McCain's customer support services are exceptional. All the ways in which you can reach out to them are mentioned at the bottom of the homepage. Furthermore, the 'Contact Us' page leads you to other pages through which you can reach out to a McCain representative.
Let's have a look at all the customer care services that McCain offers.


Find McCain – Store Locator
McCain offers a "deep search" option for its customers and retailers when it comes to finding a store in their area.
All a visitor has to do is select specific products from the list and enter their area's ZIP code for the store locator to provide them with all the store addresses in that city.
There's no limit on product selection, so you can choose multiple products or all of them.
Product Request Form
If you didn't find your product through the store locator option, then the page provides customers and retailers with another option — a product request form and a retailer request form.
A customer can select the products they are looking for from the list on the right and enter their information on the left. The company will then email them with the location of all the stores where they can find their products.
Call Support and Mailing Address
The 'Contact Us' page offers the company's mailing address, as well as the toll-free number that you can call on for inquiries.
Do make sure that you have your product's production and UPC codes so that the customer service representative can provide you with a solution to your problem on the phone.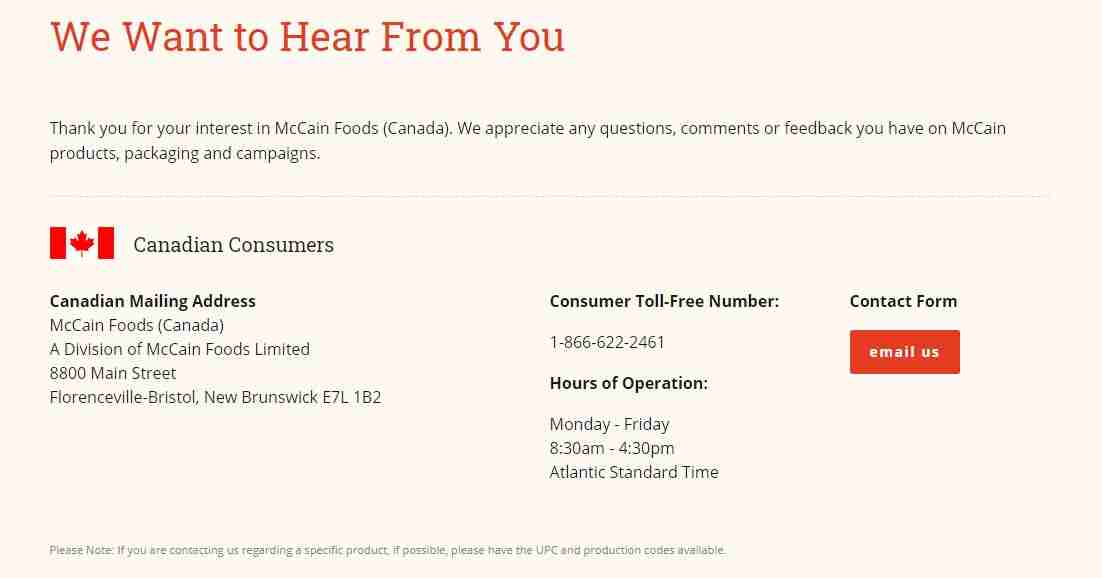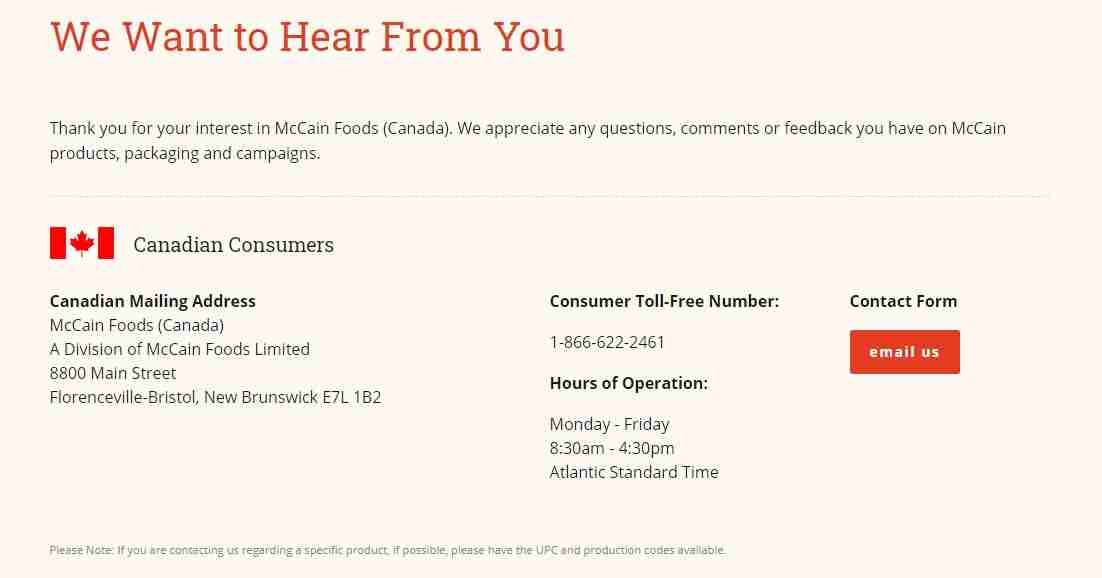 Following are McCain's contact information and operating hours.
Monday to Friday: 8:30 A.M. to 4:30 P.M. (Atlantic Standard Time) Toll-Free Number:
Media Inquiries:
Donation Requests:
Mailing Address:
McCain Foods (Canada)
A Division of McCain Fo​ods Limited
8800 Main Street
Florenceville-Bristol, New Brunswick E7L 1B2
E-mail Service
McCain offers a pretty extensive email form. Along with your personal information, the form also requires details about the products that you bought and from where you bought them.
There's also a comment section along with options for uploading images. This way, customers are able to ask about their problems with a detailed query and the company replies with a targeted solution.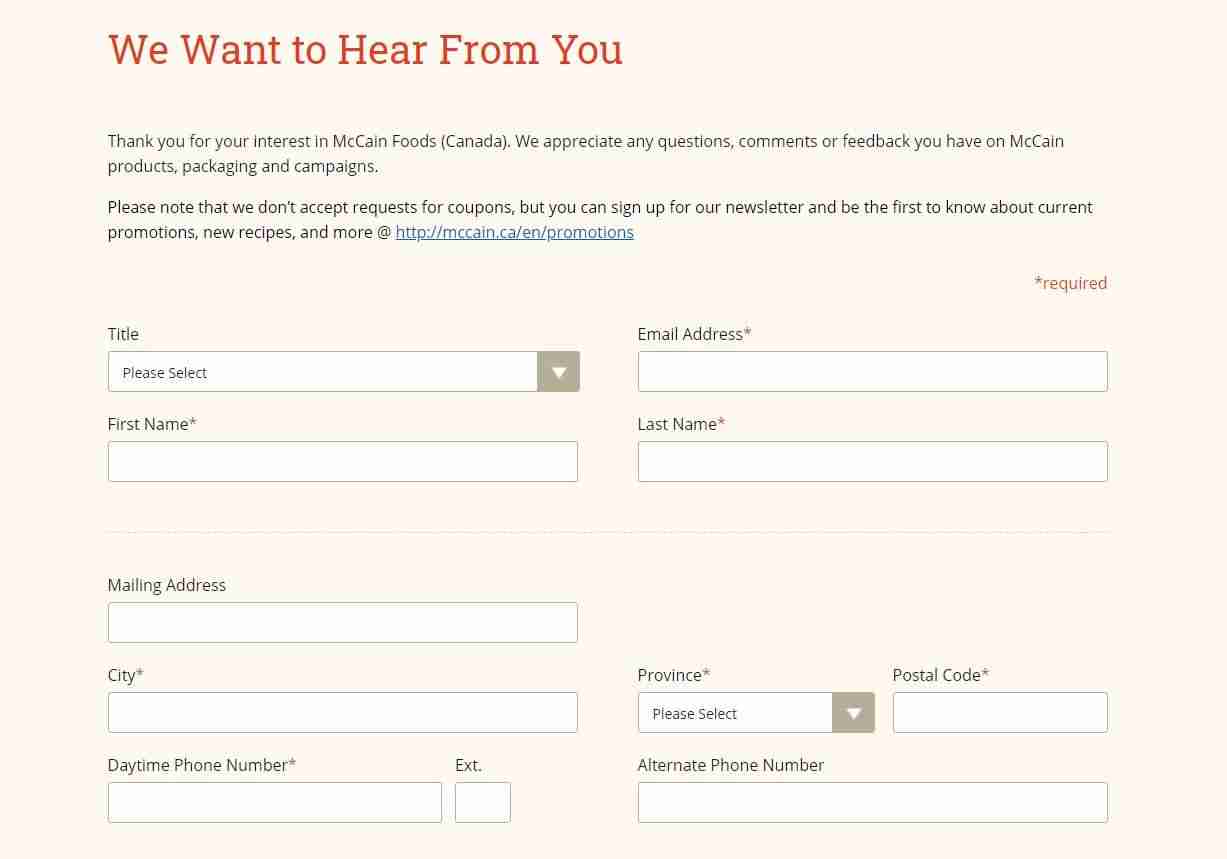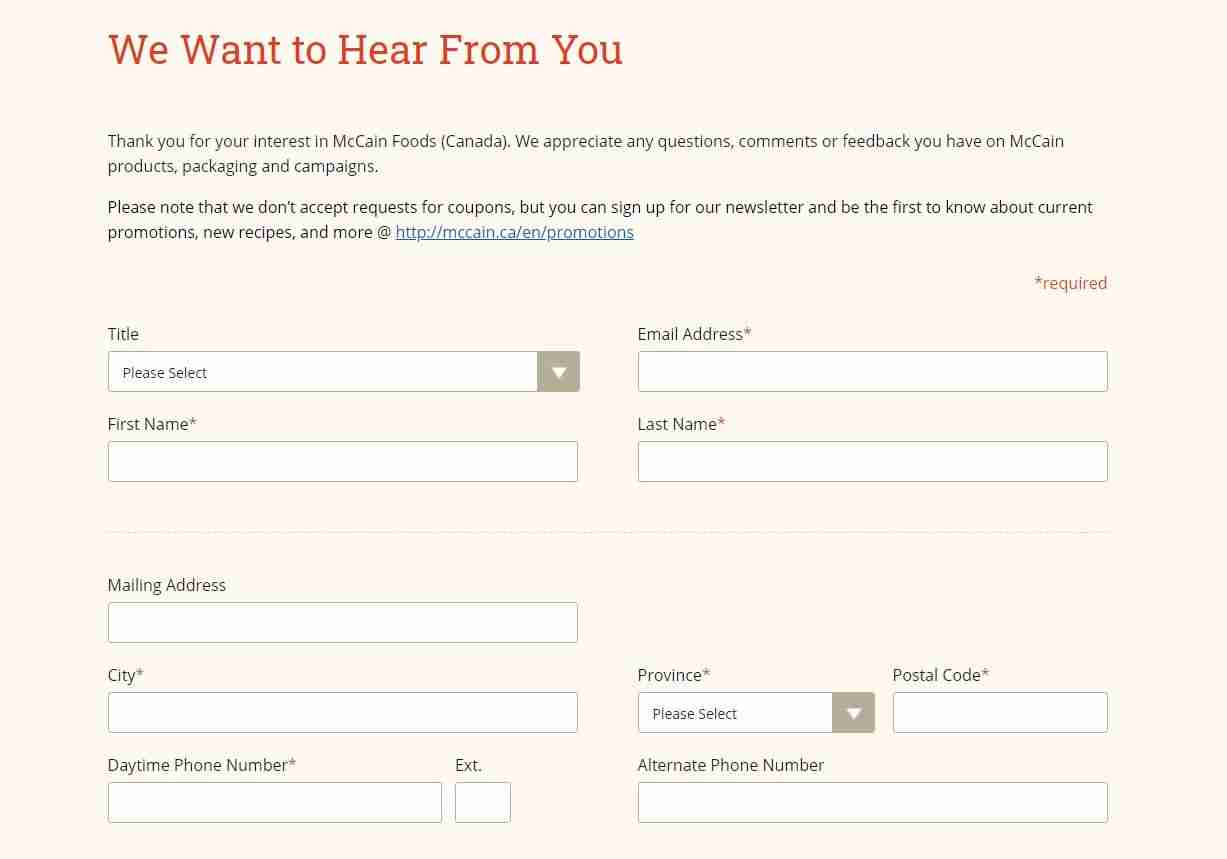 Inquires about discount coupons are not entertained through the email form.
Newsletter
If you are interested in knowing about McCain's new product releases, new recipes or any promotional campaigns running at the moment, you should sign up for their newsletter.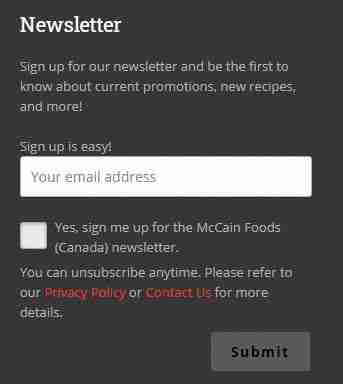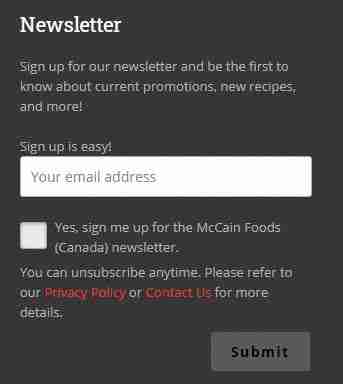 Moreover, if the company is offering any discount coupons for its products, you will be the first to know.
Help and FAQs
The FAQ section on McCain's website answers all the questions a customer or retailer might possibly have. The questions have been divided into categories so that visitors can easily find what they are looking for.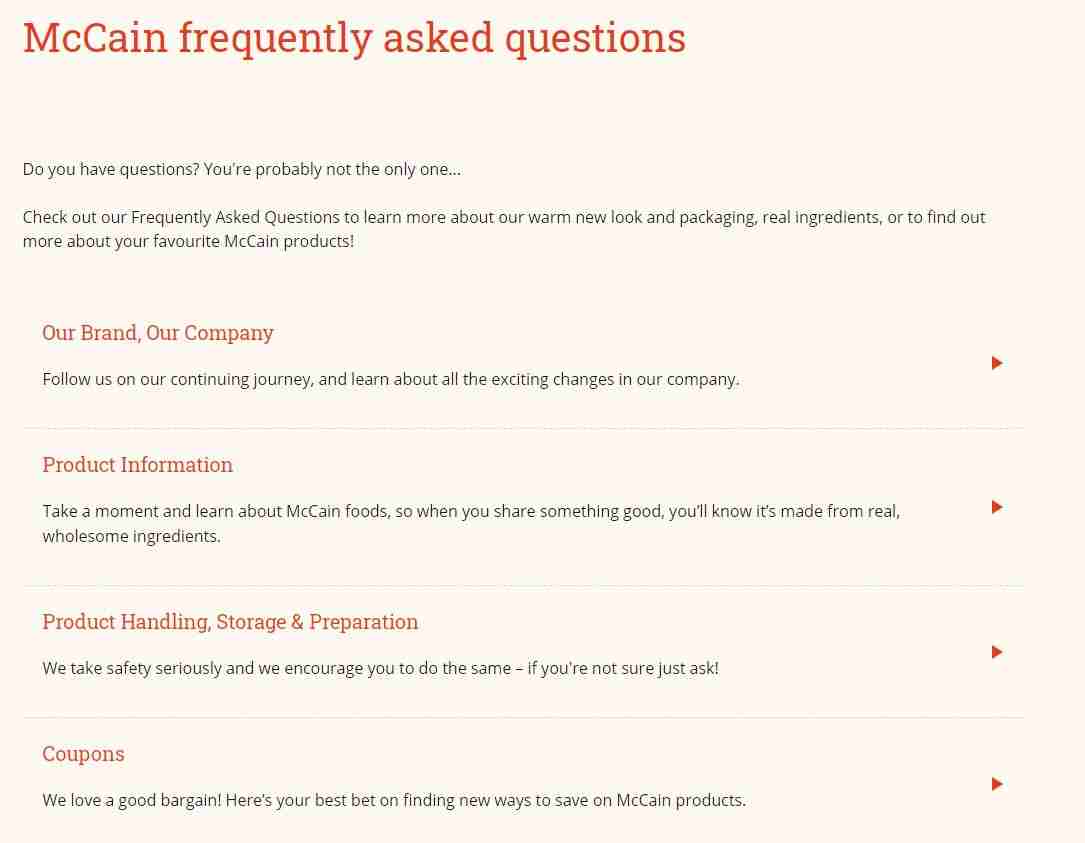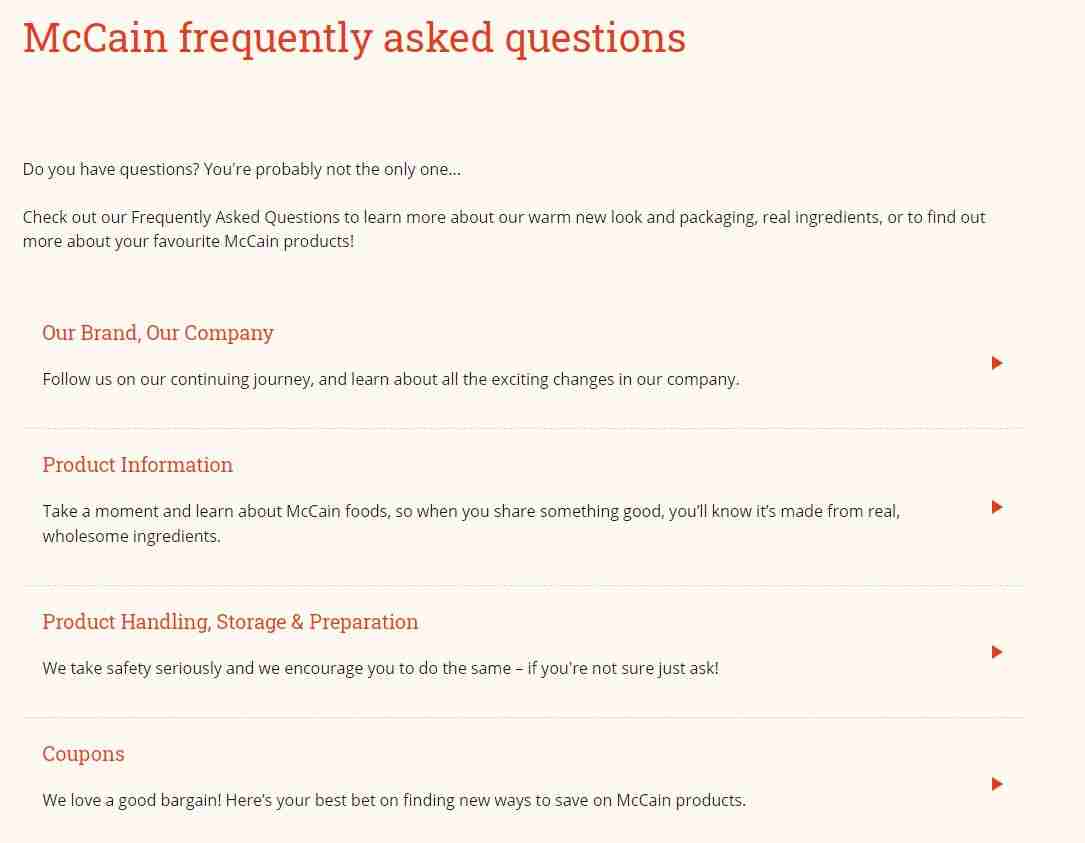 Here are the FAQ categories listed on their website:
Our Brand, Our Company
Product Information
​Product Handling, Storage and Preparation
Coupons
How to Apply
Others
Blog
McCain's "All Smiles Blog" posts news about everything from its farmers to the team members, who come up with innovative ideas for the product range and more. You can browse blogs according to categories, which are listed at the top. These include:
Food
Family
Inspiration
Farm to Fork
Community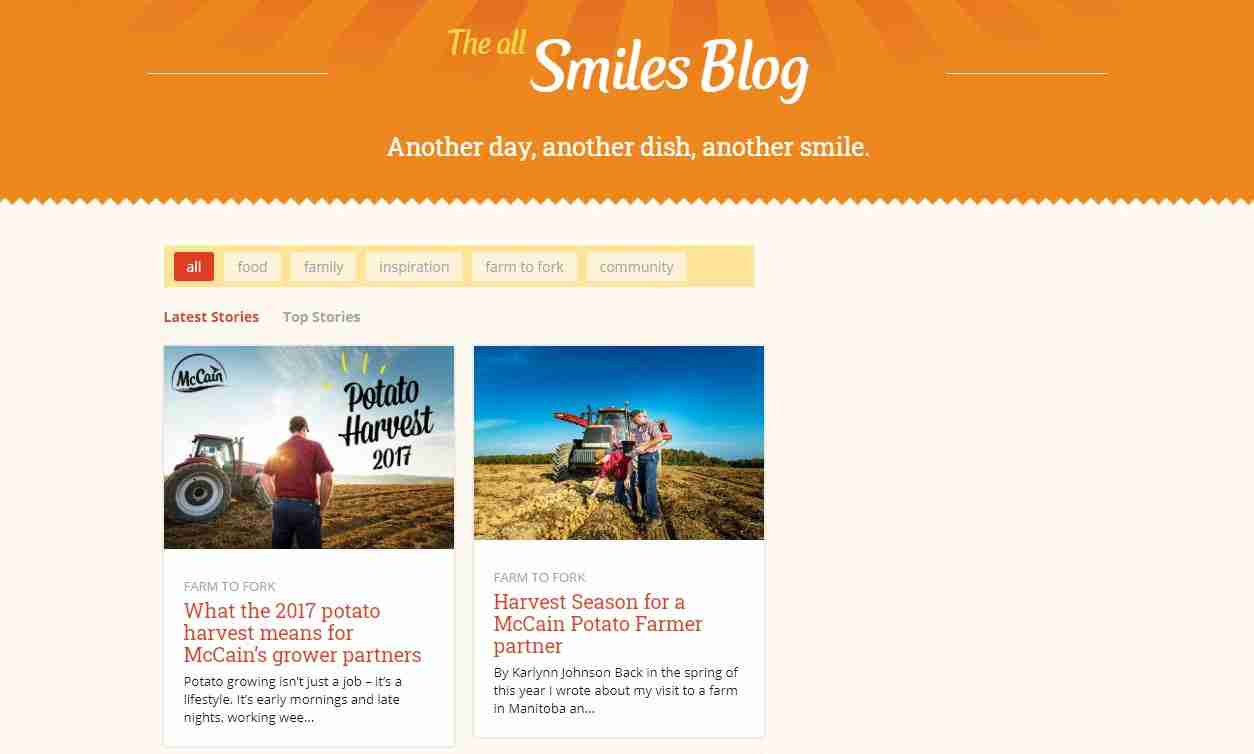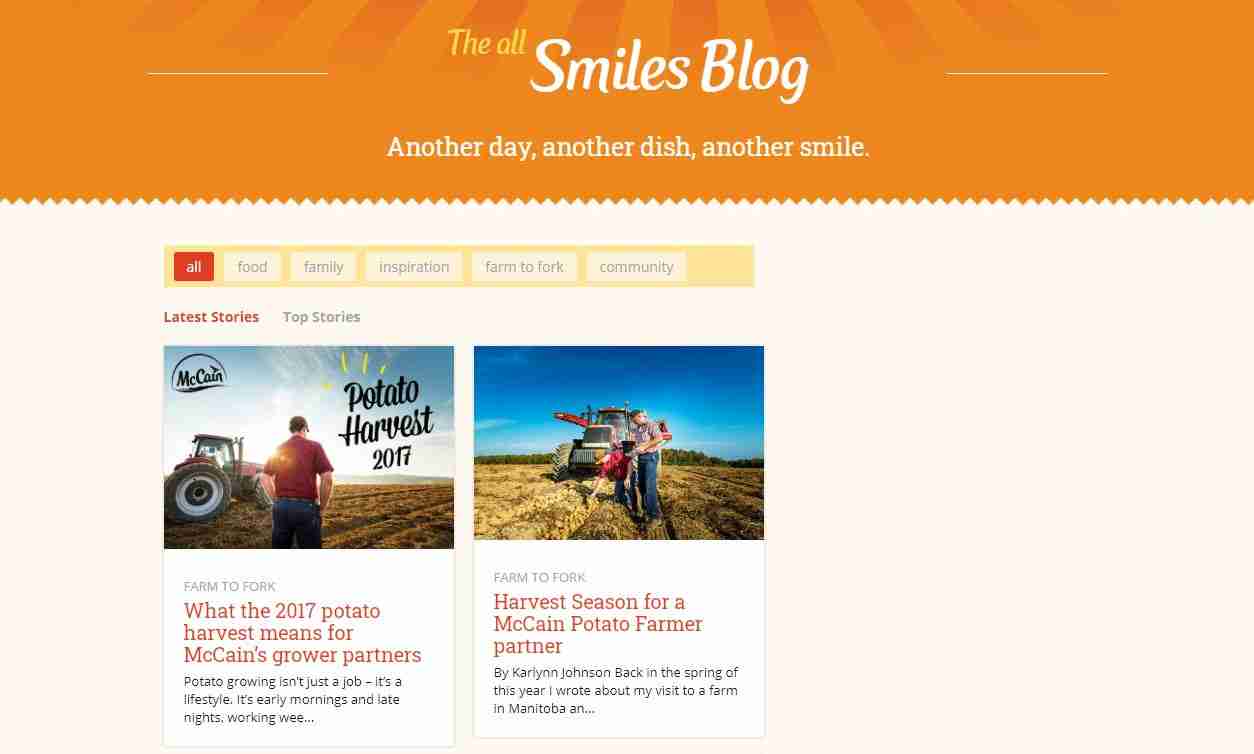 Social Media
McCain has a pretty wide social media reach. It has a presence on Facebook, Twitter, Instagram, Pinterest and YouTube. Their fan following is also huge. Regular posts are made on social media pages, with Facebook and Twitter in the lead.
The YouTube channel occasionally posts videos about the company's journey, product launches and ads. If you are looking for recipes, you will find them on Pinterest.
Here, the top recipes have been carefully catalogued, some of which you might not even find on their official website.
McCain Corporate
McCain Corporate provides solutions for customers, businesses wanting to strike a partnership with the company, retailers, and the media.
At the bottom of the page, you will find the information options you are looking for. These include:
For Journalists and Media
For Retailers
For Candidates
For Farmers and Growers
For Food Service and Hospitality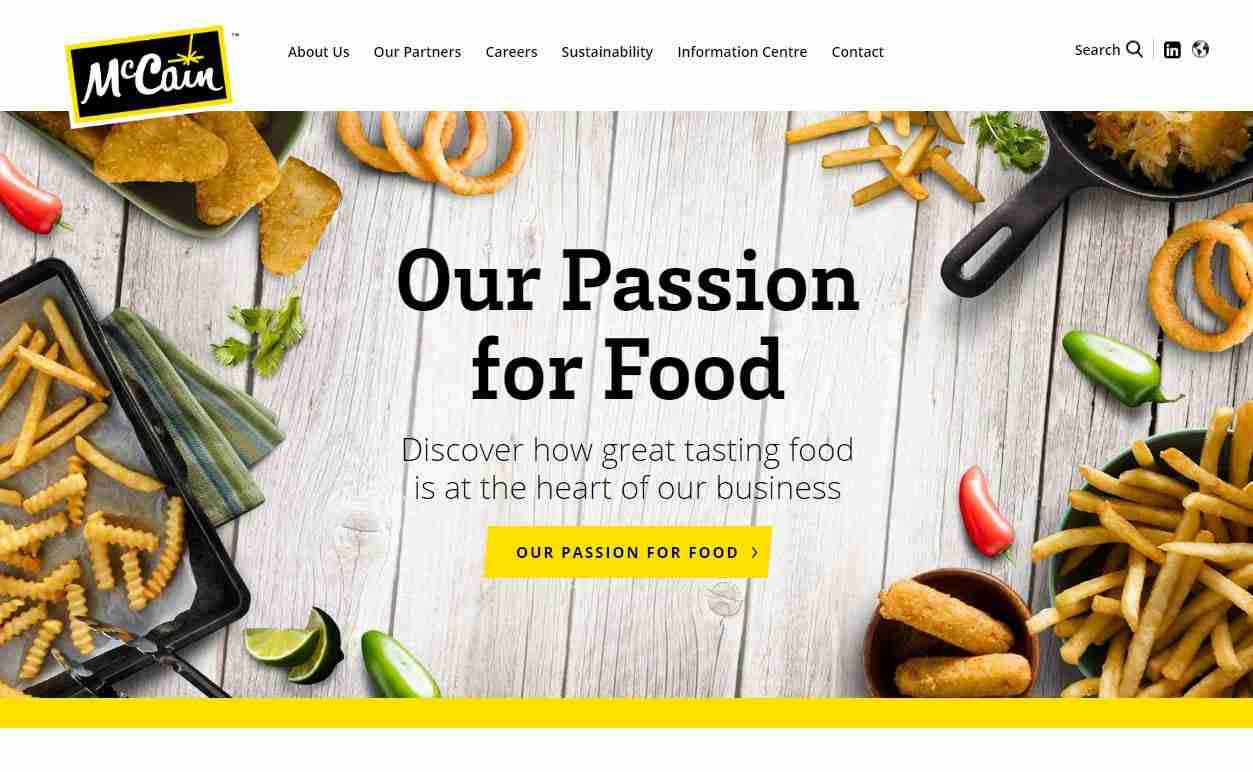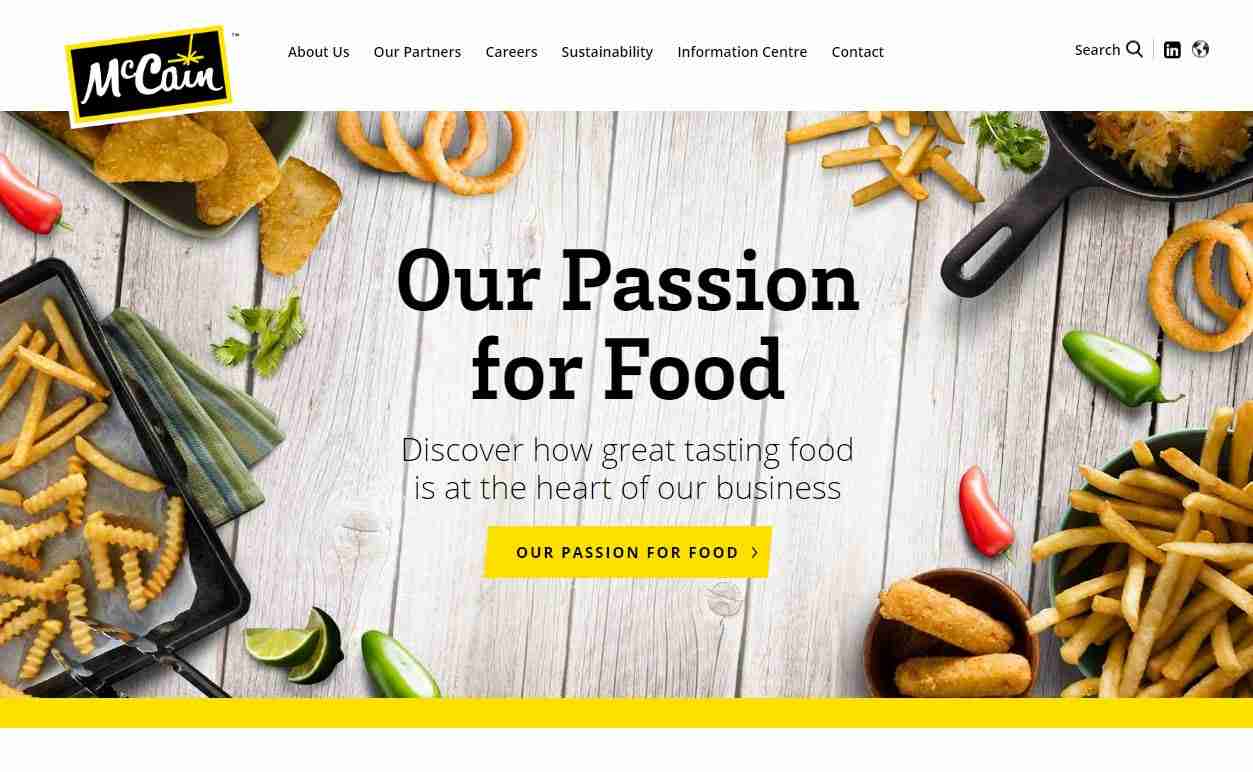 The corporate page also provides information about McCain's annual sales and news on what the company is currently doing.
McCain Food Service
McCain's Food Service page provides restaurants the option to add the company's products on their menu. The company also provides inspiration on how their products can be used.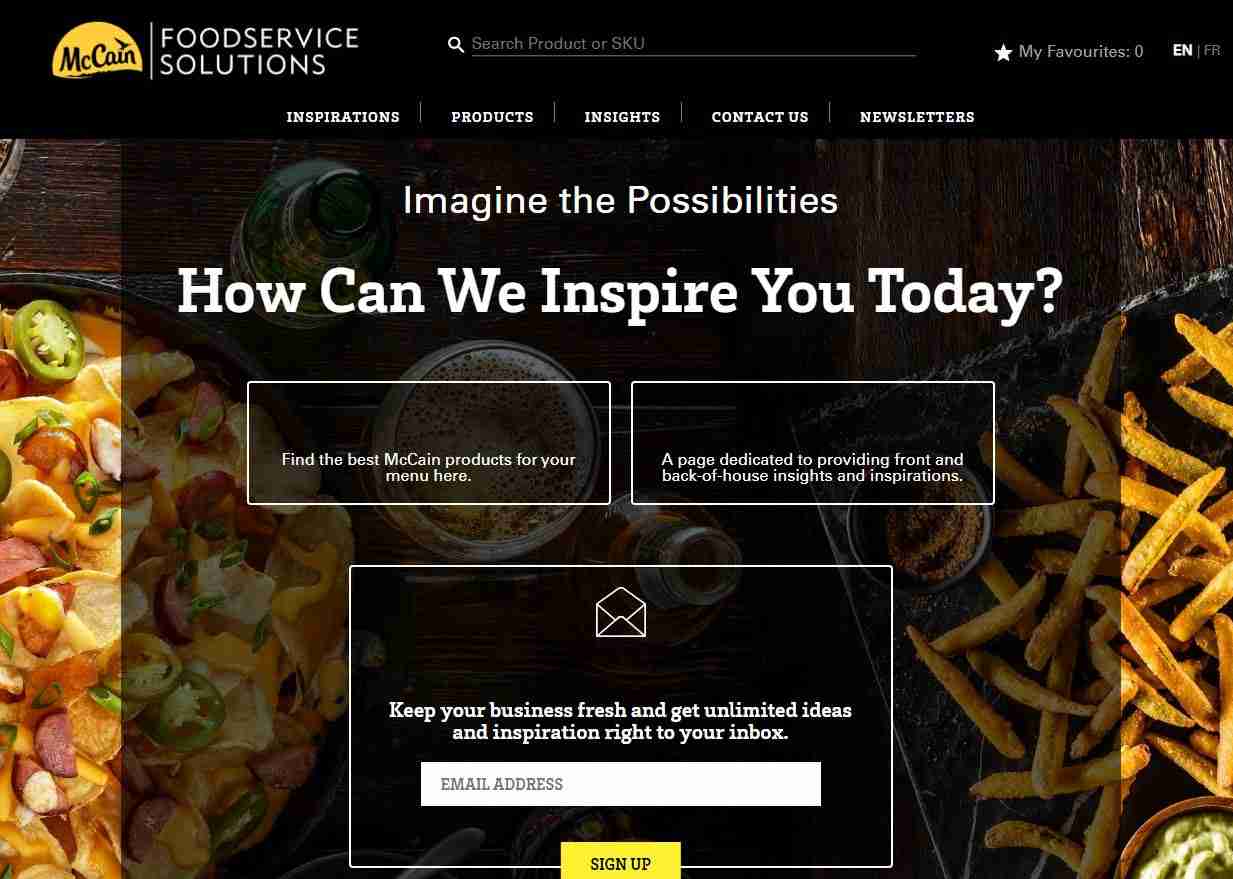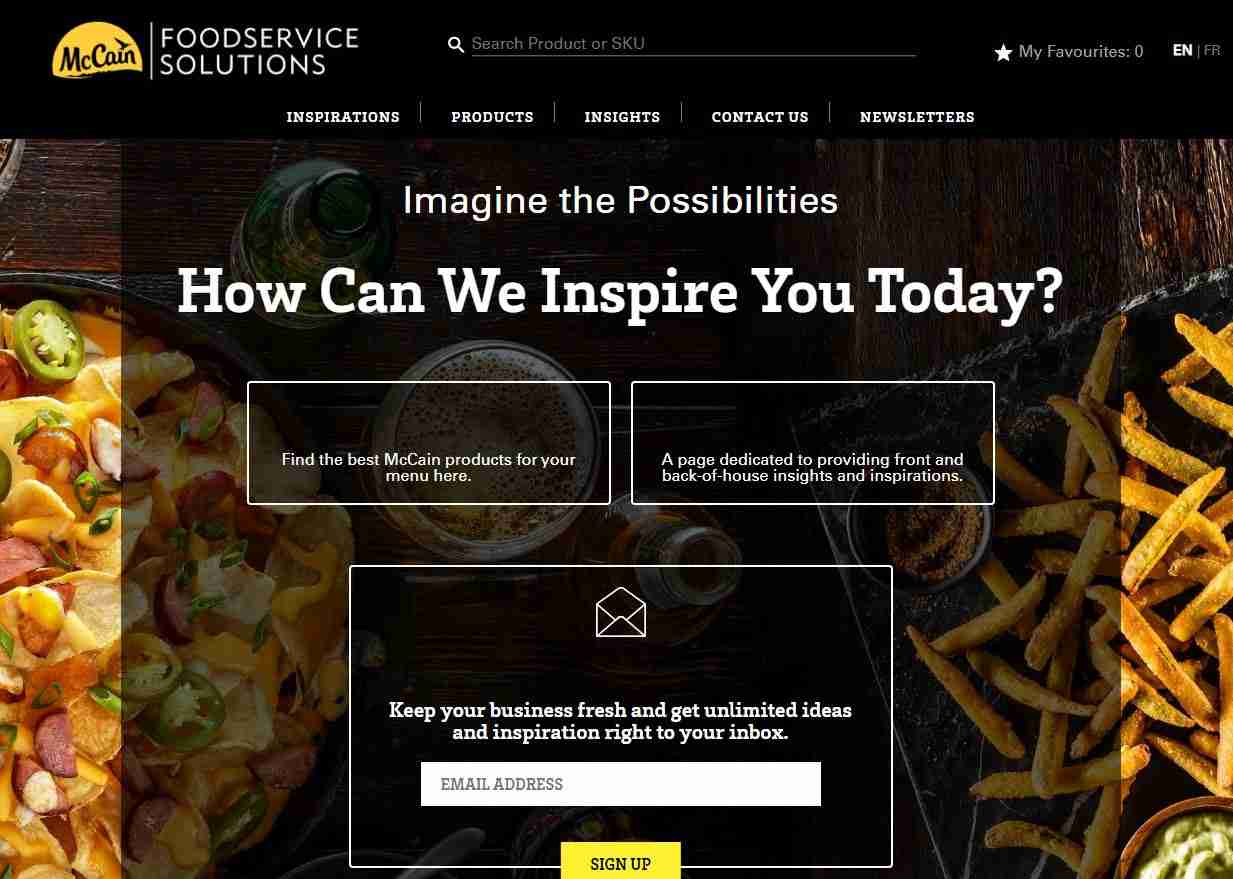 Stay In Touch with McCain
McCain covers all its bases in providing the best service to its website visitors, customers, retailers and potential business partners. Like their food, their customer care services are also exceptional.
The company understands how valuable its customers are. Their user-friendly and interactive website and FAQs page give you the information you are looking for.
To get in touch with McCain, you can use the above mentioned information and talk to their customer service representatives.