Maple Leaf Foods Inc. is a well-known consumer company that sells packaged meats. With its head office in Mississauga, Ontario, the company was the result of a merger in 1991. Two parent companies, Maple Leaf Mills and Canada Packers, came together to form Maple Leaf Foods.
The company takes pride in selling some of the most sustainably packaged meats. It has a long history, which can be traced back over 100 years, when the Grantham Mills was founded. After three decades, the grand merger took place and since then, Maple Leaf Foods has committed to providing the best meat to the people of Canada.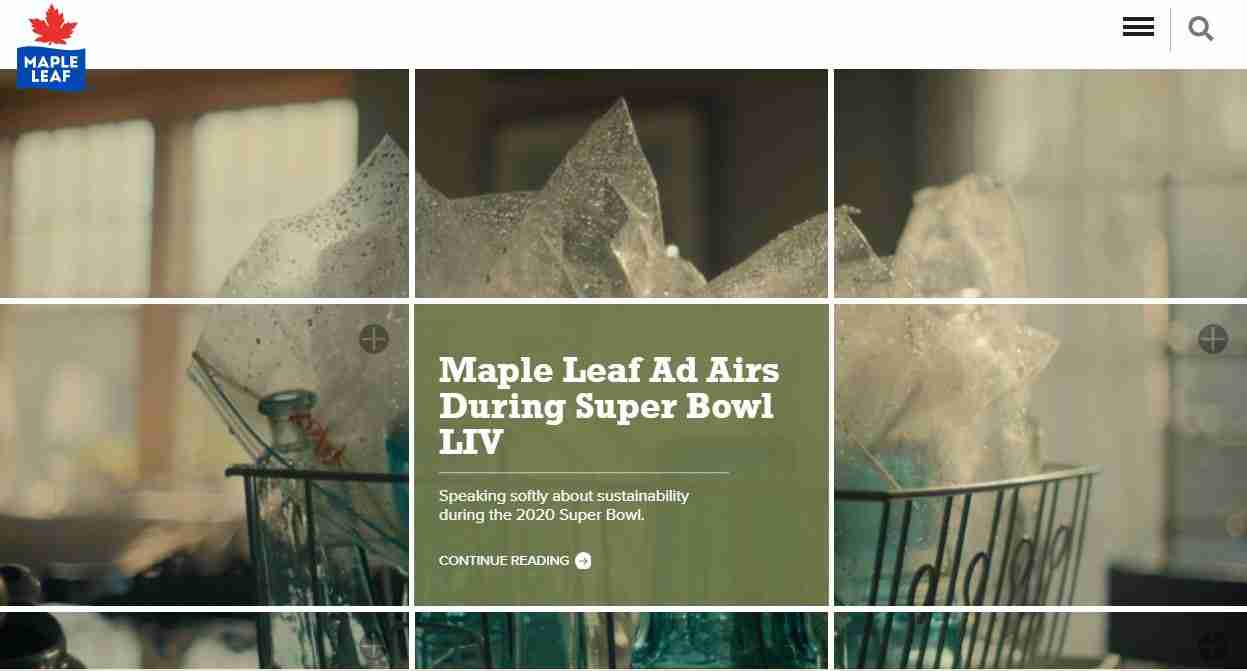 Maple Leaf Foods holds its customers in the highest regard and has always used sustainable methods of production. It aims to reconnect families to the wholesome goodness of food and make it easily accessible for future generations to come.
With such a grand mission, Maple Leaf Foods has dedicated itself to ensuring excellent customer service. The company always reaches out to customers, noting their feedback, and engaging with them to improve existing products and services.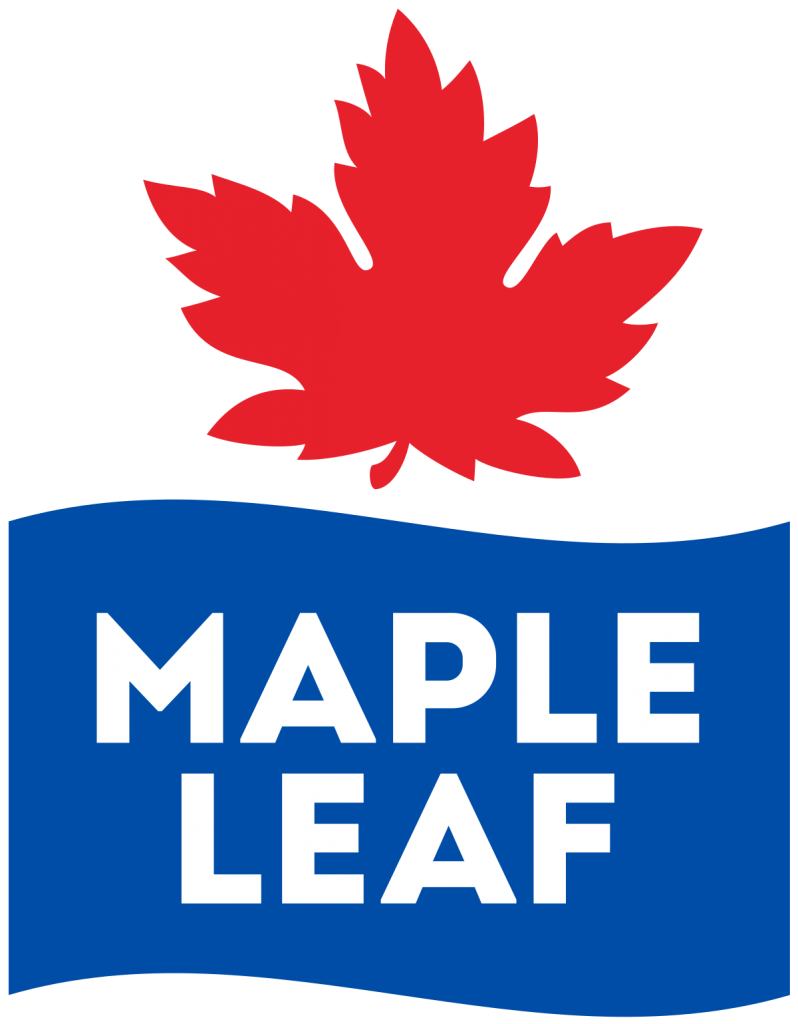 Whether you have a question about quality control or some feedback to share, Maple Leaf Foods has an extremely friendly staff to help you. So, if you want to get in touch with their team, then here's a detailed guide on its customer support.
Maple Leaf Food support service: the complete guide
Maple Leaf Foods Customer Care
Maple Leaf Foods offers top-notch customer support. The company can be easily contacted through call support and e-mail and encourages constructive feedback from its customers. Here's how to get in touch with them.
Maple Leaf Foods phone number
Maple Leaf Foods has an extremely supportive and prompt call support. Upon visiting the 'Contact Us' page, you will come across their toll-free number.
You can call them on 1-800-268-3703 from Monday to Friday, from 8:30 am to 5:30 pm.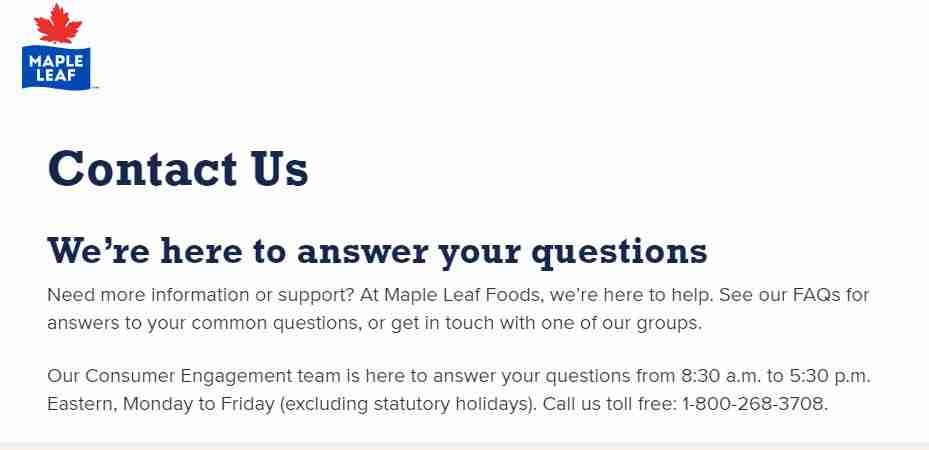 There's always a helpful staff member to answer all your questions and listen to your complaints. Maple Leaf Foods always makes its customers feel heard. Whether you're facing trouble finding the nearest meat store or need more guidance concerning your food allergies, use the call support to get in touch with them.
Write to Them
If you feel like your complaint is not being heard, get in touch with them by writing to them. While there are many options to reach out to Maple Leaf Foods, this one ensures that the company receives your letter. If you want you can send in a mail to the following address:
Maple Leaf Foods Consumer Engagement
P.O. Box 61016
Winnipeg, MB, R3M 3X8
Once your letter has been received, a staff member will immediately respond back with an appropriate answer.
Drop Them an E-mail
Another quick way to contact Maple Leaf Foods is by dropping the team an e-mail. They have a separate e-mail under "Sustainability at Maple Leaf Foods," where you can ask questions about quality control, how the meat is packaged, and any other questions or concerns you may have.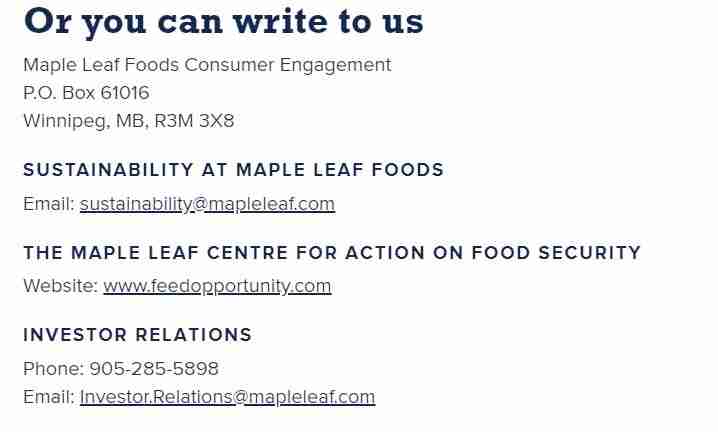 You can send them an e-mail at sustainability@mapleleaf.com. The team also supports investor relations. If you have any questions concerning that, you can drop an e-mail at investor.relations@mapleleaf.com.
For customers who are especially concerned about food security or want to make a positive impact, they can visit www.feedopportunity.com. This website is the Maple Leaf Centre for Action on Food Security. The reason why it's mentioned on the customer support page is that this company takes both food quality and food security very seriously.
It wants to engage its customers and community members in ensuring the fight against hunger. The company uses its customer support portal to empower and educate its customers on food security.
FAQs
Maple Leaf Foods has an extensive and highly detailed FAQs section for its customers. Chances are, you will easily find your complaint or query in this section, so you won't have to drop them an e-mail. If you're new in Mississauga and are facing trouble in finding the nearest store, the FAQs section can be of great help.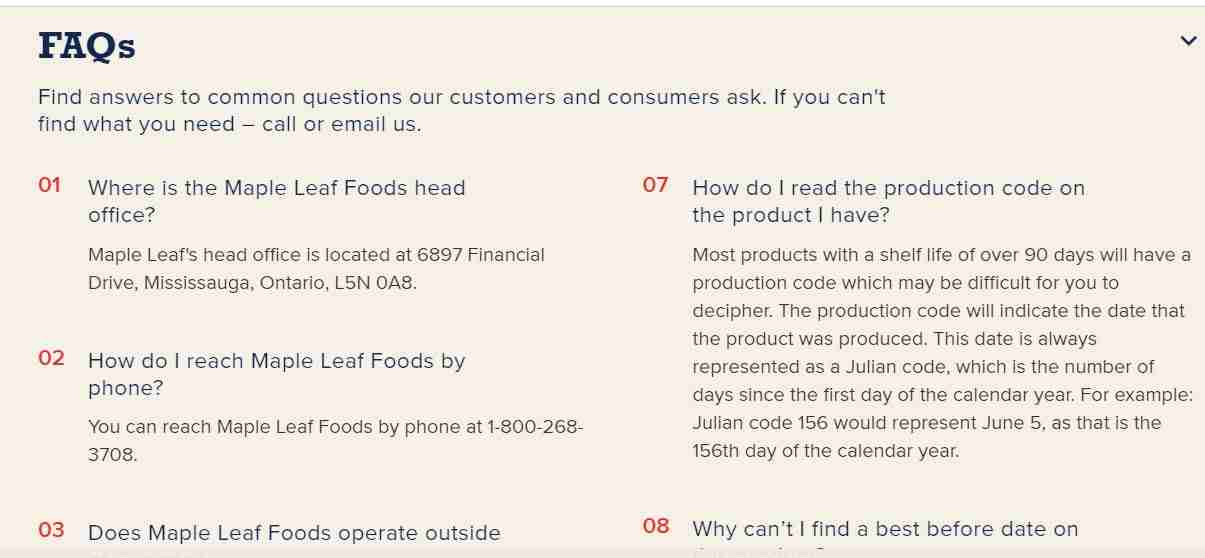 As a Canadian citizen, if you're living in another country, you can use the FAQs section to find the nearest Maple Leaf Foods outlet. The FAQ section also deals with questions on quality control. Their products usually have production codes instead of a 'best before date'. So, if you want to understand why that's so, then click on the FAQs section.
Send a Detailed Feedback
If you can't find your question in the FAQs section, send a message on their website instead. Questions about different meat products or brands under Maple Leaf Foods will be promptly addressed here. If you think you have received the wrong product or want to find out a substitute, you can mention the product name and code in separate fields.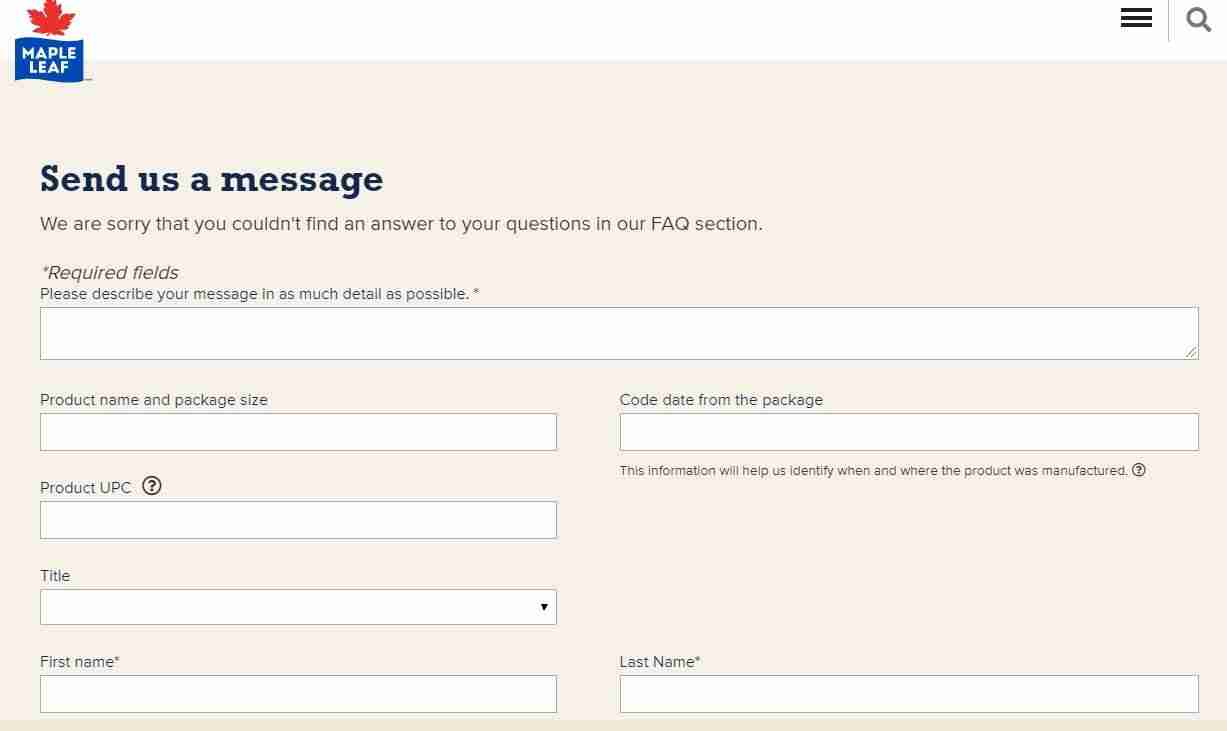 After entering your name and other basic details, you can let them team know your feedback, query, or complaint about the product. Maple Leaf Foods has an open door policy, even with its customers. If you have ideas on how the company can improve packaging hygiene or any other feedback, you can express your concerns here.
Social Media
You can also reach out to Maple Leaf Foods through their social media handles. The company can be found on Instagram and LinkedIn, where the company keeps its customers constantly engaged. From displaying delicious meaty recipes to discussing serious issues on food security, no one does it like Maple leaf Foods.

A Final Word
Maple Leaf Foods has always embraced strong ethical values and is always there to help out its customers. You can subscribe to their e-mail for updates on fun contests and new products. If you have any questions, concerns, or queries, use their call support, e-mail support, or send them a direct mail. There will always be a representative to help you out!