MAC Cosmetics is a cosmetic products manufacturers operating as an international brand, supplying cosmetics all around the world. Frank Toskan and Frank Angelo founded the company in Toronto, Canada in 1984. The headquarters of the company is now in New York City. The company also became a part of Estée Lauder Companies in 1996. MAC stands for Makeup Art Cosmetics.
The co-founder of MAC Cosmetics worked as a photographer and makeup artist initially. During his work as a makeup artist, he realized that there was a need of suitable colors and textures for better results of makeup with cosmetics. He also felt that there was a lack of conventional cosmetic products that could address the needs of a modern woman. He brought an unprecedented innovation in the cosmetics industry by addressing ethnicity in makeup. He began to work to create a niche market in the cosmetics industry. He got help from his family and created a brand by makeup artists for makeup artists.

While the products were initially only for makeup professionals, the company later started selling it to consumers all around the world due to the increasing demand of the market. The company also kept working within the fashion industry and gradually grew from a niche brand into a global one. By the 1990s, the brand had grown so much that it had over a hundred stores around the world, earning 200 million francs.

Today, MAC Cosmetics is one of the top three global cosmetics brands, earning over one billion dollars annually with 500 independent stores. The stores are run by professional makeup artists and the brand supplies makeup to movie actors as well.
MAC Cosmetics Customer Service
MAC Cosmetics provides unparallel expertise in makeup to its customers. It is well-known as a brand that celebrates diversity and individuality, addressing the cosmetics needs of all ages, races, and gender. With that kind of outstanding vision, the company provides prompt, and high standard customer support and service to its customers all over the world, including Canada.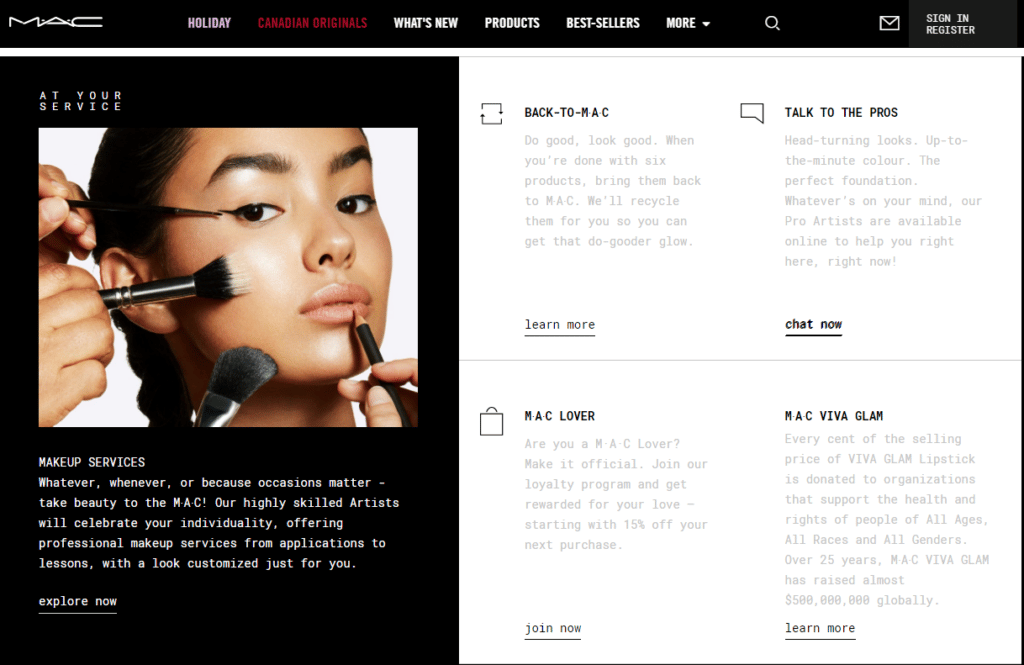 Call MAC Cosmetics Customer Service
If you are in Canada, for order inquiries and site questions you can call from Monday to Friday, 8AM – 10PM EST, or Saturday to Sunday, 10AM – 6PM EST at 1.800.387.6707.
Alternately, you can also send a post at:
MAC Cosmetics Online Canada
130 Bloor Street West
Toronto, On M5s 1n5,
Canada
Chat Live
The official website of MAC Cosmetics Canada also has a live chat option for its customers. MAC's makeup artists are available from Monday to Friday, 10AM-10PM EST.
MAC Cosmetics also provides customers with order/tech chats on the website. Order/tech chat is available from Monday to Friday, 10AM-8PM.
Email Customer Service
You can also reach out to customer support services of MAC Cosmetics via the official email address. For all issues and queries regarding your order, account, products, website or any other related query, you can send an email at EMAIL M·A·C . The company emphasizes on giving prompt responses to its customers and, therefore, answers your emails within 24 hours.
Email an Artist
MAC Cosmetics provides an easy and quick way to send an email query to its makeup artists through its website. All you have to do is to fill out a simple form given on the website. The form includes a number of options to describe your attributes to the makeup artist. You will also have to provide the company with an email address so that the company can respond to your query. Lastly, you will have to write about your concern or query in the comment box. You can ask for an expert advice, application tips, shade matching advice, and more through this email form.
MAC Cosmetics FAQs
There is also a section of frequently asked questions on the official MAC Cosmetics website. It helps customers to go find out the answers about some basic and common queries regarding the brand and its products. This section of the website also provides answers to queries regarding your orders, payments, shipments, and making an appointment.

Mac Lover Loyalty Program
MAC Cosmetics also offers a MAC Lover Loyalty Program to help the loyal customers of the brand benefit from it. This program is for individual's personal use and other groups or MAC staff is not eligible for the program. Residents of Canada who are at least adults and provide the company with a valid email address are eligible for the loyalty program. People over the age of 13 can join the program. You cannot use the loyalty program for any business or commercial use.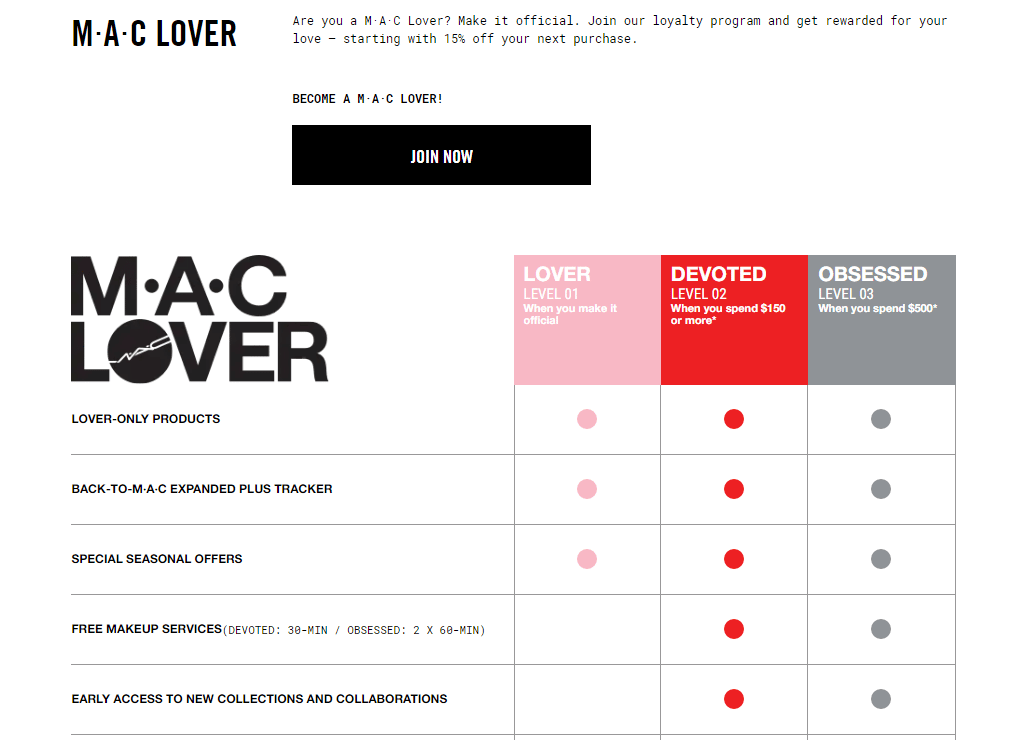 The Loyalty Program is a way of rewarding MAC's loyal customers for purchasing their products. The members are able to unlock Program Loyalty tiers which the company posts on their website or through other media. You are then eligible for certain rewards and benefits applicable to that tier. The company might offer benefits on a limited time basis.
Find a MAC Store/Events/Services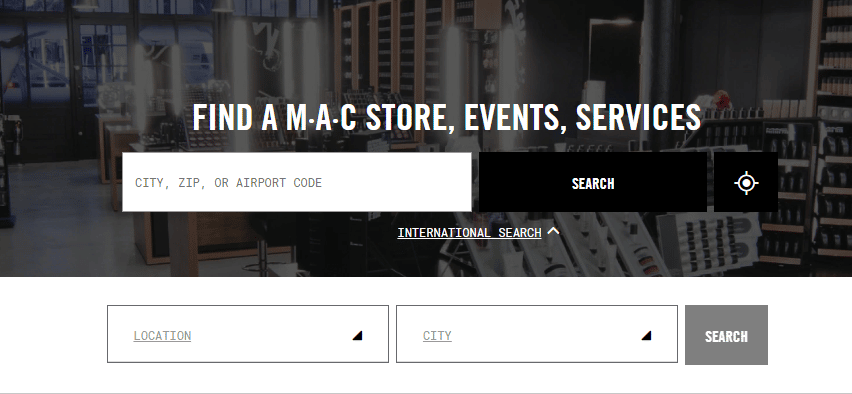 On the official website of MAC Cosmetics Canada, you can also find a section of MAC store, event or services near you. All you have to do is enter your city, ZIP or airport code in the search bar on Find a MAC Store/Events/Services page. It also provides the customers with an international search option.
MAC Cosmetics on Social Media Platforms
With such a massive global market and high standard customer support services, it is very unlikely that a brand would miss out to engage their customers on social media platforms. MAC cosmetics have interactive Facebook, Twitter, Instagram, Pinterest accounts and a YouTube channel.
MAC Cosmetics has a team of professional makeup artists providing products and services in over 120 countries around the world. The company commits to serving its customers with new categories, products, and more than 50 collections every year. All of this is to serve the demand of its customers and to satisfy them with the utmost customer care solutions.
With the help of this article, you can reach out to a makeup artist or send in your query through email and customer service options.