Lowe's is the second-largest hardware chain throughout the world. Its services and products are directed toward home improvement. Lowe's has over 600 stores spread all over Canada and aims to facilitate its customer's DIY home improvement projects and contracting jobs.
Lowe's was first officially known as Lowe's North Wilkesboro Hardware store in North Wilkesboro, North Carolina. It was named after Lucius Smith Lowe who opened the store in 1921. After Lowe died in 1940, he passed the business on to his children. Throughout the years, Lowe's expanded its operations across the USA, Mexico, and Canada.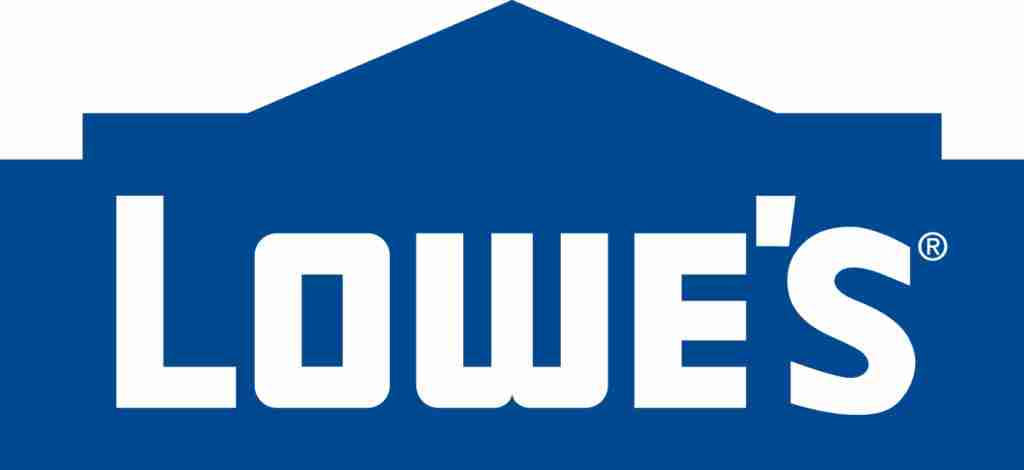 Although Lowe's has almost 70,000 store locations and it officially a Fortune 500 company, it is still only considered the second best store location in the home improvement space both globally and nationally. In the future, Lowe's hopes to be crowned the top dog. With this goal in mind, Lowe's is slowly expanding operations into Australia. Alas, until that golden day on the top of the pedestal, Lowe's must be contented with its shimmering silver status.
Lowe's also has a large online presence and interactive website. With such a massive reach, Lowe's is constantly finding ways to stay at the top of its customer care game.
So, let's review what Lowe's customer support has to offer to its consumers.
Lowe's Customer Support Services
Lowe's is quite proficient when it comes to offering a wide variety of customer care and support services. Here are the various ways in which you can reach out to them.
Find a Store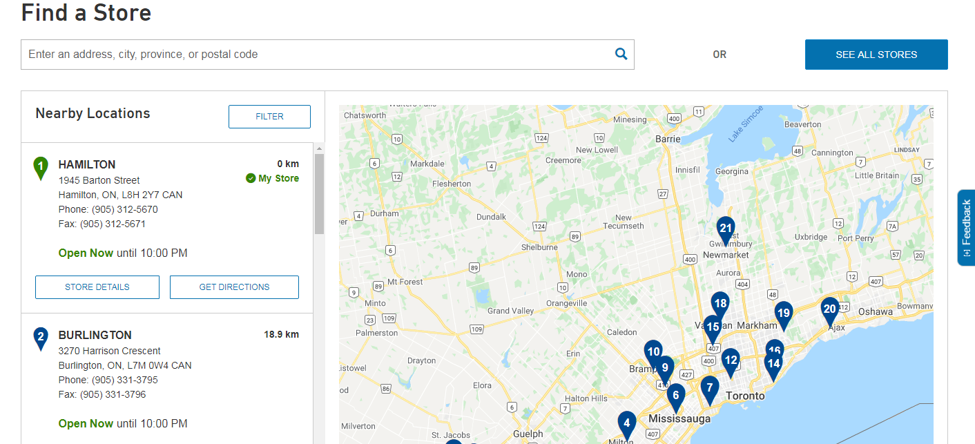 Lowe's offers an easy to use Find a Store feature. This feature will help you find Lowe's stores that are near your location. You simply have to enter your address, city, province, or postal code in the search bar. You can also use different filters such as services and distance to further narrow down your search radius.
The locator will generate results of all the nearby store locations. It will also show you relevant information such as the address, store hours, and contact info of all the stores near your area. Additionally, if you click on the "Get Directions" tab of a particular store, it will redirect you to Google Maps and show you exactly where your chosen store is located.
Feedback Form
Lowe's commitment to providing excellent customer service is highlighted perfectly in its feedback tab, featured at the right-hand side of its website's pages. If you click on this tab, it will show you two categories – website and store. By clicking on either of the two, you will be redirected to a comprehensive feedback form.
With the store option, you can rate the services that your chosen Lowe's store provides as well as give feedback on said services. With the website option, you can rate the individual pages on the website and provide feedback in your comments. This option will allow you to send direct feedback to Lowe's if the website is not working properly for you, or you can't access a certain webpage.
Additionally, you can also provide your feedback for both online and in-store services provided by Lowe's via the feedback form on its website. You can choose from a wide range of topics such as shipment status, received damaged item, product question, etc. Then, you simply have to fill out the relevant sections in the form such as your name, e-mail, etc. It will hardly take 5 minutes of your time. You can expect a quick reply from Lowe's. 
Resources and FAQs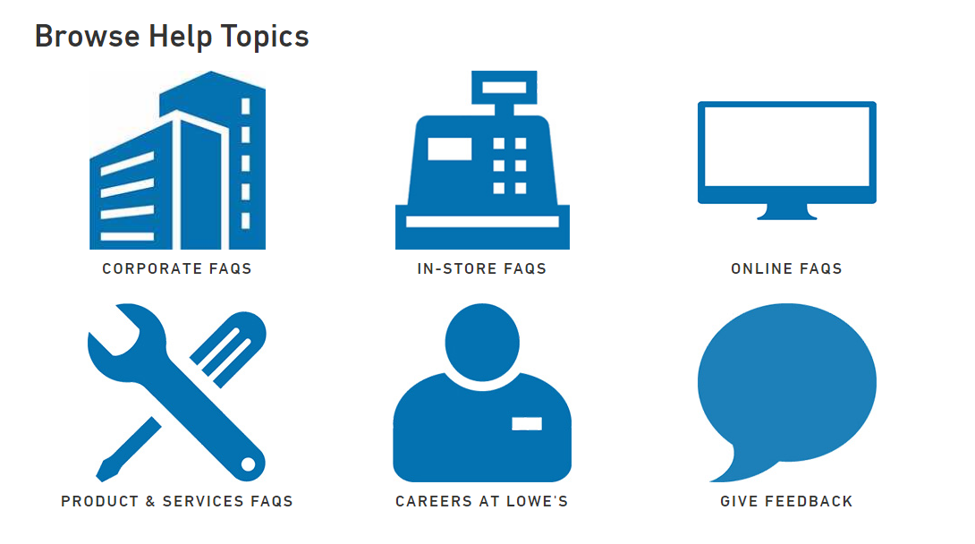 Lowe's Canada has a fantastic Resources and FAQs webpage that will answer all of your concerns and queries. This webpage has all the popular questions neatly listed with comprehensive answers for both online and in-store services provided by Lowe's.
Additionally, there's a neat Help section on the page that has different "help" category icons, including corporate FAQs, Career at Lowe's, in-store FAQs, etc. You can click on each icon to gain access to even more comprehensive FAQs outlined for each category. Furthermore, if you have any queries left unanswered, you can fill out Lowe's Contact Us form for a direct reply from its customer service representatives.
Contact Lowe's
Lowe's offers you the ideal opportunity to send in your specific queries about its services or products by simply filling out its "Contact Us" form. You have to fill out all the relevant information such as your name, e-mail, phone number, and your message. It will merely take two minutes of your time. You can expect a swift and expedient reply from its professional customer service staff.
If you have any general questions about Lowe's services or specific product-related questions, you can also call its customer care staff directly at 1-888-98LOWES (56937). For queries about in-store services, you can contact Lowe's at 1-800-44LOWES (56937). To find out more about Lowe's Protection Plan, you can reach its representatives at 1-866-46LOWES (56937). You can also choose to Live Chat with Lowe's representatives on its website.  
You can also reach out to Lowe's directly at their head office at this address:
Head Office
220, chemin du Tremblay,
Bouchervile (QC)
J4B 8H7
E-mail Newsletter
Lowe's also offers you the opportunity to sign up on its website to receive regular newsletters and updates. Plus, if you sign up, you get an additional 10% off your next  purchase. You simply have to enter your e-mail address, name, and postal code. You can choose to get newsletters on retail promotions, craftsman promotions, or contractor promotions.
Price Match Policy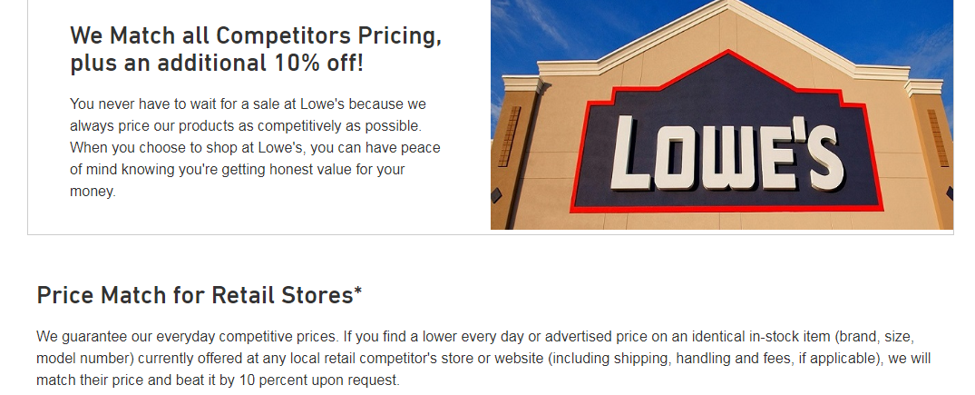 Lowe's also offers you an amazing Price Match Policy. With this amazing policy, Lowe's guarantees that if you find a product similar to theirs in their competitor's store, then they will not only match that price, but also beat it by giving a 10% discount on that product!  
Site Map
Lowe's Canada also has a helpful Site Map webpage on its website. As the name suggests, this webpage has a thorough map of all the WebPages on Lowe's website. So, you can browse through the topics to quickly find the one that you need. Once you find what you were looking for, simply click on it and it will redirect you to the page you want.
Customer Service Page

Lowe's Canada has a separate webpage dedicated to providing excellent customer service. If you access this Customer Service webpage on Lowe's website, you will have access to all the ways that Lowe's is facilitating its Canadian customer's journey. From fantastic policies such as Price Match to expedient financing services, Lowe's has got your back.  
Social Media
You can also reach out to Lowe's Canada via various social media platforms including, Facebook, Twitter, Instagram, YouTube, and Pinterest. Lowe's customer service staff will surely interact with you and answer all your concerns and queries. You can also choose to become a part of the growing community of Lowe's customers on each of these platforms.
Stay In Touch with Lowe's
Lowe's is committed to providing the best possible home improvement services and products out there to its Canadian customers. A huge part of that is providing excellent and swift customer care service. Lowe's aims to keep its customers satisfied with a huge variety of customer support options in place. Whether you're reaching out to them via their various numbers or detailed feedback form, you can always expect a swift and expedient response.