La-Z-Boy, pronounced as "Lazy Boy," is a US-based company that manufactures home furniture. Their products include sleeper sofas, lift chairs, stationary chairs, sofas and their most prized possession — upholstered recliners.
In 1927, two cousins — Edwin M. Knabusch and Edwin J. Shoemaker— designed a wood-slat chair in their garage. Their aim was to simply make a chair that was "made for relaxing". However, this was no ordinary chair!
To come up with a unique piece of furniture, they used orange crates and created a mock-up of a porch chair that had a reclining mechanism. To give it some pizzazz, they upholstered the chair and started marketing their innovation as the ultimate year-round chair.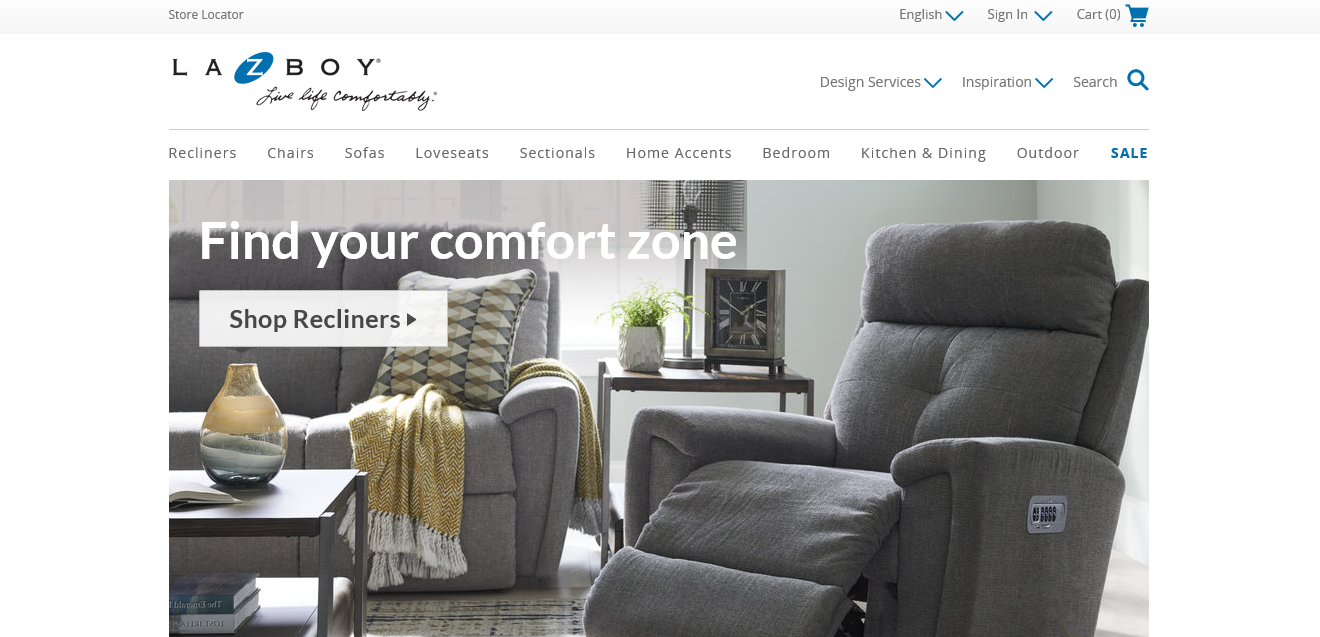 People loved their idea but the cousins still had to pick a name for their invention. Instead of brainstorming ideas, they hosted a contest and told the participants that whoever came up with the name would be the winner. This is how their reclining wood-slate chair was named La-Z-Boy. You can learn more about their commitment to the environment and people by visiting its About page or by contacting La-Z-Boy's customer support services.
La-Z-Boy's Customer Support Services
Unlike other websites that have a difficult navigation system, La-Z-Boy is pretty easy to browse through. You can find whatever you are looking for at the bottom of the homepage. The customer care service page of La-Z-Boy offers many help options. These include:
Contact Us
FAQS
Customer Care Videos
Product Manuals
Parts & Warranty Information
Policies
Catalogs
Ratings & Reviews
Fabric and Leather Care
iClean™ Recommended Cleaning Methods
iClean™ Warranty
Data Subject Rights Request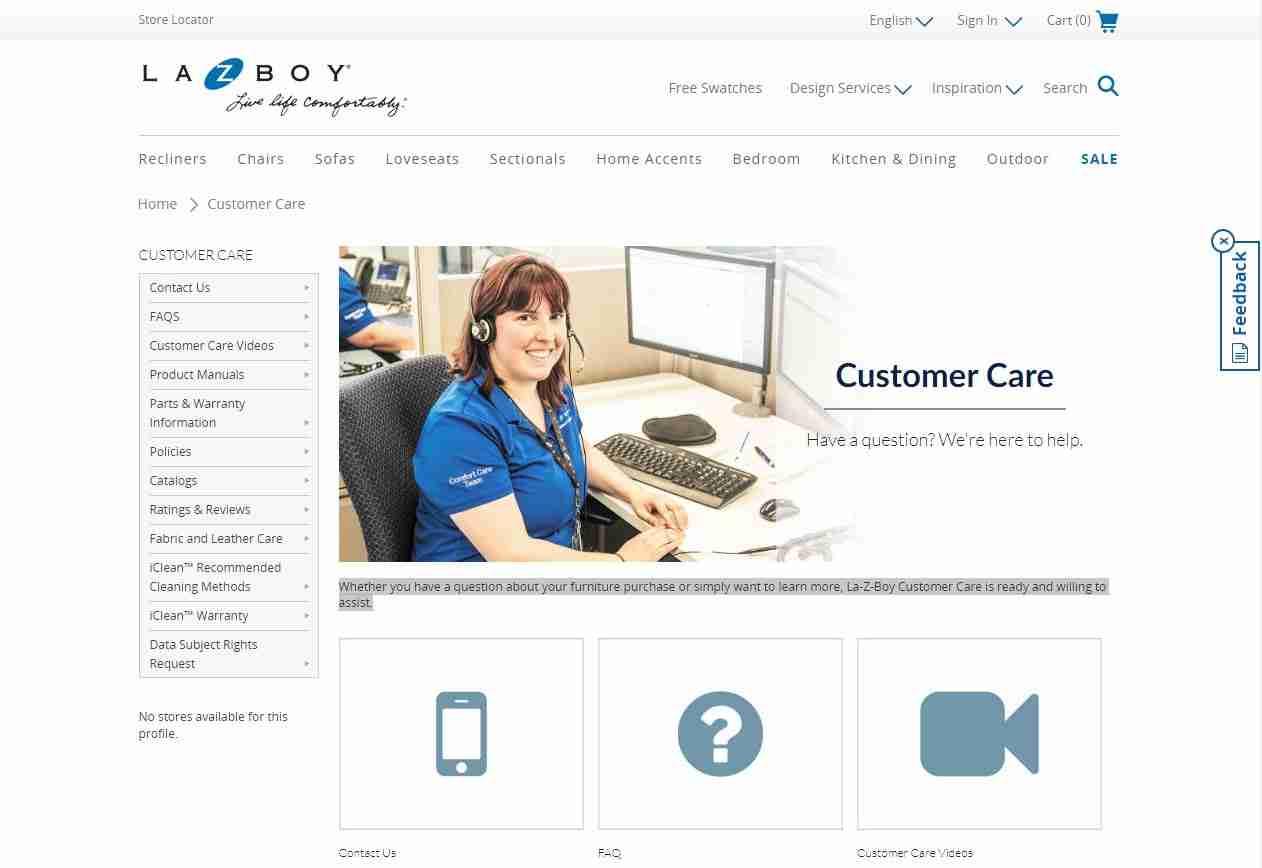 Whether you want to ask a general question about La-Z-Boy products or the furniture item you have purchased, go to their website to get in touch with them. They even offer customer care videos, through which you can learn more about your La-Z-Boy product.
La-Z-Boy– Store Locator
The Store Locator page of La-Z-Boy allows you to easily find a La-Z-boy gallery near your area. All you have to do is enter the name of the city or state you live in. You can also find a store by your zip code. The page then lists all the galleries in the area and you can find out more about them by clicking the "More Info" tab.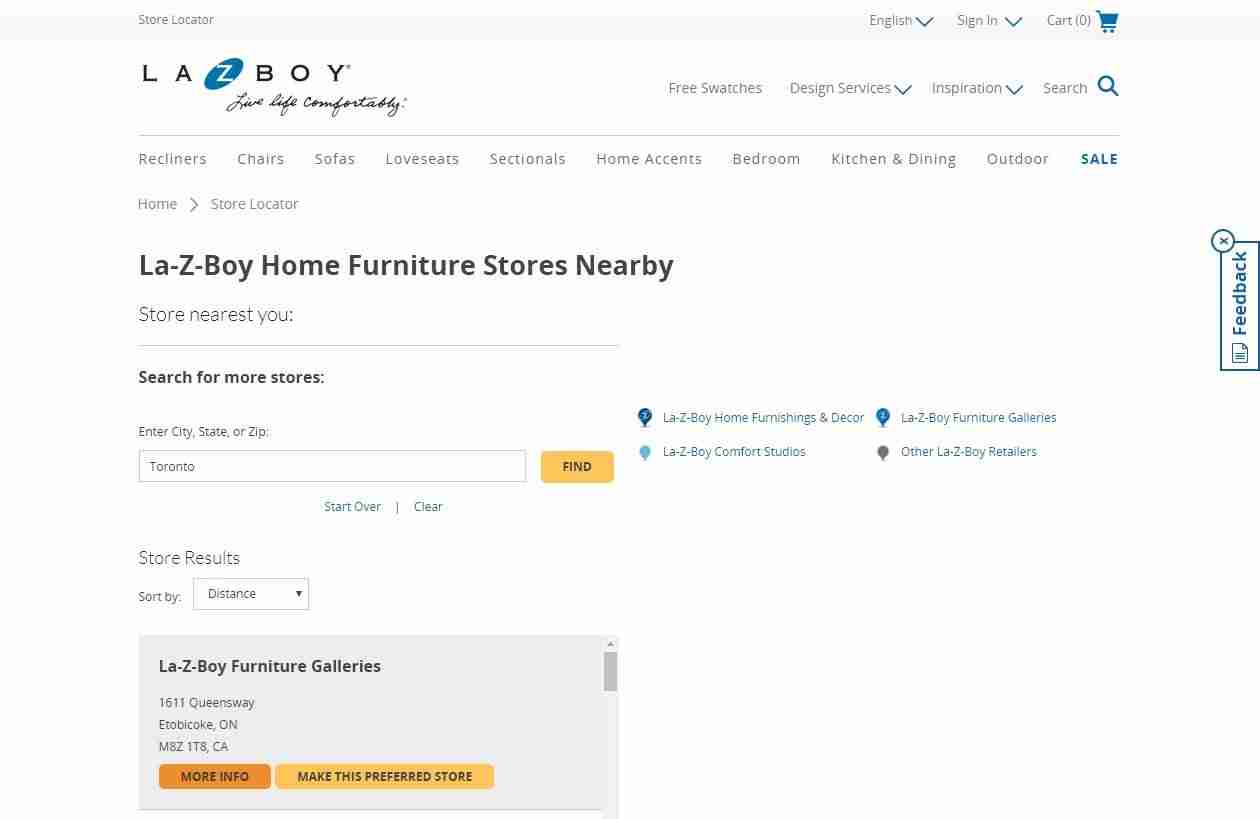 Call Support
The Contact Us page of La-Z-Boy offers separate phone numbers for residential and commercial customers.

E-mail Service
The Email service can be found on the contact page as well. It features a forum, which you need to fill out with your personal information and any question you have regarding a La-Z-Boy recliner.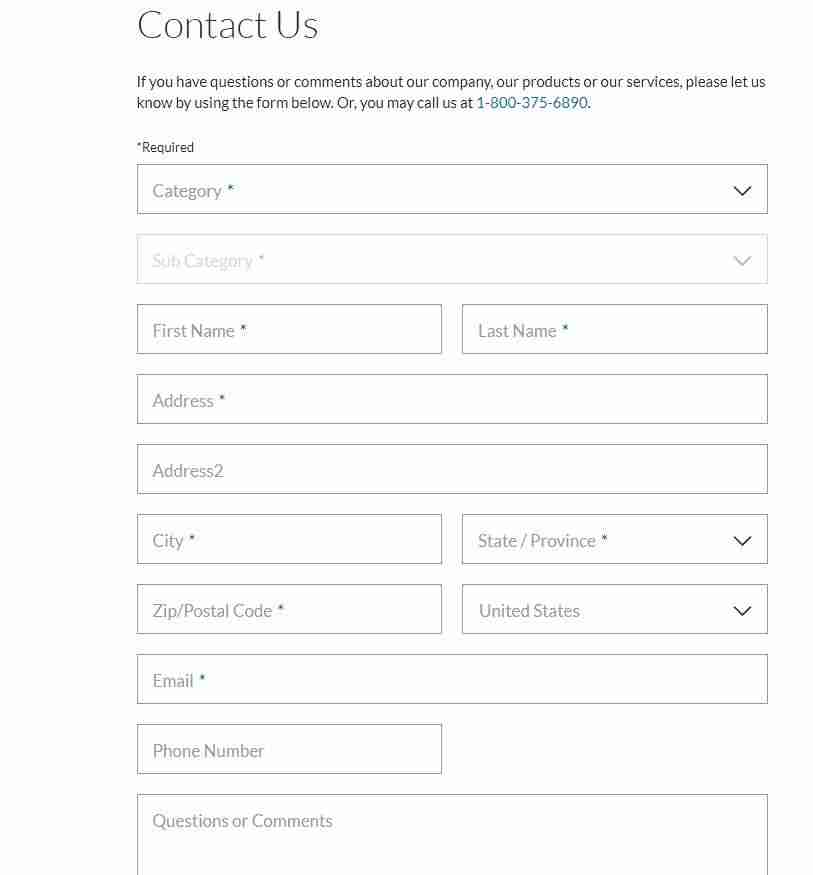 Live Chat
La-Z-Boy does not offer a live chat option. To make up for it, the website does provide its customers and clients with all the information they are seeking regarding a product in written and video form.

Feedback Form
You can get access to the Feedback Form through the sidebar on the homepage. This is a great way for the company to learn about how to improve user experience. The drop-down feedback menu allows you to give feedback regarding:
Website Navigation
Store Experience
Cart/Checkout
Customer Service
General Website Experience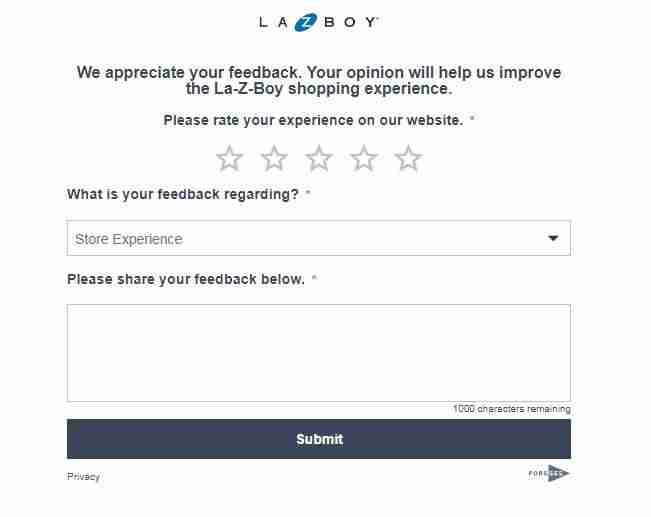 All you have to do is pick a topic, write your feedback and give your experience a rating.
Social Media
You can find La-Z-Boy's social media icons at the bottom of the page. Clicking on these icons will take you directly to its social media platforms, which include Facebook, Twitter, Instagram, YouTube, and Pinterest. Facebook has the highest number of likes and follows — 1,018,200 likes and 996,460 followers, whereas Pinterest has 4.4 million monthly viewers.
Help and FAQs
General questions like, "Is there a La-Z-Boy for children?" or "My La-Z-Boy does not have a headrest. Why?" have been answered by La-Z-Boy. The company has divided the FAQs according to categories and each sub-category has more than 20 answered questions. The main categories include:
Product Information
Order Status
Quality
Retailer
Investor Relations
Web Site
Cleaning and Care
Marketing
International
Service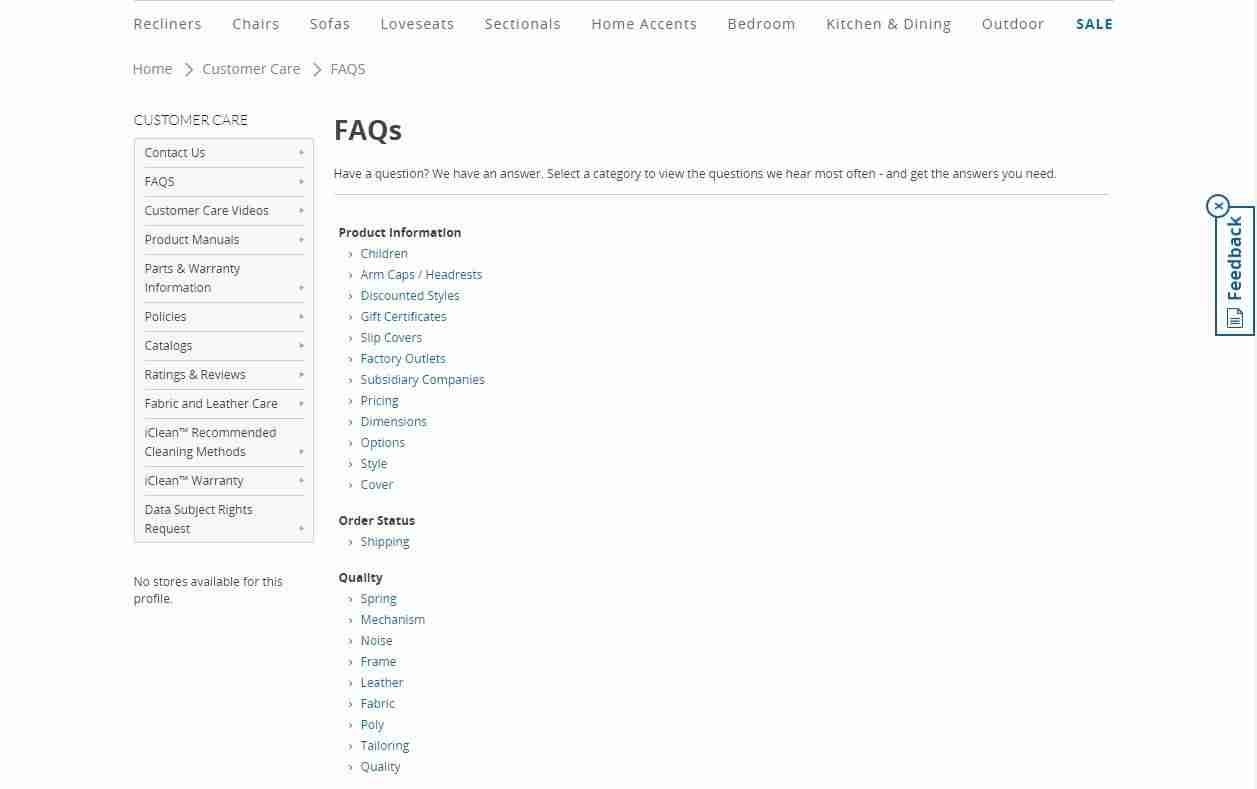 Sustainability – Energy Management Program
La-Z-Boy has an energy management program, which is dedicated to reducing the product's carbon footprint. The company measures the amount of energy, electricity, and natural gas that is used in manufacturing its products and then tries to come up with new ways on how to make sure that its products are made in an environment-friendly manner.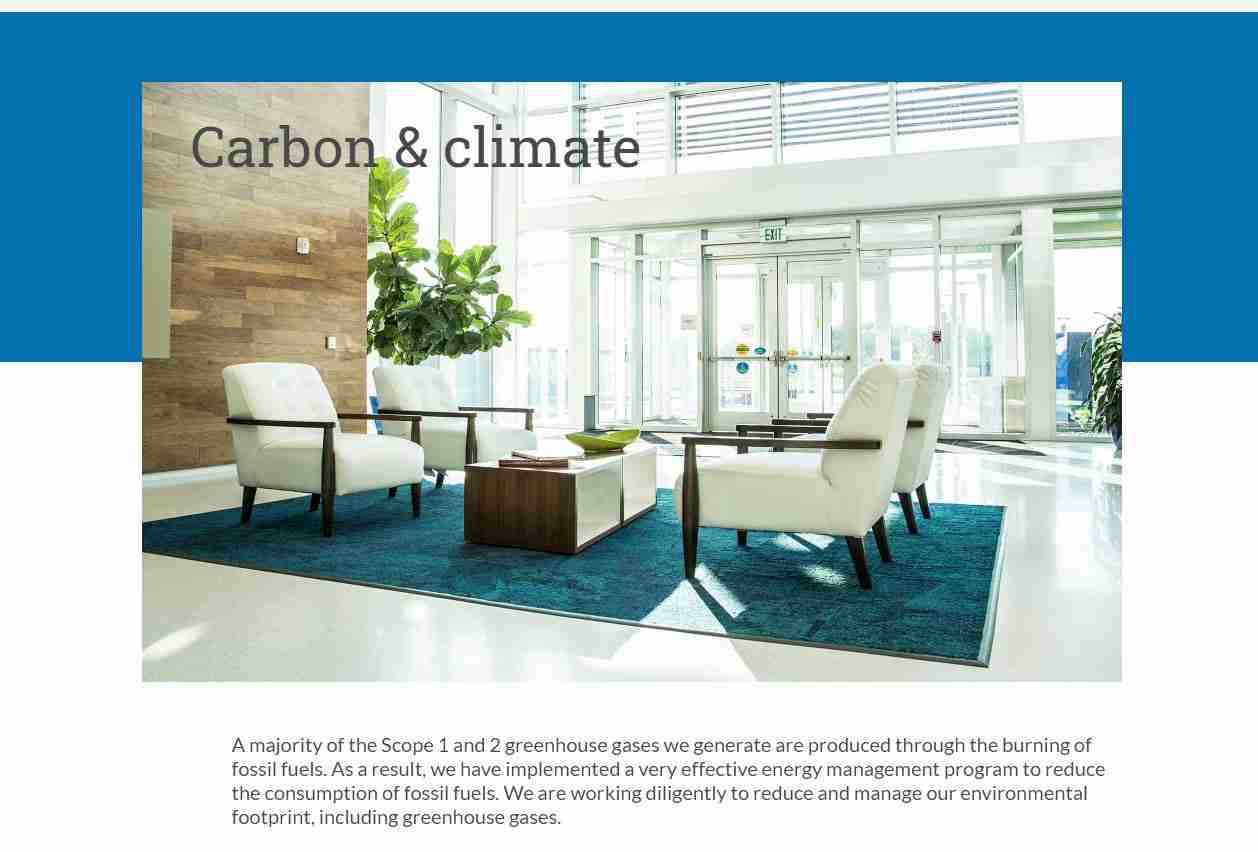 The energy management program comprises the following elements:
Corporate Engineering and Facilities Manager
Analysis of Energy Data
Plant Energy Champions
Energy Monitoring
Energy Audits
Energy Action Plans
Performance Goals
Success Recognition
Stay In Touch with La-Z-Boy
There's no doubt that La-Z-Boy offers one of the best recliners in the world. In fact, the brand ranks at the top in the list of "Top 5 Recliner Brands". It's astonishing how a mock-up chair changed the history of the way people relax. This is the true mark of a comfortable and soft chair!
If you want to learn more about La-Z-Boy's products or want to give feedback regarding your experience, you can get in touch with the company through the above-mentioned ways.