Did you know? KLM Royal Dutch Airlines is one of the oldest airlines in the world.
The airlines began their route way back in 1919. They are stilling flying high and providing transport services around the world.
The company offers both passenger and cargo transport services to more than 145 national and international destinations. The airline's flight zones include the main areas of Canada too.
How did it all begin? KLM Royal Dutch Airlines (KLM) is a Netherland-based organization. It is a subsidiary branch of the KLM group in the Dutch region. The company has associations with Air France and Sky Team airline alliance.
 These partnerships indicate that KLM holds a prolific spot in the European airline industry.
Yet, this prestigious profile doesn't have any impact on the airline's rate or customer service. You'll find that KLM Airlines is still predominately an affordable and budget-friendly transport provider.
They're also pretty keen on providing passengers with the best service possible. This ensures that their travellers can embark on a stress-free journey.
Do you want to contact KLM Airlines Canada? This article features the many ways through which you can reach out to the Dutch airlines. From contact numbers to social media accounts― KLM Airlines is always at your reach.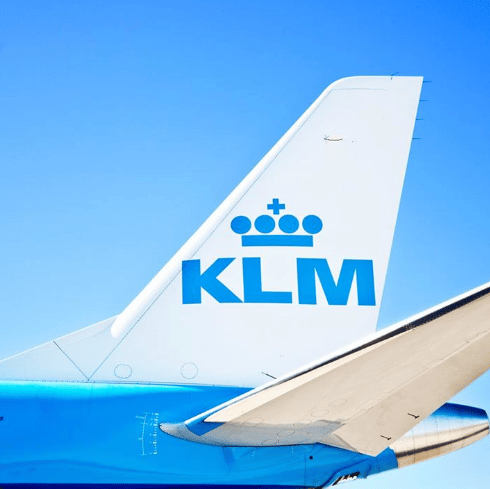 Calling KLM Airlines Canada's Customer Service
Did your flight get cancelled? Could the bad weather cause a delay?
Traveling is connected to a lot of variables. The slight change in personal or environmental condition can cause your plan to change. KLM Airlines Canada is well aware of the infinite issues that might crop up a few hours/days/weeks and even months before your flight. That's why they've set up multiple hotlines for their customer support. This ensures that your questions are answered in real-time.
Here are a few contact numbers at your disposal:
Want to contact the main customer support team?  +1 866 434 0321
Need emergency travel assistance? Then dial +1 866 434 0321
Looking for a quick chat? Get in touch via Whatsapp on +31206490787
Once you get connected with the operator, they'll direct you to the relevant department. It's important to note that the customer support team is online available on the phone from 8 am to 11:59 pm (Eastern Time). Any calls made outside this timeframe might not be answered. But their Whatsapp number remains active 24/7.
What if you need to book an emergency flight?
If that's the case, then you can correspond with the reservations team from Delta Airlines. To do that you should dial +1 800 221 1212. A representative from the KLM group will answer to your call.
On the whole, KLM Airlines in Canada have made sure that you're able to get through them via the phone no matter what the issue is.
Connecting via Email
Attention KLM passengers!
KLM Airlines Canada doesn't offer a traditional email address. Like many professional airlines, they've created a systematic alternative. Instead of sending them a detailed email, they want you to fill up an official submission form.
All you have to do is head over to their official website and then go to the correct page. Then fill in the required details of your inquiries. After you press send, you may expect the team to contact you within the next 24 hours.
The response time may vary depending on the urgency of the situation.
The correspondence will then continue via traditional email.
When should you send them a query?
Email correspondence is usually necessary for flight changes, cancellations or travelling assistance. You may also need to inquire about luggage or other facilities provided by the airlines.
No matter what the issue is, you can expect to hear back from the team in due time.
Bonus: You may also send in your customer feedback through a separate online survey form.

Online Help Desk
Got some pestering questions?
Then you should head over to KLM Airline's online help desk. The page is divided into multiple sections that work as a self-help guide. Think of it as an interactive FAQ page for online visitors. The help desk will either direct you toward the information.
Or advise you to send in a query to the KLM Airline Canada customer support. In both cases, you can expect to get a prompt response from the team.
The online help desk offers customer support for:
Flight Information
Change or Cancel Flights
Flying Blue or KLM Accounts
Baggage
Refunds and Compensation
What if you have more questions? Then you can connect with the KLM Airlines' customer support with multiple communication mediums listed on this page.
Bonus: The online help desk has a search bar for optimized searching.
Being Social: KLM Airlines Canada's Social Media Channels
Want to be part of the KLM Airline family?
Then you'll love all the updates and news they share on their social media pages. The company keeps a super sweet profile on the social media front. It offers customers an insight into the behind-the-scenes actions of the Dutch airlines. They also provide tips and tricks on travel safety. But best of all is the fact that their social media managers function as a customer support center too.
So if you weren't able to reach the crew on the phone. Then you can always try getting a hold of them on these digital platforms.
You can connect with KLM Airlines Canada on:
The official website states that both social media accounts are available for contact 24/7. But if that isn't the case, then you'll likely get a response within a few hours of the next working day.
Other Customer Service Options
Stay Updated
Want to stay updated with KLM Airlines Canada?
Then you should subscribe to their newsletter. KLM Airlines shares all kinds of informative and interesting news about the airline via their newsletter. You'll also be the first few to know what new deals and exclusive promos are available for travelers. It's basically something that globetrotters and frequent travelers shouldn't miss out on.
Let's Sum It Up…
On the whole, KLM Airlines Canada has opened all possible communication lines for its customers. From a connecting hotline, social media pages to inquiry forms―they've ensured that you reach them at your own convenience. And like the onsite staff, the customer service team is courteous and respectful too.
In short, KLM Airlines Canada offers you the complete customer care package!