Founded in 1966 by Carl Kirkland, Kirkland's is a retailer that provides one-of-a-kind home décor and gift items. Kirkland's is headquartered in Nashville, TN, and has 432 stores in 37 US states.
The retailer provides more than 14,000+ products across its retail and digital channels. Kirkland's wide variety of products include seasonal gifts, furniture, art & wall décor, mirrors, lighting, home décor & pillows, bed & bath, rugs & curtains, kitchen & dining, and outdoor furniture, and other accessories.
Kirkland's doesn't just believe in providing customers with everything they need to create inspirational living spaces, but it also focuses on living inspirational lives. It honors its commitment through long-standing partnerships with national and local community-oriented organizations.
Kirkland's works to facilitate a sustainable environment within the workplace. Its headquarters is Energy Star® Certified, uses high-efficiency lighting, follows green cleaning practices, includes occupancy sensors across the facility, and recycling.
Another great thing about Kirkland's is that it prioritizes its customers' convenience and satisfaction. Here's everything you need to know about the customer service of this beautiful home décor and gifts retailer.
Create Your Account
You can create an account on Kirkland's to get regular updates. In fact, if you subscribe to Kirkland's email marketing, you will even get a 20% discount coupon!
Creating an account on Kirkland's will allow you to view your order history, track your orders, and get special offers and discounts.
Kirkland's Customer Care Services
Kirkland's offers several ways for you to connect with the customer services team. For details, read below.
Find A Store
Kirkland's website has a store locator feature that allows you to find the store that's closest to your location.
On this page, you can get the address and phone numbers of all the Kirkland's stores located throughout the US states. You can simply click on any one of the stores to get directions to stores and find out its timings.
Contact Kirkland's
Monday – Friday: 8 AM – 9 PM CST
Saturday – Sunday: 8 AM – 7 PM CST
5310 Maryland Way
Brentwood, TN 37027
United States
Frequently Asked Questions
Kirkland's has a wide variety of frequently asked questions listed on its "Read FAQs " page. All these questions are divided into various categories such as:
Kirkland's General Information
Merchandise
Returns & Exchanges
Credit Card
Gift Cards
Employment
Email Communication
Kirklands.com
Discounts & Promotions
K Club
Pricing Policy
Shipping Information
Social Media
SMS Program
Corporate Sale
Warranty
All you need to do is click on a specific category to view the questions related to it. Then, simply tap on the question you want answered to access its comprehensive answer given by Kirkland's.
Kirkland's Social Media Presence
Another easy way to get in touch with Kirkland's customer service is by sending a message on one of their social media accounts or commenting under the relevant posts. Their customer service representatives are quick in responding to the queries.
You can also head over to their social media pages for updates related to sales, new products, etc.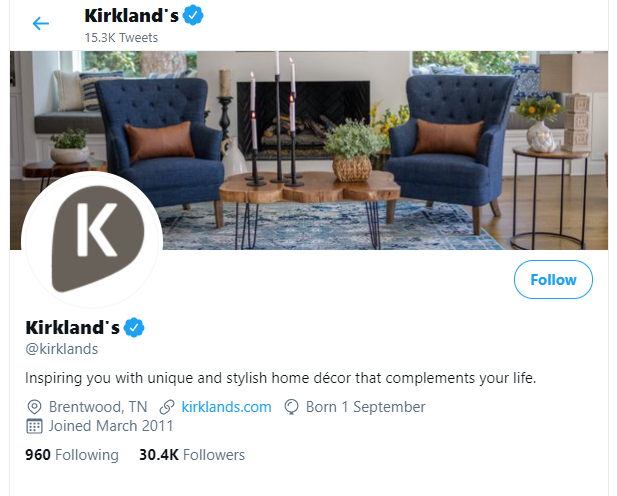 Here's a list of the official social media accounts of Kirkland's.
You can follow these accounts on their respective social media channels to stay up to date about everything related to Kirkland's. Joining their social media community will allow you to engage with them regularly and be among the first to learn about something new happening at Kirkland's.
Ways to Shop at Kirkland's
Kirkland's provides its customers with three different options to shop. These include:
Ship to Store – This allows you to get your favorite product shipped to a store that's closest to you. Your item should arrive at your selected store within approximately 7-10 business days (up to 14 business days for West Coast orders). Kirkland's will send you an email when it is ready for pickup.
Ship to Home – Here you can get your selected products shipped directly to your home. You can view the complete shipping at handling costs on Kirkland's webpage.
Pickup In-Store – Buy Online, Pick Up in Store allows you to make a purchase online and pick up your order from your local store without the wait—or cost! —of shipping. This way you can shop whenever, wherever you want, and your items will be ready for you to pick up at your local store within just a few hours. It's same-day shopping at its best!
For each of the shipping methods, Kirkland's has thoroughly explained the details and answered some of the most commonly asked questions on its website.
Kirkland's Return and Exchange Policy
Kirkland's has a very comprehensive return and exchange policy to provide maximum convenience to its customers.
The easiest and quickest method to return your order is at any of Kirkland's convenience store locations. Along with that, you can even return items by mail.
Kirkland's return policy states that returns and exchanges can be made up to thirty (30) days from the date of purchase. If it has been more than thirty (30) days from the purchase date, you may receive a gift card for the current value of the item plus tax.
Careers
Kirkland's also has a complete section for Careers. If you want to join Kirkland's team, you can simply browse their list of current opportunities. You can filter out the available positions by category, position type, and location.
Alternatively, you can even visit Kirkland's LinkedIn page and learn more about the company, its culture, people, and available jobs.
The Bottom Line
Kirkland's has an excellent customer service team to maximize customer satisfaction. Their website interface is beautiful and easy-to-use.
All in all, Kirkland's stays on top of their customer support game to ensure that you receive the best quality service with no compromise on your convenience. Now that you know how to get in touch with their customer service representatives using different mediums, you can start sending out your suggestions and queries today!