Kentucky Fried Chicken (KFC) is a chain of fast food restaurants, specializing in fried chicken as opposed to the traditional hamburger. In terms of sales, it is the second largest franchise chain in the world, with McDonald's being number one. There are nearly 20,000 locations spread out over 123 countries world-wide. Kentucky Fried Chicken is a subsidiary of Yum! Brands, which also owns Taco Bell and Pizza Hut.
KFC was founded in 1952 by Harland Sanders. His image became a well recognized figure and is still used today in KFC advertising. Colonel Sanders sold the rights to the KFC brand to a group of investors in 1964 because his age no longer allowed him to keep up with the the rapid expansion of the company. The continued use of his name and image was part of the sale.
By the mid-1960s the restaurants had expanded into Canada, Mexico, the United Kingdom and Jamaica. Fried chicken is the company's big seller, but over the years they have increased their menu to include salads, wraps, hot wings and chicken nuggets. The company officially changed its name to KFC in the early 1990s to get away from the "unhealthy fried food" image. KFC restaurants are located in all Canadian provinces plus the Yukon Territory. During the past ten years many of the stores have merged with Taco Bell, giving you more menu options than ever before.

KFC Customer Support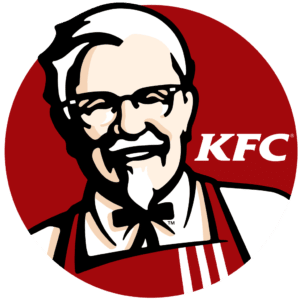 Contacting the staff or manager at your local store is the easiest way to get help. Find a location near you with the handy store finder tool. This search tool tells you the address, phone number, store hours and what services they provide. Guest service representatives can be reached toll-free at 1-866-364-0862 or you can use the online form. You can order online and either pick up your order or have it delivered right to your door. Check out the menu and nutritional info to help you decide what to order.
The company headquarters is located at 1441 Gardiner Lane, Louisville, Kentucky, United States. Contact Yum! Restaurants International (Canada) Company for franchise opportunities in Canada.
Keep in touch with KFC on Facebook, Twitter or YouTube. You'll have plenty of chances to enter contests, get coupons and find out about all the great things KFC has to offer. For more than eighty years KFC has cooked up chicken that is "Finger Lickin' Good." Grab a bucket today.