An online food delivery and ordering platform, Just Eat is functional in 13 different countries.
It offers its users access to different restaurants, cafes and more in the locality that they can order from.
Launched in 2000, Just Eat has slowly grown from being confined only to one country to expanding internationally by 2006. Today, Just Eat functions in 13 countries across the globe, including Canada. In 2016, Just Eat Canada made headlines again when it bought SkipTheDishes, a Canadian food delivery service that offered similar services.
At the time, it was speculated that SkipTheDishes would be wallowed up by Just Eat Canada but it was kept on as a subsidiary of the company. Surprisingly, if you go to the website today, it is announcing that Just Eat Canada is moving to SkipTheDishes.
There's no knowing what this heralds for Just Eat Canada but it is an unusual step and one that most companies don't undertake. Nonetheless, it is assumed that the merger will bring a boost in the quality of their services and their customer support services as well.
If you're wondering how to get in touch with Just Eat Canada's customer support services, pay attention to the following to learn more:

Get the Just Eat Canada App
Just Eat Canada might be shifting to SkipTheDishes on their website but you can still download the app to find amazing deals on your favorite restaurants. They also have a dedicated area meant specifically for customer support on their app.
Whether you want help through live chat or you're looking to get in touch over the email, you can make use of the app to get help in significant areas.
Just Eat Canada's Customer Support Services
Just Eat Canada has worked on making their services simple, easy to use and considerably problem free. If you're still experiencing any issues, you can head to their support section. You will find that the quality of their services is reflected in their customer support services as well. Getting in touch with Just Eat Canada can be done through their FAQ section, live chat, email address and even a phone number.
Get Answers to General Questions
Before you begin to call someone, email or live chat, it is a good idea to take a look at some of the general questions that you might have. These are usually related to common issues that a consumer can have when they're ordering with Just Eat Canada.
Clicking on any of these will take you to a page which answers the question and also offers you an alternative measure. If you're not satisfied with the answer, you can then try a different route.
Search for the Right Answer
If you still cannot find the right answer to your question, you can also use the search bar. This search bar will give you results related to your problem. With a vast FAQ section, you will find that there is literally no answer that Just Eat Canada cannot answer for you.
Plus, the search bar also gives you the nearest alternatives to your query, based on the keywords that are in your question. The answers are all searched on that basis.
How Do I Get in Touch With Just Eat Canada Through Live Chat?
Now, if you are still not happy with the results you get, you can get more help by clicking on the Chat Now button. This button will then cause a live chat window to pop open. Initiating a chat through this window can be done with ease.
Their live chat timings are also all day so you can rest assured that you will get help from someone regardless of what the issue you might be facing. The live chat option is the best one if you are experiencing a very pressing problem.
How Do I Send Just Eat Canada an Email?
Just Eat Canada has a dedicated email address for all consumer queries, issues and more. You can get in touch with them on the following one:
je@skipthedishes.ca – For general queries and questions
Replies can be expected within 5 to 7 working days so you're requested to be patient when reaching out to the company on this number. For a speedier resolution, you can try the live chat services to get the right solution as soon as possible.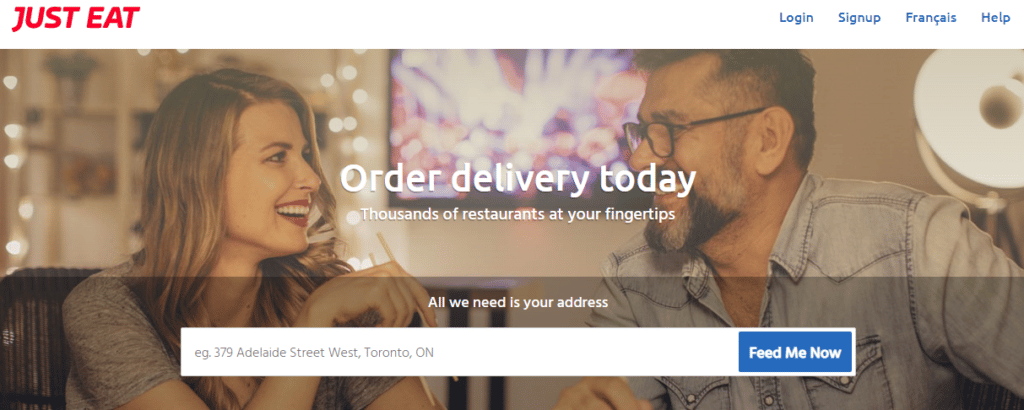 How Do I Call Just Eat Canada on The Phone?
Unfortunately, since Just Eat Canada is moving to SkipTheDishes, it is no longer listing a functional phone line for their customer support services. You can rely on their live chat or email address options to get the answers you require for your query.
Follow Them on Social Media
Just Eat Canada is active on social media and you can follow their pages to stay updated with their promotions, codes and other giveaways.
Their high activity also means that if you want to find a solution, you can approach them on social media to do so. Interestingly since Just Eat is moving on to SkipTheDishes, their social media pages are also merging together.
Facebook
Follow On: https://www.facebook.com/skipthedishes
Unfortunately, due to the shift to SkipTheDishes, Just Eat Canada no longer has its own social media page. Clicking on the link will redirect you to the social media page of SkipTheDishes. If you're just looking to follow the page to get promotions though, this is a good choice.
Twitter
Follow On: https://twitter.com/skipthedishes
Much like their Facebook page, Just Eat Canada has also gotten rid of their Twitter Page. So, if you want to follow Just Eat Canada on social media, just head over to SkipTheDishes to learn more about it. You can also get some amazing deals and promotions here.
Instagram
Follow On: https://www.instagram.com/justeatca/
Unlike Facebook and Instagram, Just Eat Canada does have an Instagram page for their website but it hasn't been active since its announcement to merge with SkipTheDishes. In this case, if you're following their social media for any benefit, it is a good idea to just follow SkipTheDishes instead.