Instant Pot has an intriguing history. In 2010, Dr. Robert Wang, the founder of the company tried to combine the versatility of a rice cooker with the utility of pressure cookers and slow cookers.
The doctor was well-poised for this task since his expertise in computer algorithms enabled him to make multipurpose cooking appliances with a previously unseen level of control and customizability. This is how the Instant Pot brand was born.

Unsurprisingly, his product range became a bestseller on Amazon and also garnered a lot of media attention. It was featured in prestigious publications like the Los Angeles Times and the New Yorker. It even grabbed the spotlight on "the Tonight Show" with admiration from Jimmy Fallon.
The brand has earned the distinction of making advanced pressure cookers that offer a high level of control to users. Pressure cookers were previously seen as anything but high-tech.
However, Instant Pot changed that in a big way and has radically transformed the way consumers perceive pressure cookers. Instant Pot is recognized as the most sophisticated pressure cooker brand in the market.
Let's see take a look at the customer support services at Instant Pot.
How to Get in Touch with Instant Pot
Instant Pot, the website
When you land on the home page, you cannot miss the support icon located right at the top. Instant Pot has placed the customer support link right at the top so that customers can get help immediately.
As your mouse pointer hovers over the link, a drop-down menu appears showing links like product registration, FAQs, troubleshooting, care and cleaning, user manuals, and the contact us page. You can check all of your support options by just hovering on one link at the top of the homepage.
The banner on top is visible on all webpages. So, no matter which page you click on, the customer support link will always be visible on this banner right at the very top. This way, customer support just one click away wherever you may be on the website.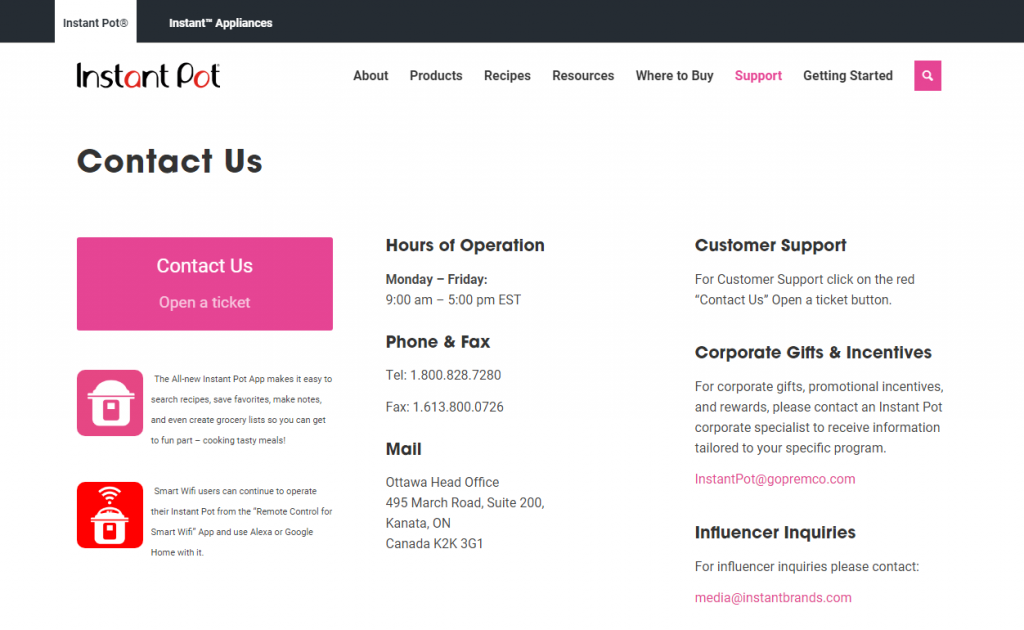 Contact Instant Pot
The contact us page shows the timing during which you can reach out to customer service support through phone and fax. Help is available for customers five days a week from 9:00 am to 5:00 pm EST.
Telephone:
Fax:
You can contact professional and courteous customer support professionals via email and telephone. Live chat support is unfortunately not available.
There is also a highly visible big pink button for you to place your ticket. You can open a ticket via this link to initiate the customer support process that will resolve any issues that you may be having.
Instant Pot Customer Support Tickets
When you click on the ticket link, you are taken to a page that shows a form you must fill up to place your ticket. You are asked for the usual information,such as the product model, your name, address, contact information, and an image of the product that you are facing problems with.
You can fill up this form quickly in just a few minutes to initiate your problem resolution.
User Manual of Instant Pot
In case you have lost your user manual or would just like to read an online copy, you can click on the user manual link. You will find this link by hovering your mouse over the support link on the homepage whereupon, a drop-down menu will appear. The user manual link is on this list.
When you click on this link, you will be taken to a page that shows user manuals for all Instant Pot models. You can locate a model of your choice here and download its corresponding user manual.
Care and Clean
The Care and Cleaning section is about troubleshooting, maintenance, and repair of your Instant Pot appliance.
Here you will find cleaning and maintenance instructions for 3 classes of products: pressure cookers, Sous-vide, and blenders.
You can click on the product range relevant to the model you own to find necessary maintenance instructions.
You will find allthe necessary information on cleaning and maintaining your appliance. There is also a video right on top of the page which shows you how to clean your appliance. You can see this video and learn about the cleaning and maintenance procedure if you do not want to read instructions.
The instructions themselves are written in simple language and are very easy to follow. Instant Pot has taken the trouble of breaking down the appliances into constituent key parts so that you can understand how each part is to be handled and what function it performs.
Step-by-step instructions are provided for cleaning each part separately. You will learn which parts are dishwasher safe and which aren't.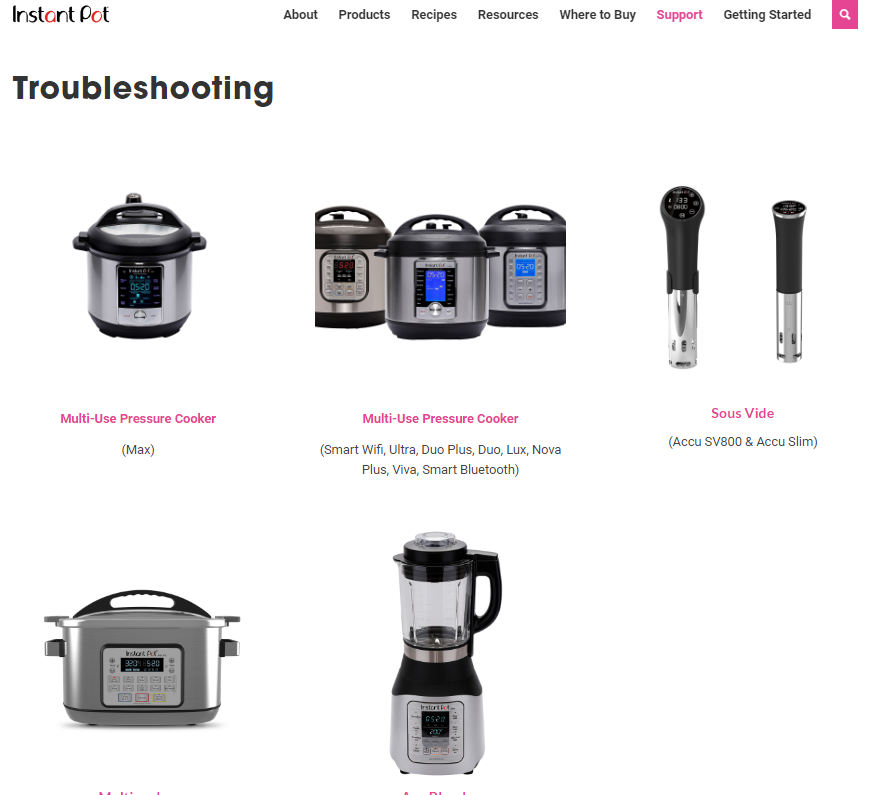 Troubleshooting
You can find troubleshooting information for different product ranges like pressure cookers, souse vide and blenders. There are separate sections for different classes of pressure cooker types.
The troubleshooting page for your appliance class is divided into different sections. For instance, the troubleshooting page for the Max range of pressure cookers is divided into the following sections: cooker, display, and lid. Underneath each section,you will find the most frequently encountered problems.
For instance, under the lid section, you will find symptoms like difficulty with closing lid, steam leakage, problems with float valve and more. You just need to click on the problem statement that best describes your issue.
The question will expand to reveal a short answer to your problem in simple language.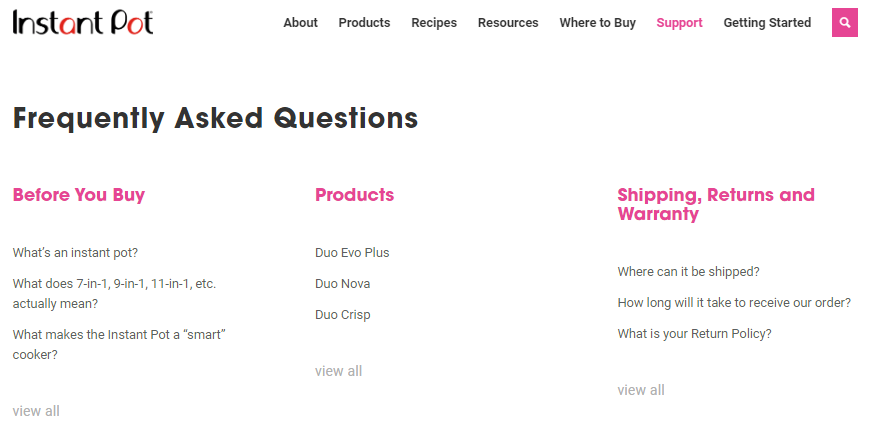 FAQs
The FAQ section is also available so that you can find a quick answer to commonly asked questions. The questions and answers are arranged in a well-organized format in brief and simple language.
You can find answers to questions related to warranties and different product ranges. You will also be provided with information that you need to know to make a wise buying decision.