Insignia aims to provide the most innovative and affordable smart products for its customers. The company manufactures reliable and easy-to-use consumer electronics that are suitable for all kinds of budgets.
Insignia products comply with the highest quality standards and compliance requirements. The Insignia brand also provides efficient and easily-accessible customer support.

Insignia products are designed and manufactured with the customer in mind. Hence, its products are user-friendly and self-explanatory. Some of the older Insignia products included re-branded products from different electronics manufacturers. However, the newer product lines are now made by the brand itself.
Insignia is a 'Best-Buy' brand that provides high-quality smart electronic products for budget-conscious consumers.
Here are the details about Insignia's customer service.
Home Page
The Insignia home page has a customer "Support and Service" section at the very top of its banner. The customer support icon is therefore highly visible and easily accessible. When you move your mouse to the "Support and Service"icon, the drop-down menu appears showing "Contact us" and "Product Support."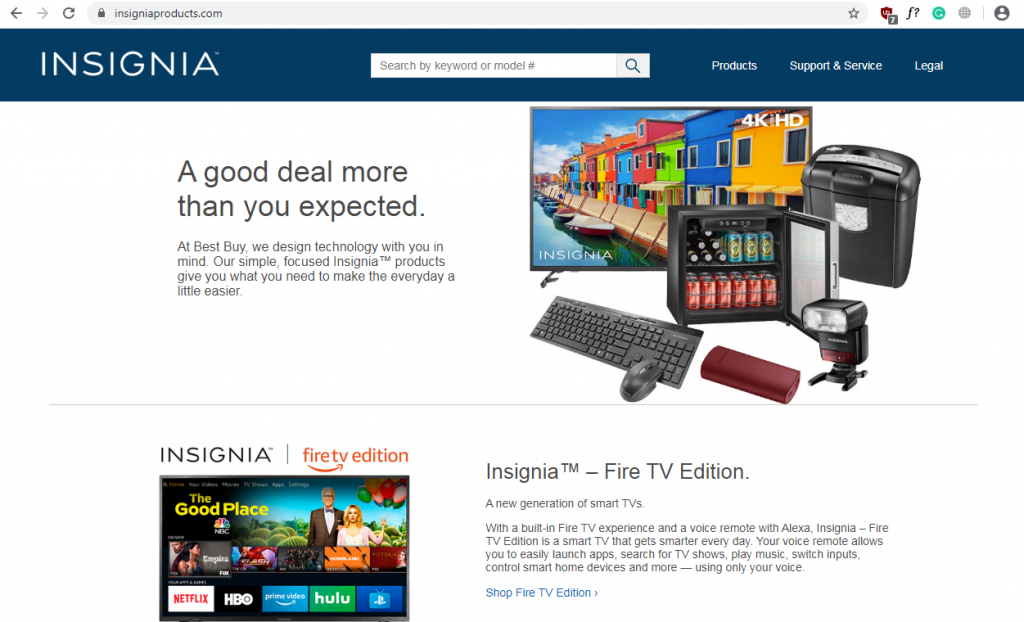 Product Support
After clicking on "Product Support" in the drop-down menu, you will be taken towards a well-organized product page where you can find product information, popular support topics and also other kinds of support services.
Product Information
In the product information section, you can type in your model number to find its relevant user manual, FAQs, warranty information, quick step guides and other material that will help you with the use of your product.
All you have to is to enter a keyword or your model name in the search bar. When you press the enter button, you will be shown a page with the search results.
Search Results
The search results are shown in a well-organized format complete with the model name, number, ratings, and reviews. You can choose to organize the information in a scheme that suits you best.
You can click on the icons towards the top right corner of the search results to arrange the entries either in the form of image tiles or a detailed list.
You can arrange the entries according to the best match, price (showing the highest first or the lowest first), and customer rating. You can arrange the search results to quickly find top-rated products or the cheapest products available.
Product Information Page
For each product, you are shown an icon for product support and download. When you click on this icon you are taken to a page that shows you downloads, reviews, specifications, and features in the form of tabs.
You can click on one of these tabs to find the relevant information that you are looking for without moving away from the product information page.
From the download section, you can download the user manual, important information pamphlet and warranty information for the product.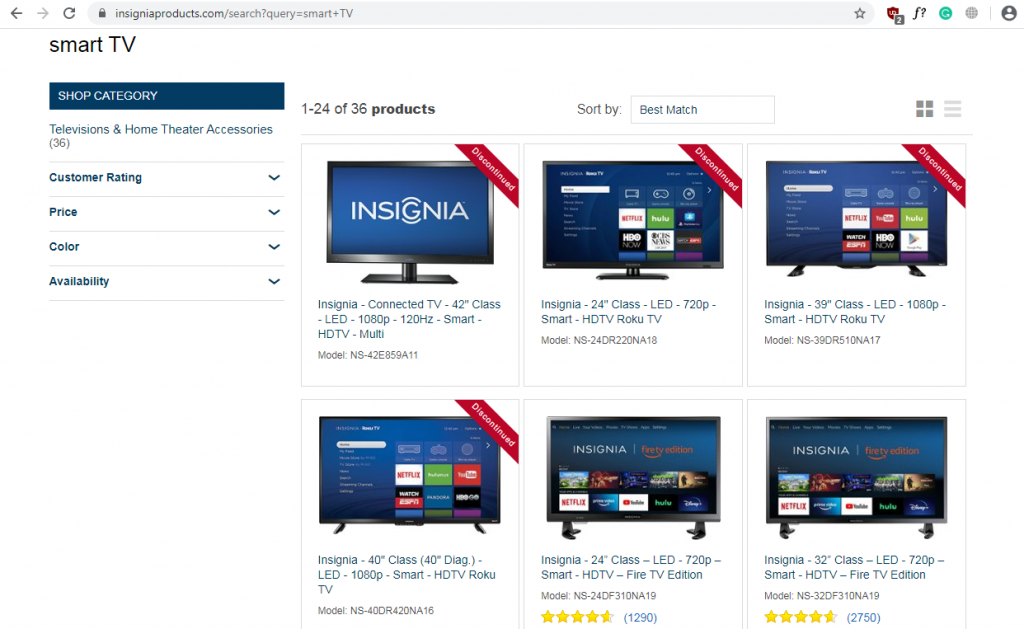 Search Filters
There are also several filters that you can apply to the search results. You can select these filters from the menu towards the left of the search results. You can key in your filter constraints like customer rating, price, color, and availability.
Therefore, you can find products according to your budget, color and required ratings. Using the filters is very easy. For instance, to select the rating, you just have to click on the rating section.
The section will expand to show a list below it. The list has checkboxes for "4 & up," "3 & up," "2 & up" and "1 and up." Just put a tick on the rating range that appeals to you and you will see entries in the search results that meet this constraint.
FAQs and Community Discussion
The good news is that a forum is available so that you can post your problems and get quick tips from the active user community.
You can find opinions from seasoned users for a range of topics that you would like to discuss.
The forum has sections for different product ranges like TVs, home theater, portable audio, smartphones, cameras and much more. You just have to post your topic in the right section to get valuable opinions and suggestions from experienced users.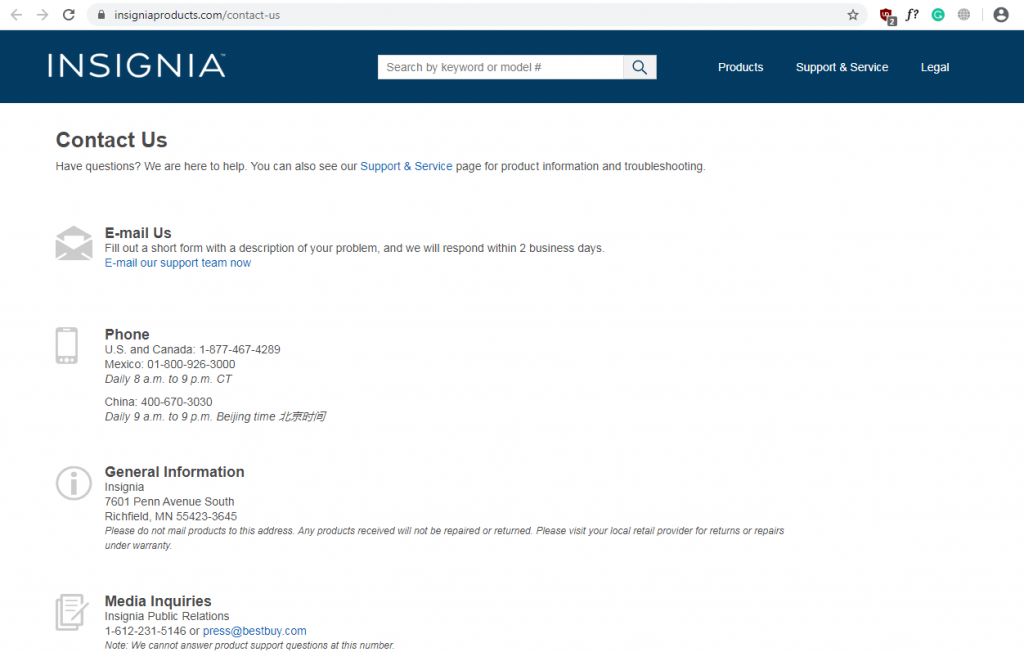 Contact Us
If you have exhausted all your search options and you still cannot find the information that you need, you can go to the "Contact Us" section where you will be shown different ways that you can contact customer support.
You can send an email or give them a call. Make note of the customer support timings so that staff is available to answer your phone call.
Here are the contact numbers for Insignia customer support.
US and Canada: 1-877-467-4289
Mexico: 01-800-926-3000 (Daily 8 am to 9 pm CT)
China: 400-670-3030 (Daily 9 am to 9 pm Beijing Time)
Conclusion
Since Insignia comes under the Best Buys brand, it has a strong system for customer support. Using the search results is simple and you can use it to locate important information about your product with ease. You can even look towards the forums for answers from knowledgeable users.
The friendly and supportive customer support staff is available to offer courteous and professional service.