Indigo Books & Music Inc. is the only large-scale bookstore still operational in Canada. Outspoken businesswoman Heather Reisman founded this company in 1996, and since that time Indigo has expanded all across the Great White North. In 2001, Indigo made headlines when it bought competing bookstore chain Chapters. Today, Canadians can visit over 90 Indigo/Chapters superstores in all ten provinces.
Indigo also owns 126 smaller bookstores under various names. Some of the names for these smaller bookstores include SmithBooks, Coles, and Indigospirit. Although Indigo specializes in books, the company also offers other products such as nursery items, toys, jewelry, home décor items, and electronic accessories. Canadian investors follow Indigo Books & Music on the Toronto Stock Exchange under the ticker symbol IDG.
Indigo Chapters customer service
In addition to its crafty acquisitions and swift adaptation into the digital age, one of the main reasons Indigo remains a strong business in Canada has to do with its robust customer service department. Whatever you need addressed by Indigo, you can certainly find a way to get in touch with its staff. Canadians who want to reach this company by phone should dial this number (800) 832-7569. Representatives work on this toll free hotline from 9:00AM-12:00AM every day of the week.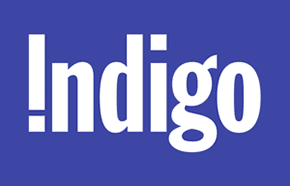 Of course, there are numerous other ways to get information on Canada's only national bookstore. For those interested in learning more about Indigo and ways to can get in touch with its staff, check out the links below.
Indigo was founded in Toronto, and it still has its home office in this capital city. If you want to mail a physical letter to Indigo, take down this address:
Indigo Books & Music Home Office
468 King Street West, Suite 500
Toronto, ON M5V 1L8

The phone number for this Toronto office is (416) 364-4499, and the fax number is (416) 364-0355.
As mentioned above, Indigo is very active on social media. In addition to their YouTube page, you can connect with Indigo using Facebook, Twitter, Instagram, and Google Plus.