International House of Pancakes, commonly known as IHOP, is a chain of restaurants mostly operated as independently owned franchises. The company slogan is Everything You Love About Breakfast, so naturally the restaurants feature breakfast foods, especially pancakes. The menu also includes omelettes, French toast, crepes and typical lunch and dinner items such as sandwiches, burgers, steaks, fries, onion rings and salads.
The first restaurant was opened by Al and Jerry Lapin in California at 4301 Riverside Drive in Toluca Lake, Los Angeles, on July 7, 1958. Today, there are over a thousand IHOP in the United States and more than 70 locations spread across the globe, including 14 restaurants in Canada – two in Ontario and twelve in British Columbia.
IHOP Canada Customer Support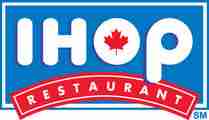 You can learn more about IHOP in the FAQ section, by completing the online form or by calling the Guest Relations line toll-free at 1-866-444-5144, Monday to Friday from 7 am – 7 pm CST. Find out the nutritional content of menu items and possible allergens before you go to help you decide what to order.
Because most IHOP restaurants are independently owned franchises, each location has its own contact information in addition to the international support number.
To find an IHOP near you, use the handy store locator tool or check out this list of Canadian locations. The corporate headquarters is located at:
450 North Brand Boulevard,
Glendale, CA
91203
You can call the company toll-free at 1-866-444-5144, Monday to Friday from 7 am – 7 pm CST.
Watch mouth-watering IHOP videos on YouTube, read about the delicious treats your friends ordered on Facebook or find the latest deals on Twitter. For more special deals and exclusive offers, join the eClub. Members are treated to free birthday meals, free stacks and many other goodies.
Share the IHOP experience with friends and family members with easy to order and easy to send gift cards. For birthdays, anniversaries, graduations or any occasion, nothing expresses your love like the gift of food. You can also buy gift cards in person at any IHOP location.