The Hampton Inn hotels were established in 1984 and started out as small motels in the US. They were popular and were seen in almost every state. As a subsidiary of Promus Hotel Corporation, the Hampton Inn hotels were bought by Hilton Worldwide in 1999.
That was just the start for this hotel chain. In 2004, it underwent a makeover when Hilton Worldwide started upgrading their hotels to add more value to their consumers.
The makeover continued not just in the lobby but also in the bedding, services offered, and even the food menu of the hotel chain. The new amenities all worked to revamp the hotel and make it more attractive.
The success of the hotel has been attributed to these timely changes. As a result, the hotel chain earned a rank in the list of Top 5 Entrepreneurs' Franchise 500 for 5 years – from 2010 to 2015. It's definitely surprising to see that the brand is now considered in the same target as the Marriot hotel.
As an international hotel chain, the Hampton by Hilton hotels has more than 2,300 hotels across the world. While a majority of them are situated in the United States, the Hampton by Hilton hotels can also be found in Latin America, Canada, and Europe and even in China and Dubai.
Hampton by Hilton's Customer Support Services
Their reputation for providing stellar hotel room is seconded by their amazing customer support services. Hampton by Hilton's customer support services help them to stand apart from other hotel chains and make them the number one choice for most consumers.
If you have any questions, queries or issues, you can rely on the following different channels to get the appropriate solution as quickly as possible.

Read Through the FAQs
The Hampton by Hilton's website features a list of common FAQs. To help make it easier for you to find a solution, you can find FAQs sorted out by category in the following manner:
Hilton Honors – The Hilton loyalty program which awards you points for your stay at different Hilton hotels
Rooms and Amenities – Find out more about the parking, Wi-Fi, hotel room amenities and more here.
Digital Key – Find out more about the digital keys used for your rooms and how they work as well as what to do if you need a replacement.
Rates and Promotions – Make use of the price match guarantee when booking a hotel room for Hampton by Hilton.
Security and Privacy – Learn how safe and secure your rooms are and how to get belongings you forgot or left in the hotel here.
Reservations – Make reservations with ease and keep an eye on all rules and regulations that apply to make sure that you don't lose any money or have to deal with fines.
You can also get access to other links and help-based articles which can shed more light on the issue you have or give you the solution that you are looking for.
Search for the Issue
If you don't find the answer to your question in the list of FAQs, don't give up. You can also use the search bar to search for the issue and find the appropriate answer to the question. This is a nifty tool that saves you a lot of time.
It also ensures that you're aware that you're facing a unique problem and need help as soon as possible. In this manner, you can save yourself a lot of time and confusion too!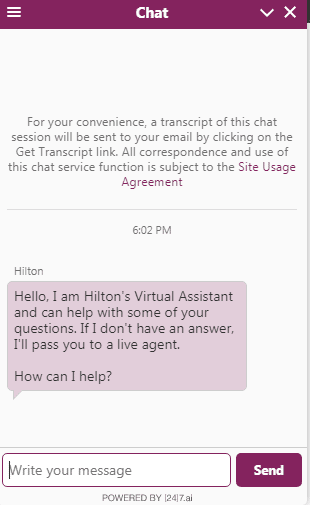 Try the Live Chat
If you're not having any luck with the FAQ search, you can also make use of the live chat option which is offered as part of the Hampton by Hilton's customer support services. The live chat is available on the website in a small box that you will have to click to activate.
This is an extremely useful tool as it will sift through the FAQ answers and give you the most appropriate solutions. In case your issue is unique, the bot will then transfer you on to a live agent who can address the issue that you are facing.
Give them a Call
You can also get in touch with the Hampton by Hilton's customer support services team over the phone. The hotel makes use of a number of different phone lines for different issues. The following are the different phone lines you can use to call the Hampton by Hilton's customer support services:
1-800-HILTONS (1-800-445-8667) – General comments or feedback about a recent stay at the Hampton by Hilton's hotel
1-800-774-1500 – To make an online reservation in the United States or Canada
00-1-800-774-1500 – For international consumers interested in either making a booking or facing an issue
1-800-548-8690 – For information regarding the Hilton Honors program for the United States and Canada. International users are requested to get in touch with their local Hampton by Hilton Hotel branch
1-800-321-3232 – For assistance with planning and hosting groups or meetings at the Hampton by Hilton for people in the United States and Canada. International consumers have to get in touch with the local branch of Hampton by Hilton Hotel for more information.
With the help of these, you can easily get all your questions and queries answered in no time.
Asking a Question through Online Form
You can also ask a question to the Hampton by Hilton's customer support services team by filling in an online form. The online form helps to address many issues and you can either pick an issue from their drop-down menu or fill in the empty area to describe your own issue.
The good news is that the Hampton by Hilton's team will take your feedback to heart and work on the issue to fix any problems that you might have. Due to this reason, you can then get the best answer or solution for any problem you might be facing.