Haier is one of the biggest names in the multinational home appliances and consumer electronics industry.
Headquartered in Qingdao, China, the multinational Chinese company manufactures a wide range of products, including air conditioners, televisions, refrigerators, microwave ovens, washing machines, computers, and mobile phones.
The company has built its name and reputation by following a quality-driven and customer-centric company strategy.
In 1985, the managing director, Zhang Ruimin, ordered his employees to destroy 76 refrigerators with sledgehammers following a customer complaint in an effort to bring radical changes in the company culture.
Over the years, the cultural transformation towards a more customer-centric approach and quality-driven manufacturing allowed Haier to become the first Chinese company to get an ISO 9001 certification.
The company still follows the same values and prioritizes customer satisfaction, which reflects in its customer care services!
How to Get in Touch with Haier Customer Care Service
Hair Customer Care Services
Haier products are available worldwide, including in Canada.
Scroll down to take a look at multiple channels you can use to acquire any information that you may require or connect with Haier representatives.

Find Haier Service Depot
Want to consult with Haier experts and technicians? Consider visiting one of Haier's authorized service depots.
You can locate the depots nearest you through Hair Canada official website. Maps are incorporated into the website to help clients find the location easily.
You can search for the depot locations by city, province, or postal code. To find an authorized service depot, click here.
Important Phone Numbers
If you need quick assistance and would like to speak with a Haier customer service representative, feel free to call at the following toll-free numbers.
Representatives are available from Monday to Friday between 7:30 am and 7:30 pm and on Saturdays from 12 pm to 5 pm ET.
For Customer Service and General Queries, call at:
For Product inquiries and Sales Support, call at:
For Information regarding Parts/Accessories/ Owner Manuals, call at Parts / Accessories / Owner Manuals: 
USA residents can call at: 
Online Support and Useful Resources
Haier offers excellent online support and customer care services. If you don't want to make a phone call, you can seek assistance online.
To make online support as seamless as possible, Haier offers different channels of communication for different purposes. Scroll down to take a look at them.
Send an Email
Email is a highly preferred way of communication. Whether you want to drop in a compliment, discuss the products you own or require more information about a product before purchasing, you can email Haier customer care at any time. They generally reply within few hours.
Request a Service Appointment
Haier encourages its customers to book online service appointments. You can request a service appointment with an authorized service depot.
If you avail this service, a Haier product expert or technician will help you troubleshoot the problems.
To schedule a service for your Haier products, you must first create or log into your Haier account.
Keep the product model and serial number ready! Once you have scheduled an appointment, check the status, re-schedule, or cancel an existing appointment at any time.
Troubleshooting Tips
While it is easy to schedule a service appointment, before you do, make sure to check out the troubleshooting tips.
Haier's troubleshooting tips are part of the online support service that helps you deal with common issues instantly. The Haier Canada website has a very extensive and thorough troubleshooting section.
Troubleshooting tips are categorized by appliance type. Meaning, you can choose your appliance to read troubleshooting tips about it.
Product Support
If you are having difficulty finding the troubleshooting tips you require, consider using the Search Support feature.
It allows you to search Haier's knowledge base for help with not only troubleshooting but also installation, operations, and more.
Download Product Manual
Did you misplace the user manual of your Haier product? No worries – simply download it from the website!
Keep in mind that you will require your appliance's model number to download its respective user manual.
Parts and Accessories
If you require information regarding parts of your Haier appliances or want to look for accessories in Canada, the official Haier Canada website is the perfect place to do it.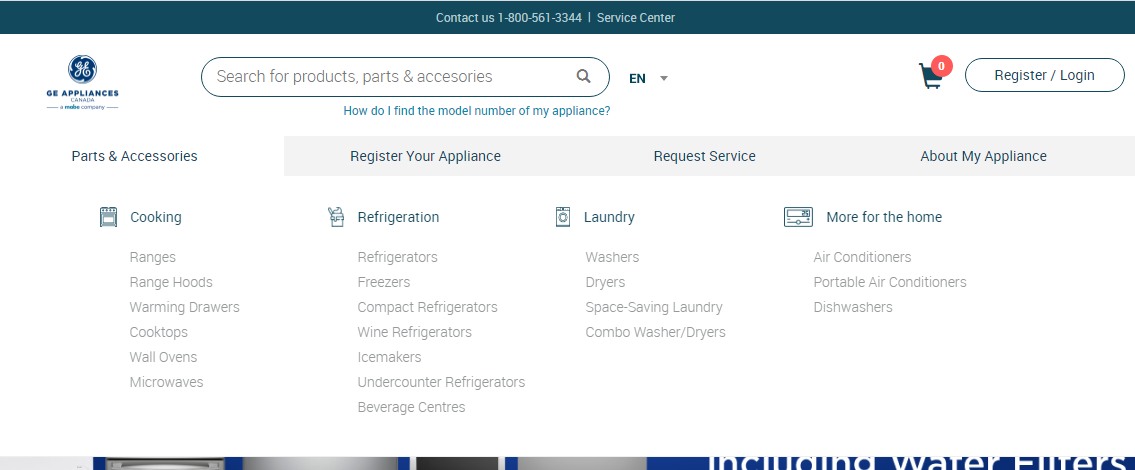 You can search for parts and accessories by appliance type. You can also filter the products by brand or price.
Register Your Appliance
When you purchase a new Haier appliance, make sure you take a minute to register it.
Registering your appliance will bring you additional perks of ownership, including product alerts, better service, etc.
Keep in mind that you will have to log into your Haier account or create a new account before registering your appliance.
Haier Social Media Handles
Follow your favorite home appliance company on social media to stay up to date with the latest happenings and reach out to Haier representatives via comments or messages.
Haier has a strong social media presence. Here is a list of Haier social media accounts that you can follow:
The Bottom Line
While the company is renowned for its quality products, Haier also excels at customer service and support.
So, whether you have a query, complaint, suggestion, or a compliment – use one of the resources discussed above to reach out to Haier representatives today!