Google is the powerful company of our Information Age. Founded in 1996 by Stanford students Larry Page and Sergey Brin, this revolutionary search engine has become so commonplace that "to Google" has entered into our daily vernacular.
Since Google's founding, this company has expanded its business operations around the world. Google has bought numerous tech companies in recent years, most famously purchasing the popular video-sharing website YouTube in 2006.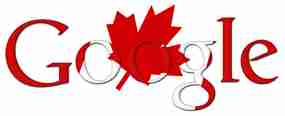 As of 2015, Google has gone through major restructuring and is now officially a part of the larger Alphabet Inc. Just a few other ventures Google has been a part of include virtual reality, online advertising, self-driving cars, and smartphones.
Google has become so expansive now that it can be difficult to keep track of the services it provides. However, it has made that easier by creating user-friendly customer support pages on its website. You can find multiple articles on each of the services it offers. These articles address a plethora of issues that are commonly experienced by users. This article provides a better look into the customer support services Google offers its users.
About Google
Before we discuss some of the customer support services Google offers, you should know exactly what Google has become today. While Google is still used by people all over the world as a search engine, it offers various services that are used by millions of people around the world. Some of these services include the social media website YouTube, the OS Android, Google Maps, Gmail, etc. One Google account will get you access to so many different services.
Google also released its own video-gaming platform recently called Google Stadia. On this platform, users can play their favourite games anywhere and on almost any screen as long they have an internet connection.
Since Google was founded in 1998, it has continued to innovate – which has now made it one of the biggest companies in the world. As of 2015, its parent company is Alphabet Inc.
Google Customer Support Services
Google has a lot of different services. Support for all of their various services can be found on their Google Help Center page.
Google Help Center
At the center of the page is a search bar in which you can describe the problem you're dealing with. This will save you time because you won't have to sift through each article and page in order to find what you need to.
Below that are 12 titles that represent the various services Google offers. Some of these services include Google Chrome, YouTube, Google Account, Google Maps, etc. Clicking on any of those titles will redirect you to a page that focuses solely on that Google service. There you will find articles on different issues about that service.
There are three broad categories on the main page of the Google Help Center that include additional Google services. The categories are: Consumer, Business, and Developer. The most services are under the Consumer section and the least in the Developer section. Each of these services has their own page, with articles on various issues related to the service.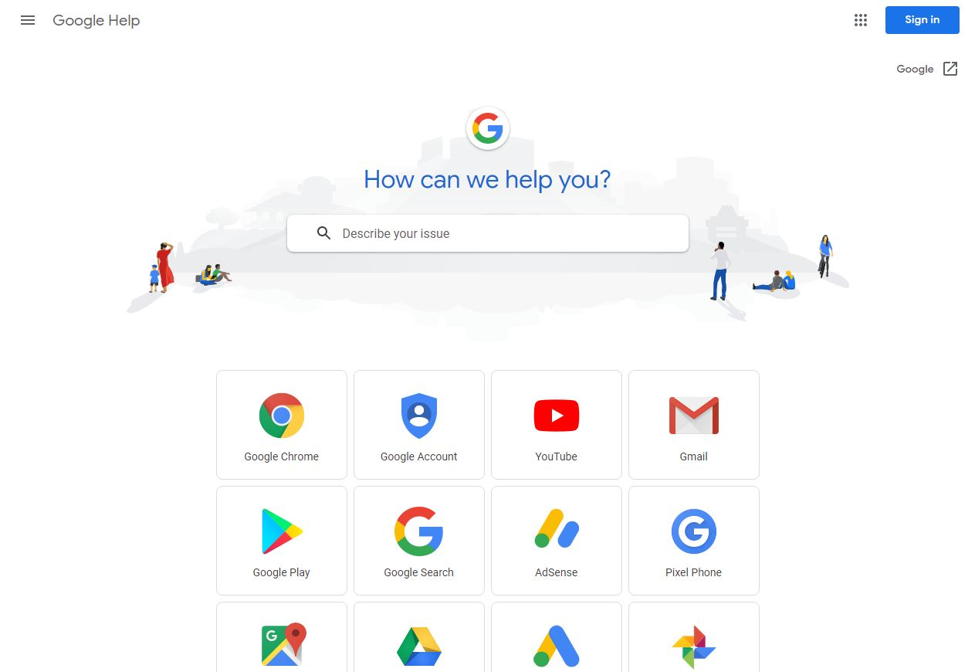 Sub-Help Centers
Each of these sub-pages has an extensive list of problems. The Google Help Center has made it more user-friendly by categorizing the articles and by providing a search bar in the center of these redirected pages.
Within some of these pages, you can write a query to the community if you can't find your issue in the list of articles already available. Your query will be shared with the community and any member can choose to address your concern publicly. It's a great way to encourage community growth and make solving problems more human and interactive.
You don't even have to write a query; it's possible that someone else faced a similar issue and posted it on the community page. You can use the search bar to find your problem on the Gmail Help Community page (for example). Other than that, the Gmail Help Center has 4 categories of support articles. There are posts made by community members in each of these categories. You can also choose to view all of the posts at once.
In addition to this, Google has ensured to make its Help Center accessible by offering their articles in various languages, including French (Canada).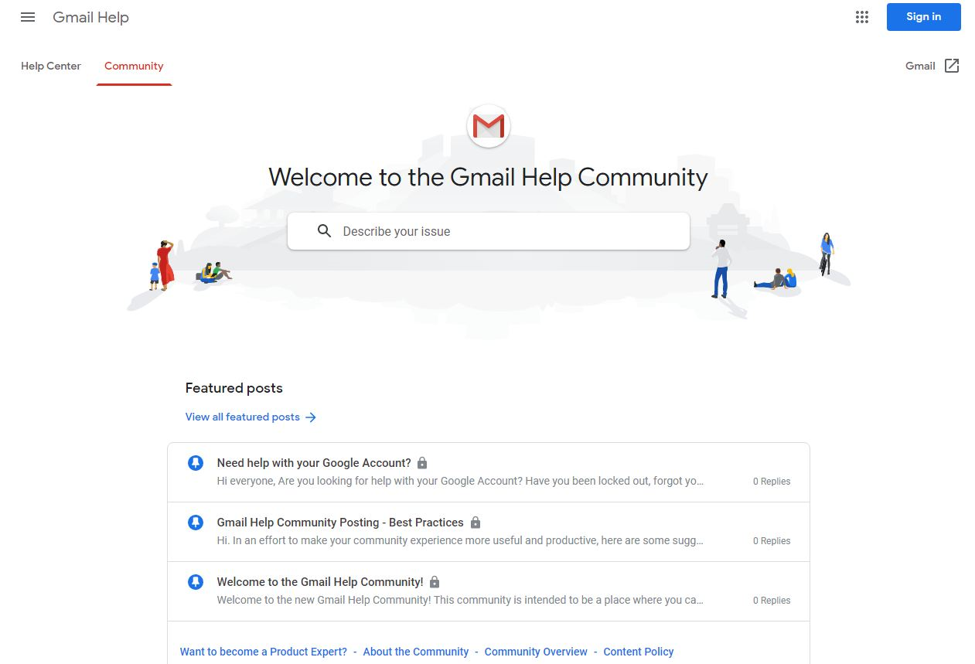 Contact Us Page
Google has a page dedicated to helping people get in touch with them for different concerns. On this page, you'll find a "privacy, security and online safety" section. Here you can report any issue that affects your personal safety while using a Google product or service. Choosing a service in the options menu will redirect you to that service's page on the Google Help Center.
Other than that, you can find an address for a Google office on this webpage, learn about career opportunities at Google, and have some of your legal inquiries about Google services answered.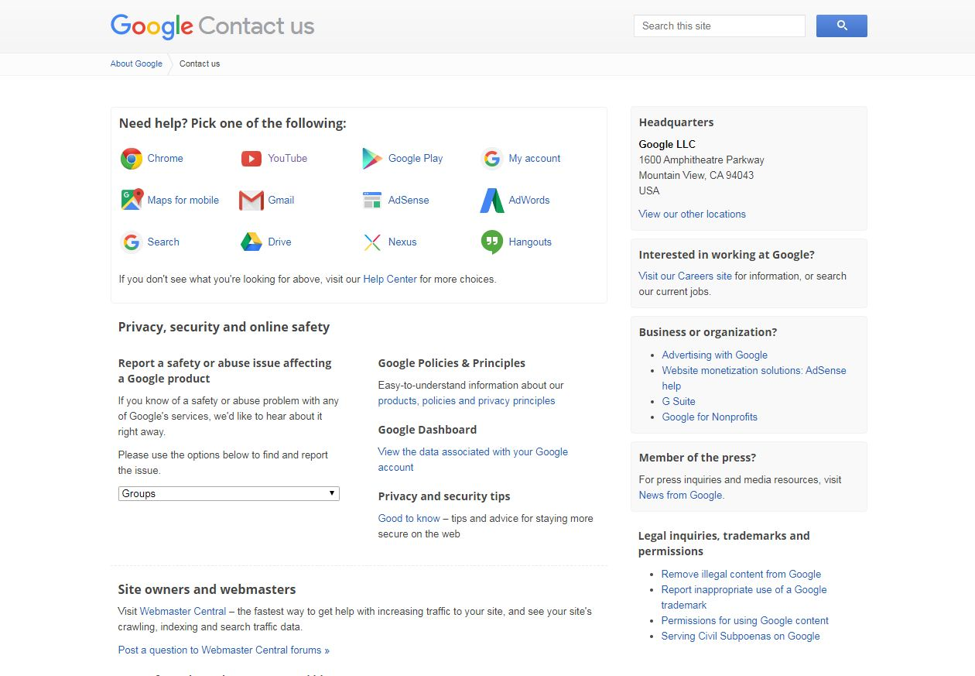 Social Media
Google has official accounts on popular social media websites including Twitter, Facebook, Instagram and a channel on YouTube. Google shares content regularly on each of these websites and keep its followers up-to-date with their latest news.
Users can use chats to engage with representatives from Google. Google's YouTube channel has a few playlists that are excellent for providing its customers with knowledge on its services. The playlist "Teach Parents Tech" has 51 videos that explain how to do rather simple tasks on Google. The target audience for this playlist is people from older generations who aren't particularly tech-savvy. Each video simplifies the task so that those audience members can easily understand the task and be able to do it on their own. Examples of the videos' titles are "how to check the weather" and "how to convert currency".
"Google Accessibility" is another excellent YouTube playlist on this channel.  It has 54 videos that can help users understand some of the accessibility options Google offers in their services. An example of these videos is "Getting started with Google Drive using a screen reader".
The great thing about a social media presence is that it creates a community of users. Users can use these platforms to interact with each other and share some of the issues they've been facing. This way, Google will be able to identify recurring issues, which they can later fix through an update. A lot of people voice their complaints about a service on social media websites, so it's necessary for companies to keep a close eye on discussions that relate to their services.
Stay In Touch with Google
Google offers so many services that you can be sure you use one or more of them. Their high regard for customer satisfaction and accessibility has kept them in the game for so long. The thoroughness of content on their Help Center is just one example of that.