GNC (General Nutrition Centers) Holdings, Inc. is an American health, nutrition, and wellness public limited company based in Pittsburgh, Pennsylvania.
The company was founded in 1935 and sells supplements, bodybuilding nutrition, vitamins, diet and energy products, sports nutrition, beauty products, and herbs.
GNC is a part of the Harbin Pharmaceutical Group Co., Ltd., which is a partially Chinese state-owned pharmaceutical firm. GNC has 4,800 locations in the United States and Canada and 1,957 stores overseas.
GNC's mission is to "Motivate and Support the Desire to Live Well," and it is intensely focused on innovating and providing personalized, convenient solutions to all its customers around the globe.
GNC Canada's customer service team has a lot to offer. We mean it when we say that you will find the answers to almost all your queries by accessing their official website.
The company offers plenty of ways for you to shop, save and support your body goals altogether. Read ahead to find out all about them.
How to Get in Touch with GNC Customer Support Services
GNC Canada's Customer Support Services
GNC Canada knows that time is limited and precious. For this reason, they provide exceptional and integrated customer support services through various platforms.
Here are all the ways you can get in touch with GNC Canada:
Contact GNC Canada
GNC Canada's website allows you to access their contact page right from the official website's homepage. The contact page provides details regarding calling hours and support emails.
To get in touch with GNC Canada over the phone, you can call between 9:00 a.m. and 9:00 p.m. EST from Monday to Friday and between 9:00 a.m. and 8:00 p.m. EST on Saturday and Sunday on:
You can also email GNC Canada by filling a short form on their contact page with your name, email ID, phone number, and query.
GNC Canada's contact page also has several search tabs, each for a different category as mentioned below:
By clicking on each of the links of search tabs mentioned above, you can access detailed information pertaining to your query. So, for example, if you want to know more about the payment options provided by GNC Canada, all you have to do is click on the "Payment" tab and find out the answer to your question!
Alternatively, you can also talk to a customer service representative by clicking on the "Start Chat" icon on the bottom right of the homepage. Or, you can type in your query in the search bar at the top right corner of the homepage so GNC Canada can help you find what you are looking for.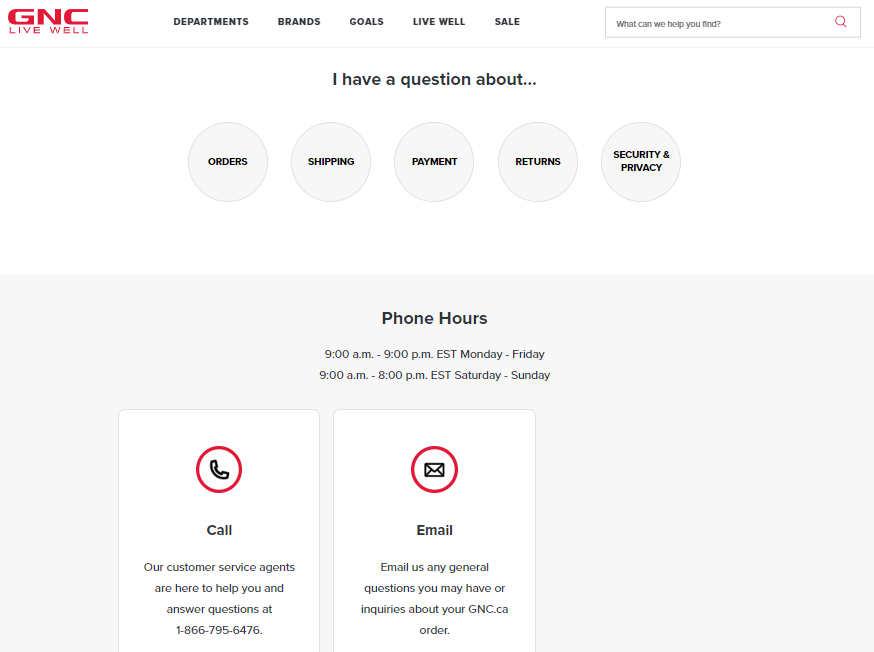 GNC Canada Helpdesk
If you need help regarding a specific issue, you can gain access to the Helpdesk from GNC Canada's homepage.
The Helpdesk is a useful platform where you will find the answers to your questions about shopping on the website, your order, payment options, and so much more! Simply select from the categories given on the Helpdesk so you can be redirected to the desired landing page. These categories include: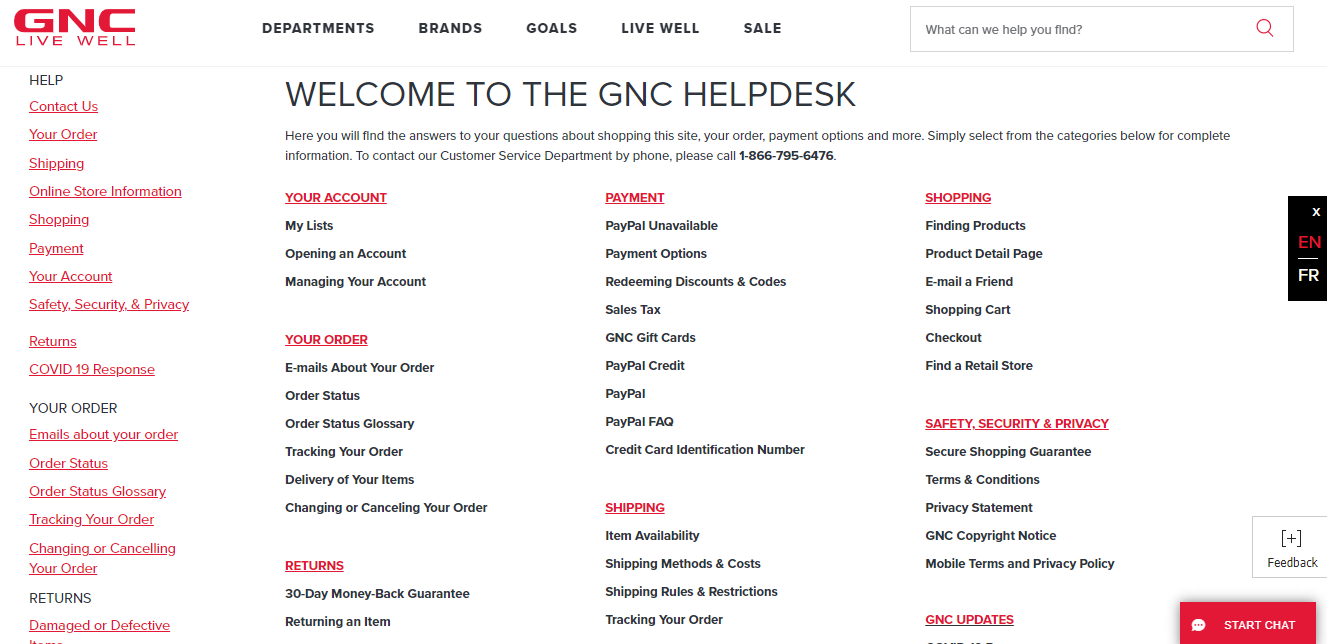 Find a GNC Store in Canada
To find a GNC store near you, click on the "Find the Store" tab on GNC Canada's homepage. You will be redirected to a store locator. Enter your address or postal code and choose between 15 km, 30 km, or 100 km to find a store in your radius.
The search results will show you the exact location of each store on the map, along with its address, phone number, and operating hours. You can also click on "Get Directions" to get moving!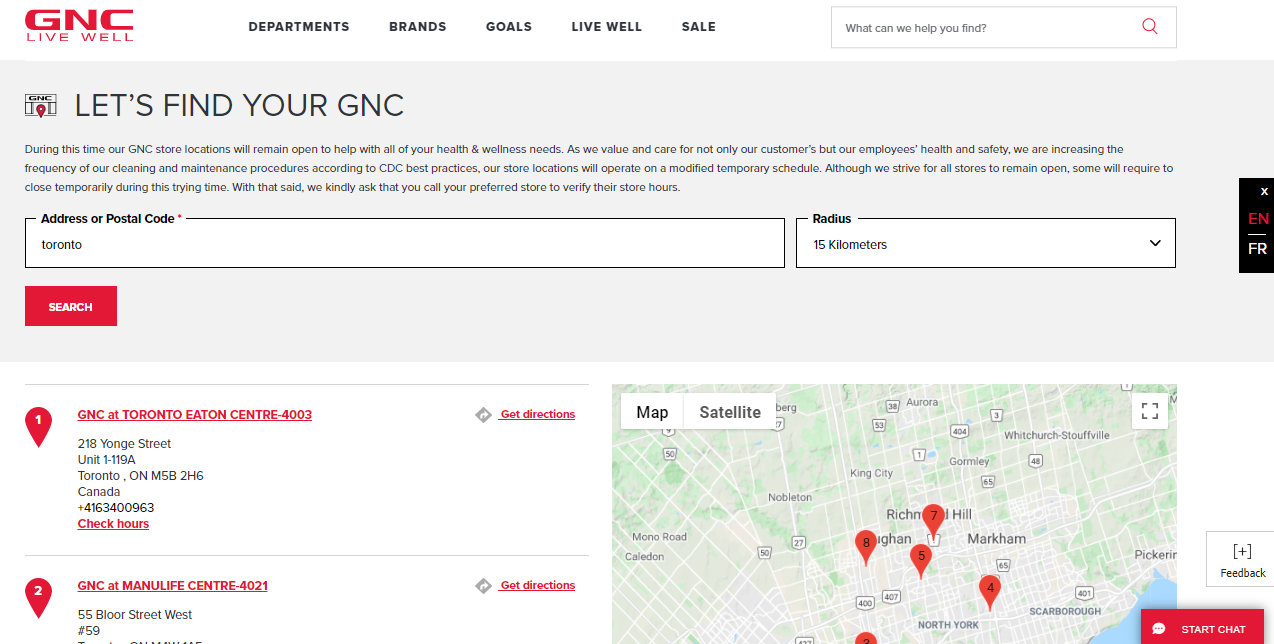 Create and Manage Your GNC Canada Account
Whether you have shopped via GNC Canada's website before or are a new customer, you can create and manage your account via the official website. All you need to do is access the "My Account" tab from the homepage.
Existing customers need to enter their login details, whereas new customers need to sign up to become a registered customer by clicking on "Create Account."
Signing up will ensure you receive news updates, new product announcements, gift ideas, and promotional offers from GNC Canada. You will also be able to track your orders and save shipping and billing information for later.
Check Order Status
It's never been easier to check your order status! GNC Canada allows you to track your orders even if you are not a registered customer.
All you have to do is access the "Check Order" tab from GNC Canada's homepage and enter your order number, order email, and billing postal code to check its status in just one click!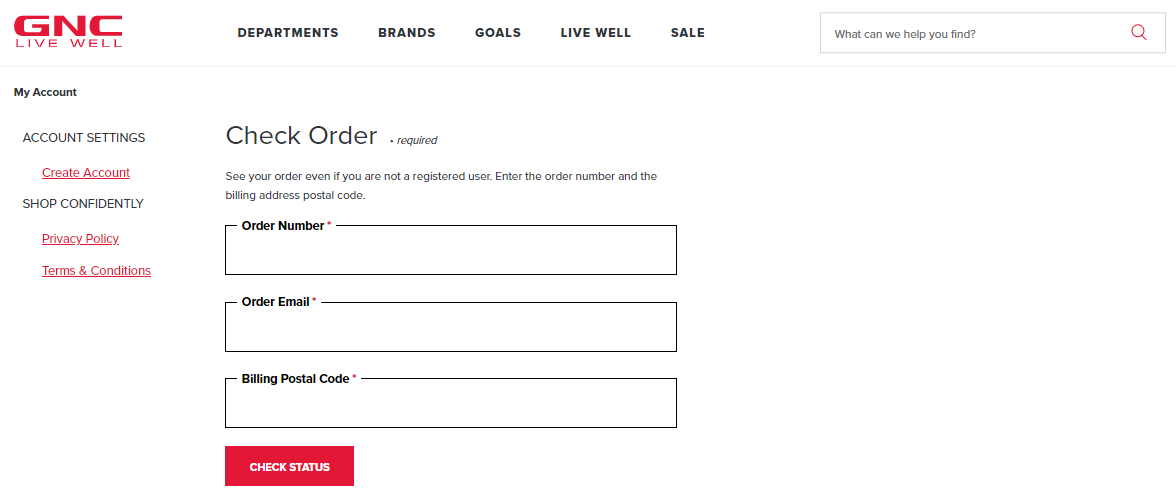 Send in Your Feedback to GNC Canada
If you are a regular or a new customer, we're sure you will have some feedback regarding GNC Canada's products, services, and customer support network.
You can provide your feedback online by clicking on the "Feedback" icon on the lower right corner of the homepage. A pop-up box will open where you can choose a topic and leave comments about your experience with the company.
Stay Connected to GNC Canada via Social Media
If you are a social media enthusiast, you can connect with GNC Canada via Facebook, Twitter, and Instagram. You can also subscribe to their YouTube channel for fitness stories and advice and follow their Pinterest account for some health and wellness inspiration.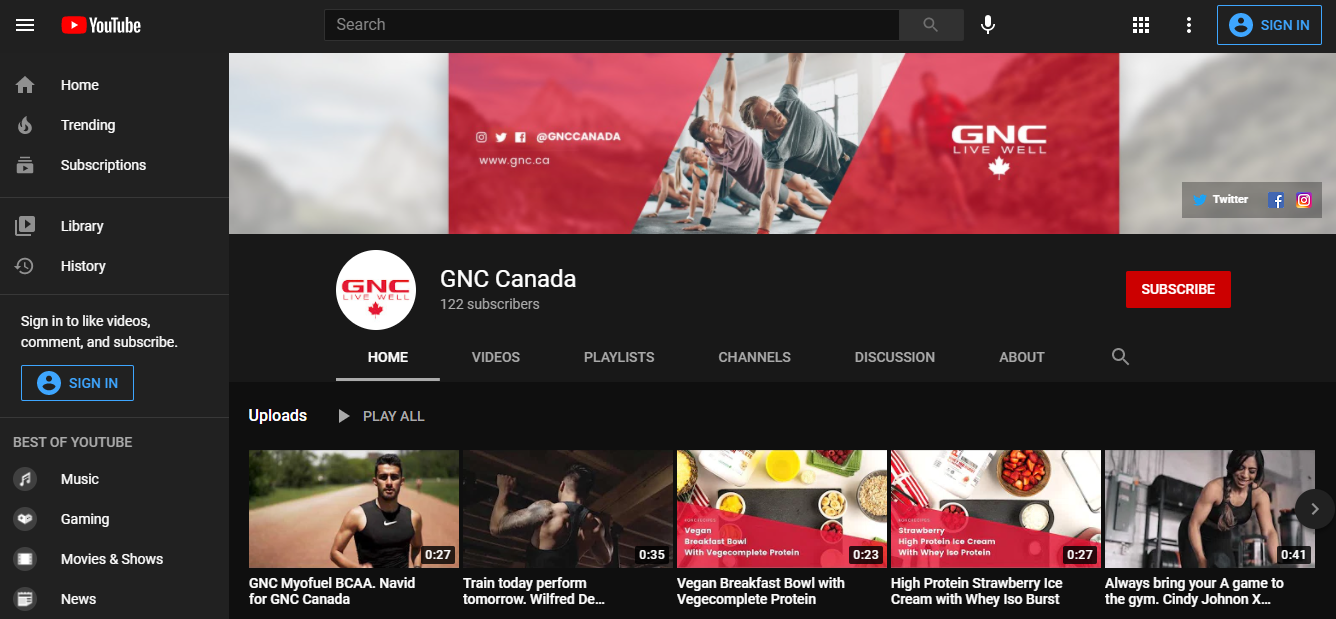 The company's marketing team posts often on social media platforms so that you can stay up-to-date about all the company has to offer!
You can also connect with the customer service team at GNC Canada by leaving a message on one of these social media platforms with your query, comment, or feedback.
The Bottom Line
GNC Canada has clearly defied all odds when it comes to exceptional customer service and support. The company understands the importance of satisfying its customers, so you can count on it to serve you well whenever you reach out to its customer support team!