Hey, what's for dinner?
Fresh Prep has been answering this question since late 2014. The little delivery service is the creation of three childhood friends.
Becky Switzer, Dhruv Sood and Husein Rahemtulla were thick and thieves. And in their college years, they'd find themselves scavenging for ingredients in the refrigerator. And that's how the idea for Fresh Prep was born.
This idea eventually became a reality as soon as they launched the plan.
The company serves up some fresh ingredients and a delicious roster of recipes to the busybodies in Vancouver. This is done in the form of an affordable meal-kit service. The company basically takes care of all your grocery shopping for the week.
How? It allows you to get access to locally produced ingredients all chopped and diced for cooking. Once the bag is delivered to your door, all you've got to do is pull up those sleeves and start cooking.
It's healthy, it's delicious and it's stress-free! There is nothing more one can ask for. That's why Fresh Prep Canada needs to expand to other Canadian regions pronto.
The happy customers from Vancouver will tell you that the team values simplicity, honesty and sustainability of resources. This is something that has transitioned into their customer service too.
How to contact Fresh Prep in Canada? This article covers all the different ways to contact Fresh Prep Canada's customer service. Whether it's giving them a call, inquiring about your delivery or lodging a complaint–these communication lines will get the job done.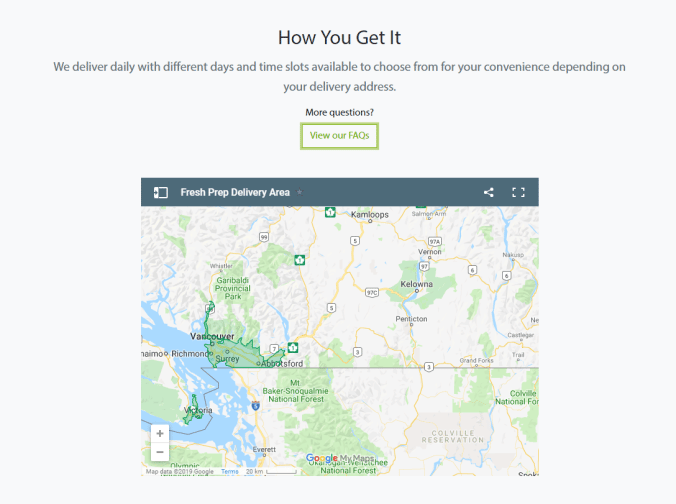 Calling Customer Support
Fresh Prep, whose calling?
Fresh Prep Canada is essentially a virtual platform. Customers are expected to sign up, choose their package and wait for the delivery. Yet, the company understands the need for human contact. That's why they've opened up a hotline for you.
Like any other delivery service, Fresh Prep tries to be on-call during all odd hours.  An operator will usually answer your phone. Then once they've registered your purpose, the call will be directed to an available customer service provider.
You can contact the team for every inquiry or complaint about the delivery service. From misplaced orders, late deliveries to modified weekly plans― these guys will handle all of that and more.
Got a Fresh Prep emergency? Dial 604-569-2699
Connecting via Email
Do you think your matter isn't that urgent?
Then getting in touch with them via email is the right way to go. In this way, you can draft a lengthy email to explain the purpose of your inquiry. You may also attach files and images to verify the matter at hand. Fresh Prep's customer service providers will get in touch with you in due time. It usually takes them a day or a week depending on the situation.
Customers can contact them at hello@freshprep.ca
Media and Partnership inquiries are answered at media@freshprep.ca
This double act in the form of email accounts ensures that all emails are efficiently answered. Moreover, it's another proof of how professional and organized they are.

FAQs and Operations
Are you wondering about how the Fresh Prep operates?
The official website has a How It Works that'll give you an overview of their process. The team has placed a concise visual flowchart of sorts that explains the process.
If this isn't enough, you should head over to their FAQ page. Once you land on the page, you'll see a list of frequently asked questions that have been answered for you.
This self-help guide includes sections on:
Delivery
Subscription Plans
Recipes and Ingredients
About the Company
All in all, the FAQs cover every possible query one may have regarding the Fresh Prep's service. They've also set up a weekly menu that gets updated each week. This comes in handy for lots of newcomers. That's because it gives them a heads up on what to expect if they join that week Fresh Prep.
Being Social: Fresh Prep's Social Media Channels
Is Fresh Prep branching out?
Maybe! You can be the first one to hear this news if you follow them on Facebook or Instagram. Their social media front is bursting with stunning visuals from their menus. They also share sneak peeks of what happens behind the scenes. And customers get a chance here to share their stories. The page gives a sense of who the people behind Fresh Prep Canada are.
The best part is that the social media managers moonlight as Fresh Prep's customer support team too. This gives customers a chance to approach the team in a more personal setting. You may pitch new ideas or get the 411 on Fresh Preps latest food ventures here. Moreover, the team's always keen to assist customers who have any issue regarding the services.
Other Customer Service Options
Location-Specific
Does Fresh Prep deliver near you?
Prospective customers can find that out with a little bit of browsing on the official website. Fresh Prep has conveniently placed a well-marked map of Vancouver to indicate its delivery route. You can skim the map to check if you area falls under this route. Hopefully, you'll locate your zone there.
What if you can't find your area? Don't fret! You can still get some fresh food by contacting the customer support team through the many communication mediums above. They'll definitely figure out a way to deliver your meals.
Stay in the Loop
Are you interested in some scrumptious recipes? Looking for some healthy food tips?
Fresh Prep dishes it all out in their wonderful newsletter. This subscription will allow you to access weekly recipes that you might have skipped. Then there is also the opportunity to get showered with discounts, loyalty packages and more. It certainly is an irresistible offer! On the whole, Fresh Prep Canada's customer support method is uncomplicated and crisp. Just like the food they deliver every day. It might seem a bit minimalist to some. But Fresh Prep's diligence and dedication save the day every time