If you are someone who is conscious about their health, then you must have heard about Fitbit. Fitbit is a U.S. based company with its headquarters based in San Francisco, California.
Fitbit offers products that help health-conscious people measure health-related data, such as their heart rate, the number of steps walked or climbed, quality of sleep, and many other health-related metrics. All these metrics help one understand their health better and keep a note of their daily physical activities which affect their heart and overall health.  

In addition to activity trackers, Fitbit also offers different mobile apps and a website as well. You can also sync your trackers to different mobile devices. Users of Fitbit can log in their daily activities, food and weight and can track it over time. It helps them set and reach daily and weekly health goals.  

Fitbit offers high-quality customer support and services to help its customers all over the world. If you are looking for more information on Fitbit's customer support service, then you've come to the right place. In this post, we will give you a detailed overview of how you can contact the customer support service of Fitbit and get answers to all your questions.  
Fitbit Help

Do you want answers to some frequently asked questions about your Fitbit device or app? If yes, then simply visit help.fitbit.com and you will get answers to FAQs. The most common questions about Fitbit are related to: 
Starting your Fitbit device
Syncing your Fitbit
Track health-related metrics with Fitbit
Fitbit's warranty and returns policy
You will get answers to all these basic questions on the Help page of the Fitbit website. If you can't find answers to your questions, you can use the search bar and look for relevant answers.  
Chat with Fitbit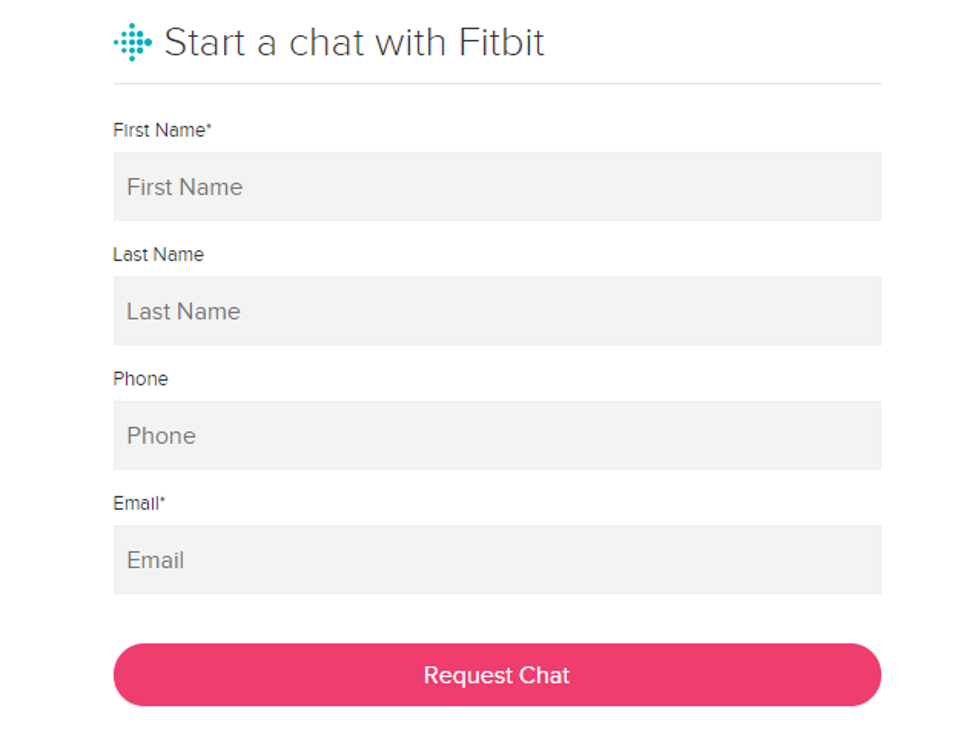 Another way to get answers about your Fitbit device, app, or any other feature is to get in touch with the customer support representatives of the company. Fitbit offers a Chat with Fitbit feature on its website that can be used to get answers to your questions. You can start a chat with one of its customer service representatives by filling out a simple form. 
A customer service representative will get in touch with you at their earliest and give you answers to all your questions.
Fitbit Community

Fitbit also offers a Fitbit Community where you can ask and answer questions about your Fitbit services and products. You will find the latest topics of discussion about Fitbit that you can follow to get the best out of your device and related features. You can use the search tab to look for any relevant information that you need. There are also many articles written by experts that you can get help from.  
Email Fitbit
Another way to get in touch with the customer support team of Fitbit is to email them with your query. However, bear in mind that it can take up to a couple of days to get a reply via email. Thus, it is not one of the most preferred options when it comes to getting your queries answered. You will be asked to choose the kind of device you own and the platform you use. Later, you will be asked to select an issue. Once you are done selecting, you will be taken to a 'send an email' page. You can write your questions here and a customer support representative will get back to you at their earliest.
Send a Direct Message to Fitbit

If you want to avoid waiting for too long to get a reply, you can also send a direct message to Fitbit via Twitter. Simply log in to your Twitter account and write your message mentioning @FITBITSUPPORT. Mentions on Twitter will not only get you the attention of Fitbit representatives but also that of other users of Fitbit. You will get quick answers to your queries this way.
Social Media Presence
In addition to being present on Twitter, Fitbit is also present on all other major social networking sites. This includes Facebook, Instagram, Google+, Pinterest, and YouTube. There is also a dedicated blog of Fitbit that covers a wide variety of topics not only related to the Fitbit device but also about general health. Click on the following links to get to the respective social media pages of Fitbit.
Female Health Tracking
If you are a female user of Fitbit and have any queries related to Fitbit or health-tracking, then there is a dedicated support page for you. You will be asked to fill out a form containing your details which will help you get dedicated support. If you have any questions that require immediate answers, then you can also opt for fast support.
Fitbit offers a comprehensive customer support system to help its customers all over the world. The popularity and use of Fitbit devices, products, services, and apps is increasing. People are becoming more conscious about their health and companies like Fitbit are helping them achieve their health and wellness goals.
You can opt for any of the above-mentioned ways to contact the customer support team of Fitbit. The company has a dedicated support team that works round the clock to provide help and support to its customers all over the world. You will also find information about troubleshooting your Fitbit device on the Fitbit website. Dedicated support services are also provided to the premium members of Fitbit. If you are a Fitbit employee, you will find support and help via a dedicated Employee Wellness and Health Plan.
Fitbit's positive and powerful presence makes it a go-to health and wellness company. Professional advisors and representatives try their best to answer all your questions and give you expert advice on how to use Fitbit products and services. You can always expect a prompt response regardless of the kind of help you need and the channel you use for it.