Dyson, a British technology company, provides a variety of household appliances that are available in various parts of the world, including Canada.
If you own any of its products and want to solve an issue while using them, you can visit its support webpage for answers.
The website has different sections that address specific problems. In addition to that, you can give them a phone call and speak to a representative directly.

Here's an overview of the customer support services that Dyson provides.
How to Get in Touch with Dyson Customer Support Service
About Dyson
Before we discuss the customer support services at Dyson, we'd like to iterate the product this company sells.
As mentioned above, Dyson designs and manufactures various household appliances. These include vacuum cleaners, hair care products, air purifiers, lighting solutions, and more. Dyson also provides cleaning and lighting appliances for commercial offices.
Dyson Website Customer Support Services
If you're looking for support services from Dyson, you can visit the dedicated Support page in two ways.
The first is by going to the bottom of the home page and clicking the Support icon. The second is by clicking the Support icon on the navigation bar at the top of the home page.
Among other options is the Support option. When you click Support, the page will unveil additional specific support options that you can choose.
At the dedicated Dyson Support page, you can go over the different support categories that are related to your issue.
Give Dyson a Call
You can give Dyson a call to discuss any issue you experience when using its products.
By scrolling down on the Dyson Support page, you'll find the Contact Us section.
Here, you can acquire the Dyson contact number and other contact details, including email addresses, links to its social media pages, and its live chat feature.
Dyson has two contact numbers for home-based customers and business customers. The contact number for home-based customers is:
You can call and speak to a customer support representative about whatever concerns you have about its products, products, billing, and shipping.
You can contact customer support services:
Monday to Friday, between 8:00 a.m. and 7:00 p.m, EST
Saturday, between 9:00 a.m. and 5:00 p.m, EST
The contact number for business customers at Dyson is: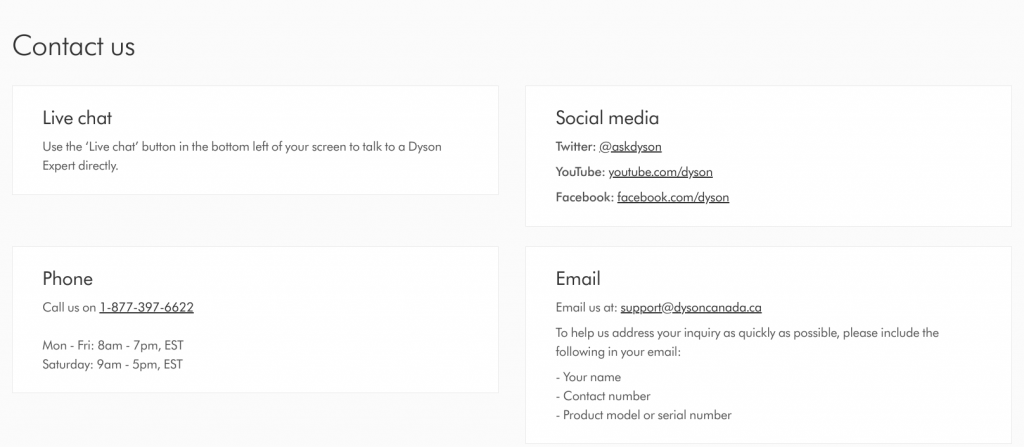 Email Dyson
If you'd prefer to write down your query or issue instead of explaining it verbally, you can email Dyson instead.
This method may not be the fastest way to receive a response. However, with an email, you can clearly explain the issue with your Dyson product.
Like with the contact numbers, Dyson has two email addresses for customer support services. One email address is for home-based customers, and the other is for business customers.
The customer support email address for home-based customers is:
In your email, you must include additional necessary details to help customer services keep track of your complaint. These details include:
Your full name
Contact number
Your Dyson product's model number, or serial number
If you don't include these details, it's possible that the Dyson customer support representative may ignore your email.
The customer support email address for business/professional customers is:
commercial.sales@dyson.com
After you email Dyson, a customer support representative will get back to you with answers to your questions.
Chat with a Dyson Support Representative in Real-Time
You can consider live chatting with a Dyson support representative in real-time if you don't want to call or email the company.
This way, you can write your issue in detail and get an answer without waiting. You can chat with a Dyson expert directly by selecting the 'Live chat' button at the bottom-left of your screen. This feature is present on the Dyson website, which also includes the Support page.
Learn More About the Shipping Options at Dyson
If you're planning to order a Dyson product to your home or workplace, you can learn about its shipping options on the Delivery Details page. Dyson has three shipping options for you to choose from.
The first is Standard Shipping. This shipping option is free for customers in Canada. Dyson claims that the estimated delivery time for its machines is 2 to 10 business days. These figures may vary, depending on the location, especially for rural areas.
The second is Expedited Shipping. As the name suggests, it's a much quicker shipping option. Unfortunately, due to the ongoing health emergency with COVID-19, this shipping option is suspended temporarily.
The third is for shipping accessories and parts. This shipping option costs $5.99 for each shipment.
You can find other details about shipping on the Dyson Delivery Details page via the FAQs section.
Troubleshoot and Solve a Problem Yourself
Now, you may not be a household appliance repair person, but you can troubleshoot and solve a problem yourself.
Dyson has a Troubleshooting page that can help you identify and possibly solve a problem with your product.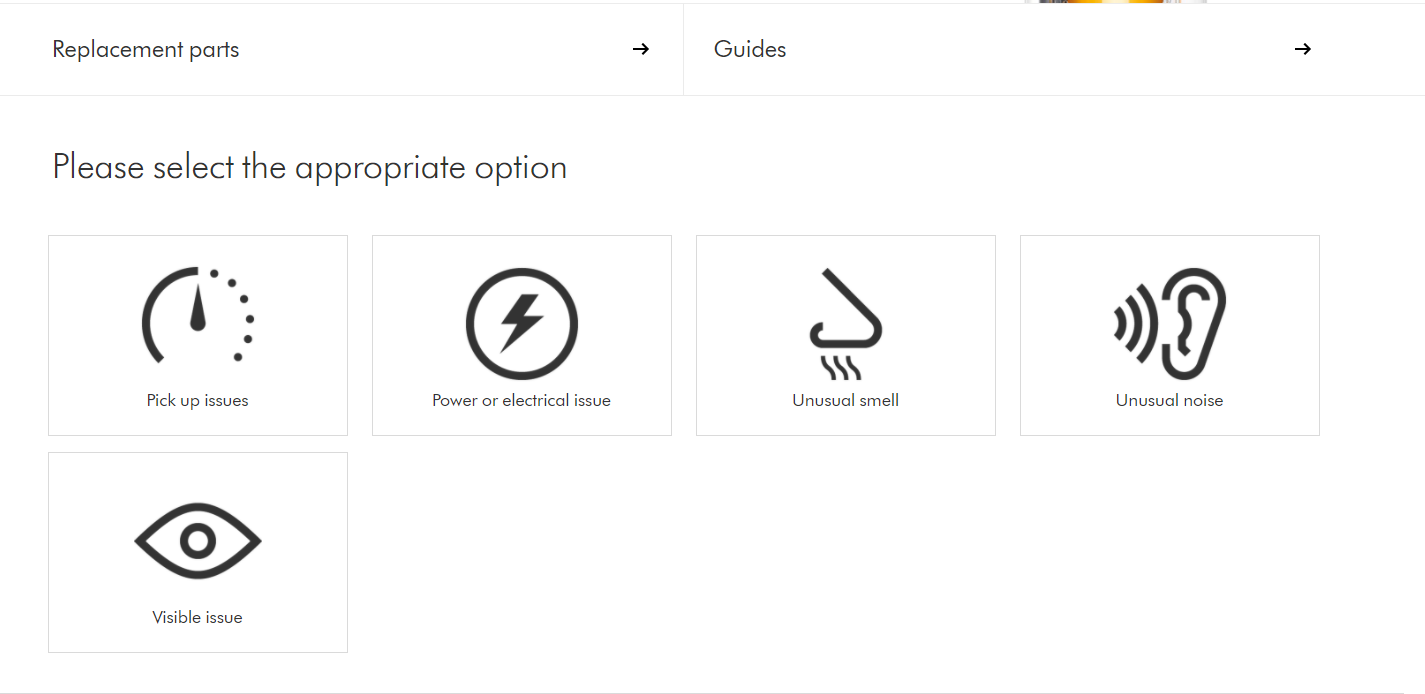 You can select the type of product, the specific model, and the problem with it. For example, if you select one of Dyson's upright vacuums, you'll find solutions to issues like unusual smells, electrical issues, and more.
Seek Support through Dyson Social Media Platforms
Dyson has official accounts on popular social media websites, including YouTube, Facebook, and Twitter.
The Twitter account is called 'Ask Dyson' and is dedicated to customer support. You can also watch support-related videos on Dyson's YouTube channel. You can contact a Dyson representative on Facebook via Messenger as well.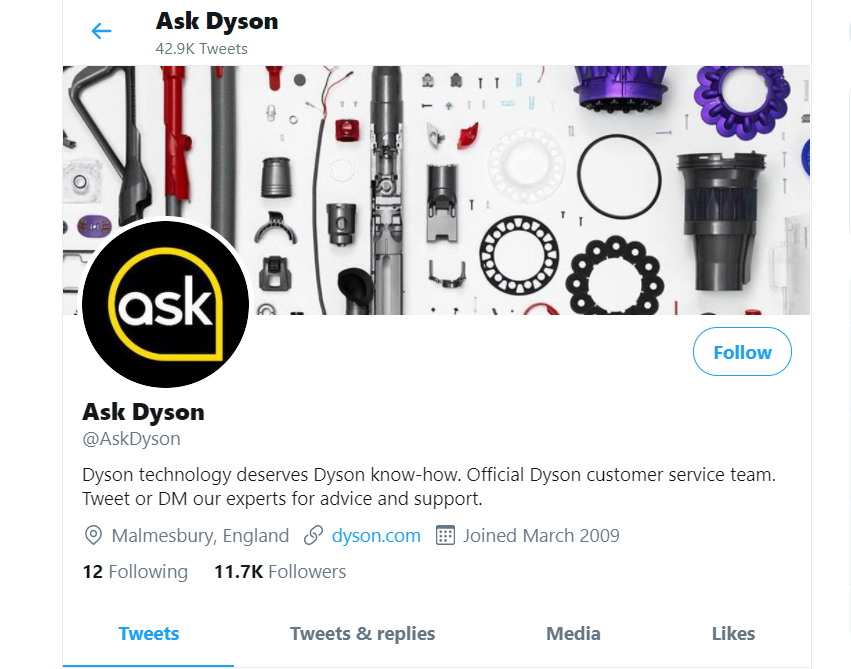 Stay In Touch with Dyson
Problems with household appliances are not uncommon. If your Dyson product malfunctions, there are various support options you can look into to find a workable solution.
If you need to book an appointment for repairs, give Dyson a call, live chat with an expert, or write the company an email. Soon after that, a representative will get in touch with you.