Dell is one of the leading companies in tech today. It was founded in 1984 by Michael Dell. Today, Dell has become a multinational computer technology company that sells computers and laptops as well as servers, televisions, printers, handhelds, etc.
Dell's journey began on February 1st, 1984. Michael Dell, the founder of Dell, came up with an idea in his university dorm room to improve the process of how computers deliver information. Only three years later, in 1987, Dell launched its first international store in the United Kingdom. A year later, in 1988, Dell went public and planned to expand worldwide.
In 1995, Dell launched its services all over the world. From Europe to Africa to Asia, Dell was officially taking over the world. In 1998, a mere three years later, Dell opened a new integrated sales and manufacturing support centre in China. It also announced manufacturing locations in Ireland and Brazil.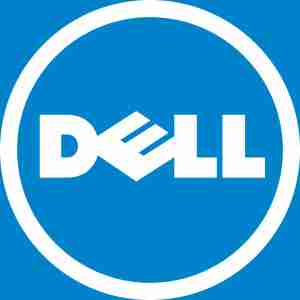 In 2004, Dell officially became the third largest provider of computers and related services to China. Today, Dell is one of the biggest names in tech and is gloriously pleasing their customers with their exceptional products and excellent customer service.
Listed in the Fortune 500 till 2014, Dell has made a name for itself. In its first year, the company made more than $73 million. The market capitalization of the company grew exponentially in the first few years of its operation. In 8 years, Dell was listed in Fortune 500 and became a force to be reckoned with.
In 2016, Dell acquired EMC and had a new parent company Dell Technologies.
Today, Dell is one of the top 10 high revenue companies. The word "Dell" has become synonymous with high-grade technology. Brands such as Intel, HP, Apple, Lenovo and many more are in the running, waiting to beat Dell by providing the best technology to its customers. 
Looking to contact Dell Canada? We have got you covered. The Dell customer support service system is definitely one of the best in Canada. Not only do they have all the products you need for your home and office, Dell Canada is always making sure that their customers get the utmost quality and that is why they keep upgrading their customer service system, so customers like you can have the best experience! Here is everything you need to know about how to get in touch with Dell Canada today.
Customer Support
Dell Canada has a quick and efficient customer support service available for its customers all over the world. Looking to give feedback, make a query, or even file a complaint? Contact them through their website today!
Their website will provide you with various options on how to contact your nearest Dell store or helpline. Don't worry; we have made a list so you don't have to go through each option yourself. Just choose what's most convenient for you.
Call Dell
A quick way to contact your nearest Dell store is by calling them. You can find their number on their website. Call Dell Canada on 1-866-640-3355 today! Not only is this really easy, but you will also get quick assistance, too! Looking to file a complaint or give feedback about the product you bought? Try calling your nearest Dell Canada store today!
The Technical Support section provides you with numerous phone numbers, each of which is designated to a certain department. This allows customers to dial their preferred extension and talk to an expert in the field.
For order support, dial 1-800-906-3355.
For sales, Dell provides two options: Home and Business. Simply click on one of the options and you will be provided instructions on how to contact a customer service representative.
Dell Technologies offers different contact and support options. For sales inquiries, you can live chat with a customer service representative, call at 1-866-438-3622 or email them. You are guaranteed to get a response in 24 hours.
Other Support Resources include:
Technical Support: Phone, Chat and Service Requests
View All Support: Licensing, Products, Orders, Contracts, Warranty and more
Order Support: Delivery, Invoices, Returns, etc.
Partner Support: Account Management, Ordering, Partner Training, etc.
Chat with a Dell Agent
If phone calls are not your thing, fear not. Dell Canada understands. They have a service where you can simply chat with a Dell agent and let them know if you need any technical assistance. They have separate helplines for home and work.
If you're chatting from home, their chat lines will be available Monday to Friday from 8 am to 11 pm EST. On Saturdays and Sundays, the Dell Canada customer support chat lines will be available from 11 am to 8 pm EST. Their customer care live chat is available from Mondays to Fridays from 9 am to 9 pm.
If you're chatting from work, their agents will be available from Mondays to Fridays from 8 am to 6 pm. This helpline will be closed on all Canadian holidays.
Further Contact Information
Dell Canada offers its users exceptional customer support offers. Their services are spread out to each department, which includes:
Technical support
Financial services
Dell EMC support site help
Order support
Sales
International support services
Partner support
Dell EMC administrative chat
All of these departments are always available for the customer to reach out to. They all have separate numbers that can be easily found on their website. Just go to Dell Canada's website and click on 'Contact Us' to learn more. If you need urgent help, try this feature out today!
Dell Canada on Social Media
Besides visiting their website, you can easily contact Dell Canada on their social media platforms. They can be found on:
Dell Canada's Twitter is active 24/7/365. Not only that, they make sure to keep their loyal customers up to date with their latest products, deals, and offers! They are also very quick to reply to any queries or complaints that you might have.
If you're facing trouble with a Dell product or are not satisfied with what was delivered to you, contact them on Twitter today, and we assure you that Dell will do its best to sort out your problem. You can also use Twitter to learn more about what's new in their store, what's about to come and what time they will be operational in your area.
Dell's Facebook page is useful if you want to contact them urgently. Besides keeping you up to date with what products are available right now, they also make sure to read all your good AND bad reviews!
If you want to file a complaint, send a query or simply want to give feedback to let others know about your experience, contact Dell Canada on Facebook through the link mentioned above.
Dell Canada will get back to you in no time, and their dedicated employees will also try to make sure that you have a much more pleasant experience the next time you visit or shop from Dell!
Dell's Instagram is always available if you want to tag them in your posts and pictures. You can also DM them if you have a request or are not satisfied with your purchase. Dell Canada will respond to you in no time.
Dell's LinkedIn can be quite useful for individuals looking for jobs at Dell. You can learn more about the company's history and background and also apply for a position if you like. Dell will get back to you if they believe that you qualify for a position.
Dell Canada's Pinterest (also mentioned above) is a great place to browse and for their latest products and deals. If you want to see more of their products and learn their prices, visit their Pinterest today!
Online support
Dell's customer support services can be a little difficult to navigate through. When a customer is directed to the official website, they land on Dell's homepage. Where the product's section keeps you on the company's official website, the solutions direct you to Dell Technologies. As mentioned earlier, most of the products are provided by Dell, and Dell Technologies provides access to software solutions.
Dell is dedicated to providing quality solutions to its customers. Even as a tech company, it wants to reduce its carbon footprint. As its corporate social responsibility, it has diversified its workforce, invested in crowdfunding launches and taken great measures to make advancements in education, healthcare, and economic opportunities in numerous areas.
Its "Support" page offers help on all fronts — software and product-wise. All a customer has to do is enter their product's serial number and they will be given access to all the information that will help them fix their problem. The side "Contact Us" bar allows you to live chat and navigate your way around the website to find assistance with whatever you are looking for.
Find Dell – Store Locator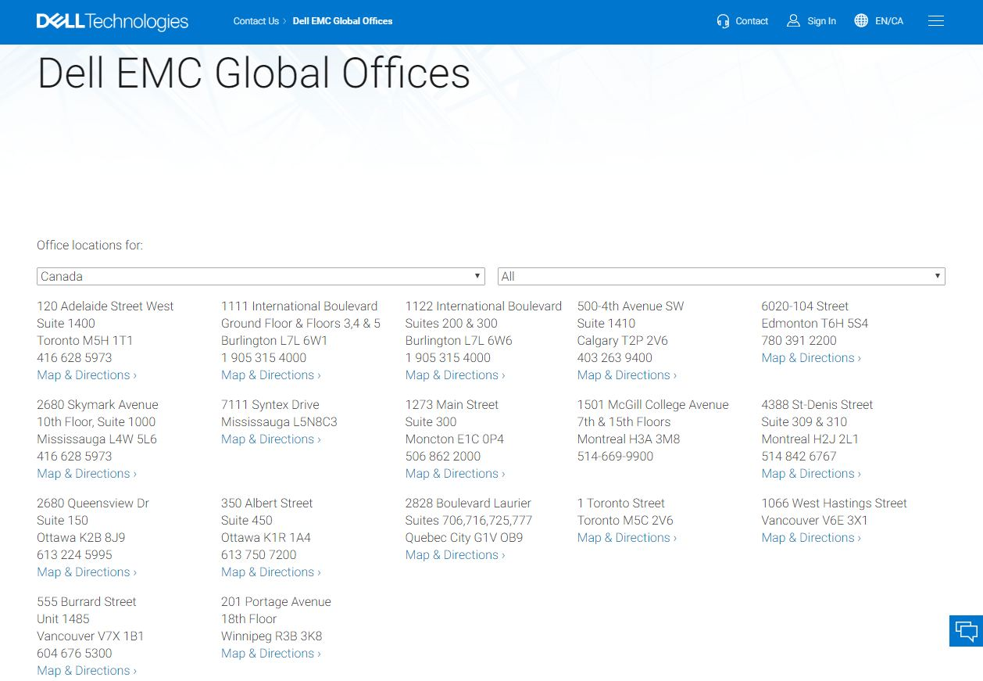 To find a Dell store in your area, you need to go to Dell Technologies. Simply click on the "Services" tab and you will be redirected to another page.
Under the section "Our Offices", you will be able to locate a Dell store. Simply choose the country from the drop-down tab and the page will show you all the stores.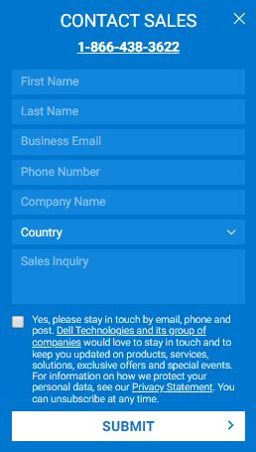 E-mail support
You can email Dell Technologies by visiting the "Contact Us" Page. The email service can be found under Sales Inquiries. When you click the "Email Sales" option, a sidebar will pop up, where you can enter your information and query.
Help and FAQs
Dell offers a discussion form, which can be accessed by pressing the Community tab. Here, you can ask any questions regarding laptops, desktops, servers, storage, electronics, networking and more. There are even blogs, which you can read under the Latest Solutions section.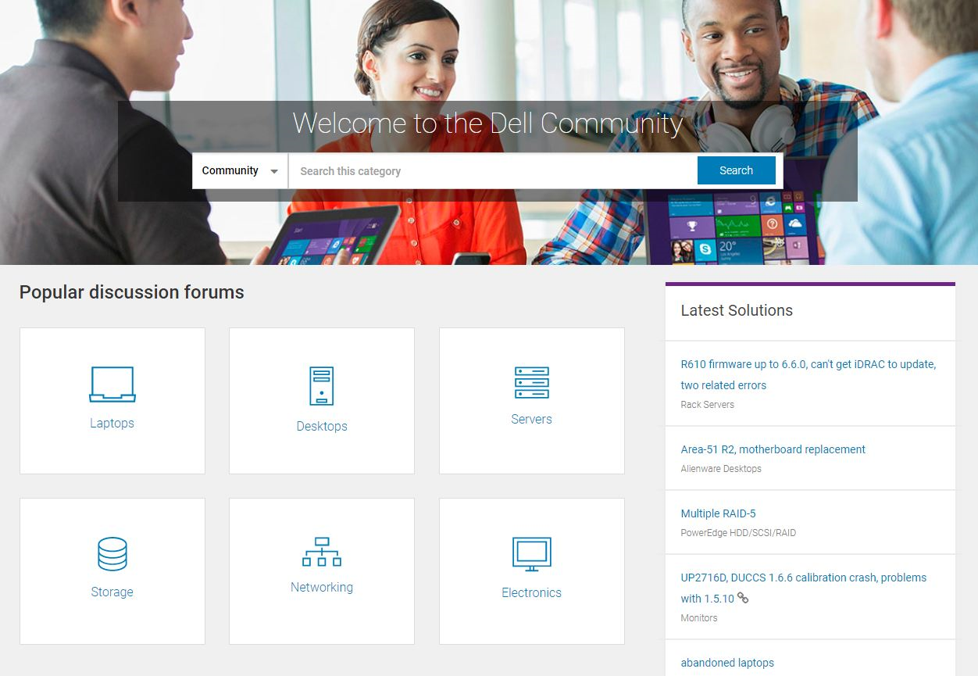 Dell Blog and News
Dell also has a separate blog page, where you can read about Dell's latest innovations, opinions of people on the product they bought and general information about technology.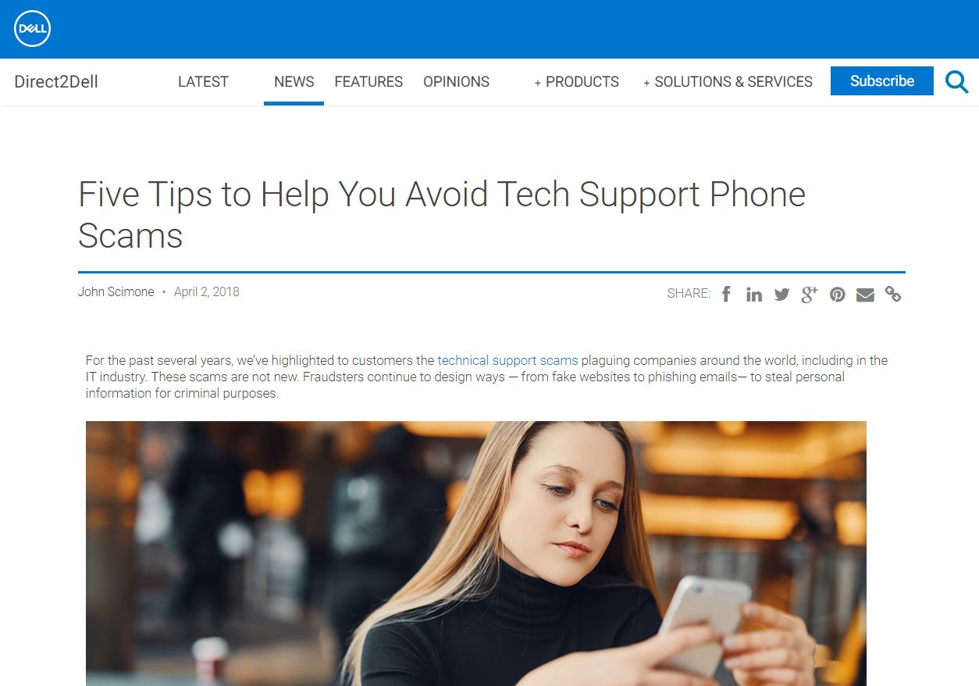 Corporate Social Responsibility – Recycling
Dell Technologies plays its role in saving the environment. For every product a customer buys, Dell recycles or reuses an equivalent product. Their packaging is made from recyclable material and most of the components used in their products are also recyclable. To see their social impact plan for 2030 and its goals, you can visit Dell Corporate.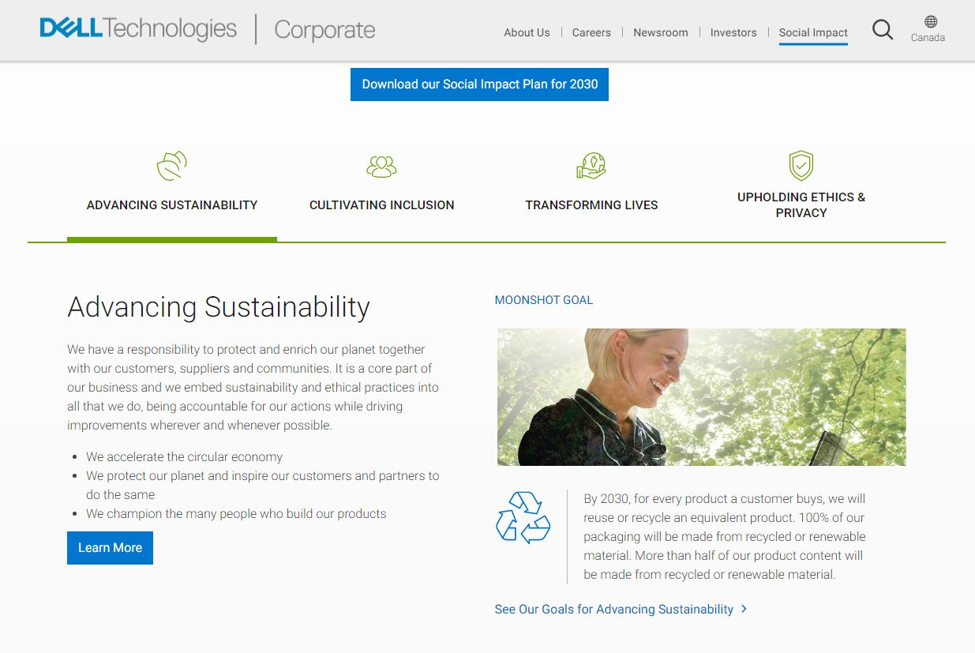 Dell Technologies
Dell Technologies offers high-end technological solutions and is a separate webpage from Dell Corporate. To learn about new products and innovations, you can visit this page.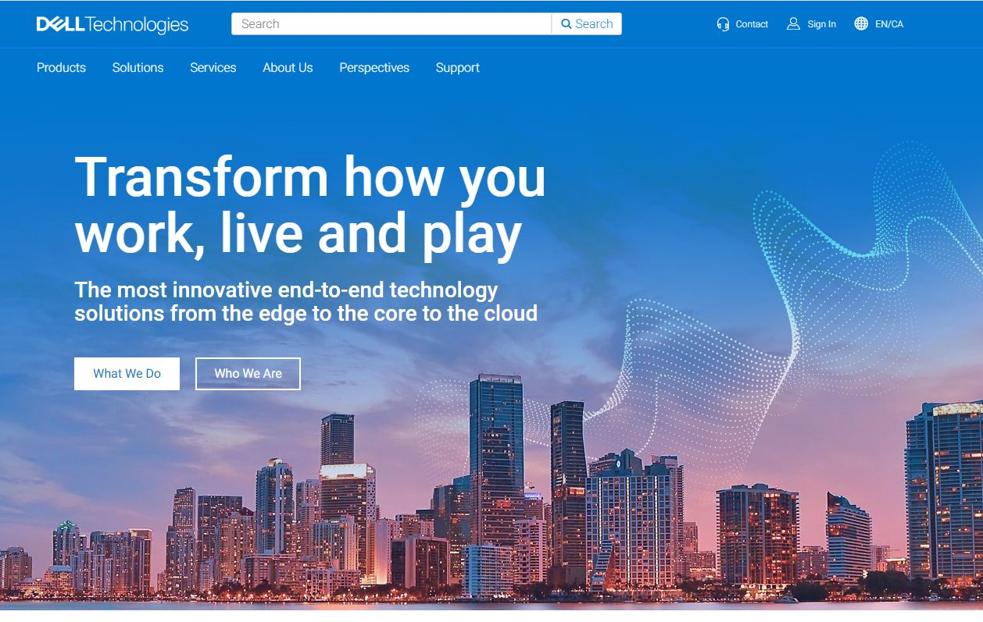 Stay In Touch with Dell
From the moment Dell acquired EMC, it has expanded the number of technological solutions it provides. Customers and businesses who are looking for the ultimate package can find everything here. The company is dedicated to providing all types of products and services a customer desires.
If you want to get in touch with Dell or learn more about its products or innovations, you can visit its website or contact the company through the above-mentioned ways.