Anyone who lives in Canada and is a breakfast fanatic knows about the chain of diners called Cora.
For a Sunday morning breakfast, midweek pick-me-up, or simply a place to satisfy breakfast cravings anytime, these vibrant diners are a go-to for many.
The first Cora diner was built in 1987 and was initially called 'Chez Cora déjeuners,' but changed its name to Cora in 2008.
Today, the happy breakfast place serves warmth, smiles, and food to its customers all over Canada. In fact, there are about 130 of these casual restaurants spread out throughout the country.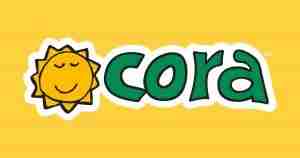 What started out as a diner joint serving delicious breakfast is now a place renowned for its unique recipes, flavors, and welcoming ambiance.
The diner is built on the foundations of family traditions and good food, which it continually aims to enhance. Amidst the COVID-19 pandemic, Cora has shifted to takeouts and deliveries.
This guide will take a deep dive into how the diner has been assisting customers through its customer care services.
Cora Customer Care Services
When you visit Cora's official website, you will be met with a bright, bold, eye-catching layout and pictures of mouth-watering breakfast food.
The website is straightforward to navigate and use, and you are likely to find everything you are looking for on the homepage. Whether you want to place an order for delivery, get takeout, browse the menu, or buy gift cards, just visit the site.
Their homepage consists of the following options: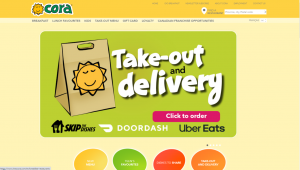 Contacting Cora
There are several ways you can contact the diner depending on why you want to contact them. They offer different methods of contacting their customer support department for different customer needs.
Let's take a look at each of them.
Phone Number
If you want to give feedback or speak directly with a Cora customer service staff, you can call them on their number. They have two numbers based on location:
Quebec Phone Number: 450 435-2426
Ontario Phone Number: 905 673-2672
Comment Form
Suppose you have a complaint or any comments you wish to communicate about your experience with Cora. In that case, you can also alternatively fill out a form by entering your details and rate your dining experience. You can also add additional comments in the form if you wish to.
Sending Email
The in-depth contact us page on the Cora website also contains an email address that you can use to speak with their customer care staff.
You can email them at info@chezcora.com, and they will get back to you at their earliest convenience.
Sending Mail
Lastly, you can also send them a mail to their main branch and office in Quebec. Here is their mailing address:
Cora Franchise Group
16 Sicard Street, Local 50
Ste-Therese, Quebec, Canada
J7E 3W7
Cora Social Media
If you want to be notified of the latest offers, exciting menu additions, and more related news about the Cora restaurant, you connect with them via their social media accounts.
They regularly post all updates regarding the diner and mouth-watering pictures of their delicious food. You can find them at:
Cora Newsletter
Do you want to receive the latest exciting news about this breakfast and lunch chain? If so, you can subscribe to the Cora Enthusiast's newsletter.
All it takes is a few simple steps. You'll find the option to subscribe at the bottom right corner of the homepage. Once you click on it, you will then have to enter your details and subscribe. The entire process will hardly take you five minutes.
Finding a Nearby Cora Restaurant
If you are someone who likes their food served fresh and hot, or if you want to visit one of the vibrantly colored diners, you can easily do that by going to the one closest to you.
Finding a Cora restaurant near you has been made very easy on their website. They have a helpful tab that you can click on from their homepage. It allows you to add your province, city, or postal code; based on that, they would provide you with a list of the entire restaurant nearest to you.
The location of the restaurant will be provided to you on the map, which you can zoom in on to see where exactly the outlet is located, and you can easily follow the directions.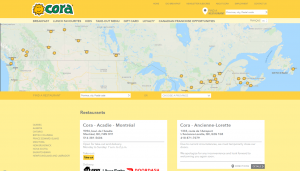 Cora Gift Cards
Do you want to buy someone a dining experience at Cora? Well, doing so has been abundantly simple by them. You can find details about the Cora gift cards by clicking on the tab from their homepage.
It will show you where you can buy the gift cards from; currently, there are only two places where these gift cards are available: at the Cora restaurants and the Walmart store, Jean Coutu, Couche-Tard or Familiprix
Moreover, you can also check the balance of your gift card through their website.
Cora Loyalty Program
The restaurant also offers an exciting loyalty program to its customers so that they can get discounts on their purchases through accumulating points and rewards. By signing up today, you can also get a bonus of 500 points.
You can locate the Cora loyalty program tab from their main homepage. When you click on it, it will provide you with details about the program and how you can obtain it. The website also lets you check your current balance on your loyalty card by logging in to your account.
Owning a Cora Franchise
At the top of the main Cora homepage, you can also find an option that leads you with details about owning a Cora franchise in one of the Canadian states.
It lets you know about the advantages of owning one, where the current franchise opportunities lie, and how you can buy your own Cora franchise.
Final Words
Cora's official website is vibrant, informative, and easy to use. It is likely to contain all the information you need regarding the menu, takeout, delivery, finding a nearby Cora restaurant, contacting them, and more.
However, if you still need assistance or more information, you can always shoot them an email or call them up; their customer staff is responsive and extremely helpful. Good luck!