Headquartered in Toronto, Canada, Clearit Canada is the top customs broker in Canada that deals in both personal and commercial cargo.
When it comes to importing or exporting goods across the Canadian border, Clearit Canada enjoys a longstanding reputation as an efficient, reliable customs clearance company with sensible and affordable brokers.
Among the services the company's provides include Ocean and Air freight forwarding, customized e-commerce solutions, LTL and FTL truck freight, car import, general customs consulting, and parcel service discounts.
All that comes with the right combination of flat, simple fees, and live online custom agents to calculate payments, taxes, and duties.

As for the customers brokerage services, Clearit Canada clears air, ocean truck, and parcel shipments and cargo at all ports across Canada, including inland.
The company's ultimate goal is to make customs clearance more transparent and accessible to people and businesses.
One explanation why Clearit Canada has been able to make a significant impact on the customs brokerage industry is its responsive customer service, particularly through its website.
In this guide, we'll take you though the customer support services at Clearit Canada.
How to get in touch with Clearit Customer Service
Services Information and Pricing
Before starting clearance, any individual or business would like to examine the services offered by a customs brokerage company.
If you're among them, you might be wondering where to look for information about services. Simply visit the Clearit Canada website and click on the 'Services' drop-down.
The drop-down that appears will show 6 different options that include:
Customs Brokerage
Import a Car
Non-resident Importing
ITN Number for AES
Customers Consulting
E-commerce customs solutions
Clicking on any of the above will redirect you to the relevant service page where you can study the requirements and descriptions about each service.
For instance, on the customs broker service page, you obtain details about truck shipment, ocean shipment, air shipment, and parcel/courier shipment.
Pricing Information
While you can find prices on service pages for each category, you can also check them out at the separate 'Pricing' tab on the homepage of Clearit Canada website.
Clearit brokers are capable of expediting the customs clearance process for rates as competitive as $34.95. You can conveniently transport any amount of goods valued up to $200 for less than $35 per clearance. For shipments valued over $200, the company charges $ 49.95 per clearance.
For more information, visit the pricing page.
How Clearit Canada Works
Depending on the nature of your business and the type of shipment you deal with, you might want to know how things work at Clearit Canada.
On the homepage of the Clearit Canada website, the three resource options, namely, 'How it works', 'What to Expect' and 'Videos' under the 'How it Works' drop-down should prove extremely valuable in understanding processes.
Not only will find step-by-step processes for each of the ocean shipments, truck shipments, air shipments, but also learn what else to expect when working with Clearit Canada and access some useful videos guiding your through the process.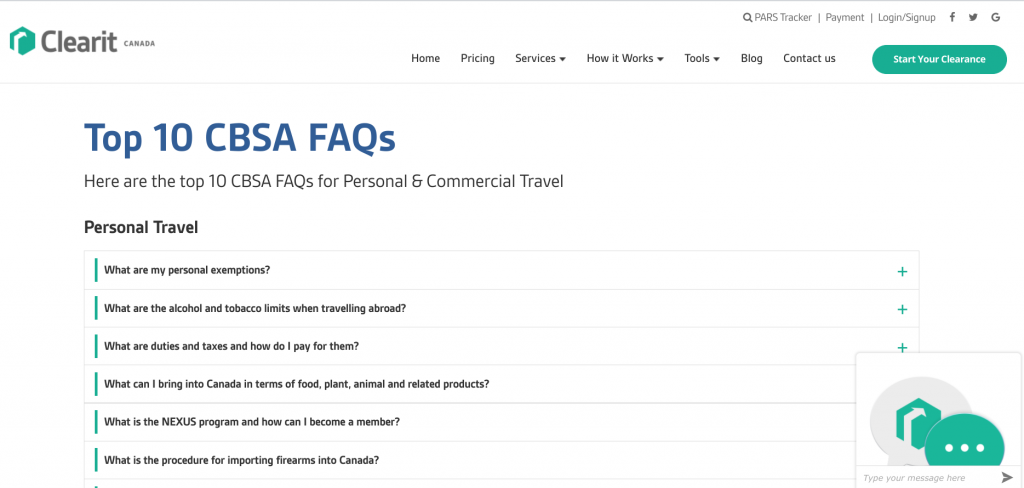 Tools
Clearit Canada goes an extra mile to help you, providing you with valuable resources including:
Custom Duty Rates: Provides applicable duty rates enforced by the Canada Border Services Agency (CBSA) and regulated by the Canada Customs Act.
HS Code Lookup: Helps you identify your HS code through the live chat feature. To know what are HS codes, check out the FAQs section.
Forms & Documents: This section provides with you with the documents or forms you need such as accounting documents, general documents, automotive import docs, and free trade agreements.
Useful Links & Contacts: When working with customs, you might need to connect with different governmental departments or freight companies when things get stuck. This section is a directory for contact numbers and website links government departments and top freight carriers for truck, ocean, and air shipments.
To access of these resources and others, simply click the 'tools' drop-down on Clearit Canada website's homepage and select the relevant option.
Top 10 CBSA FAQs
The regulations issued by Canada Border Services Agency (CBSA) can be complicated for anyone new to the industry. Even though this FAQs section comes under the 'tools' section discussed above, given the value it offers, it deserves to mentioned separately.
The comprehensive section addresses the most common problems people face regarding personal and commercial travel, shipments, or cargo.
PARS Tracker
Clearit Canada uses PARS (Pre-arrival processing system) to ensure a customs clearance before your truck even arrives the border. Upon being released, your shipment can freely move to its destination.
To track the PARS against your shipment, click on the 'PARS Tracker' link on the top of any Clearit.ca webpage and enter your cargo control number to obtain the information.
Blog
As an industry leader, Clearit Canada is a subject matter expert in its field that keeps on sharing insightful blog posts about the latest industry news as well as guides for clients and other stakeholders.
No matter what problems you're faced with, you'll love the resources found on the blog section of Clearit Canada website.
For instance, as a business owner, you might want to know how the shipment industry is operating during the COVID-19 outbreak or how blockchain technology is shaping the customer brokerage industry and services.
You'll find insightful information on such trending topics that will genuinely address and solve your problems.
Social Media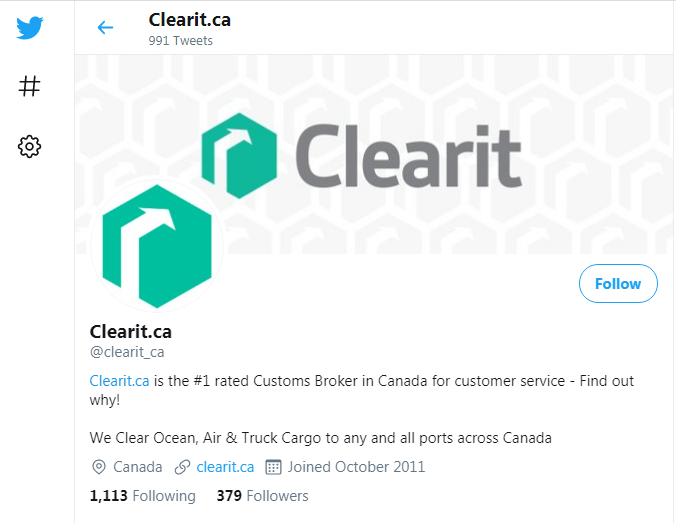 Clearit Canada also has an active presence on Facebook and Twitter. Whether you're looking to study valuable and trending industry information or reach out to the a Clearit Canada representative, you do so on these platforms.
Contact Clearit Canada
Finally, if the above sections and resources fail to sufficiently answer your query or resolve your problem, you can contact Clearit Canada either via phone or fax on the following numbers:
Telephone: 1-888-668-7595
Fax: 1-888-794-2775
Closing Thoughts
To sum it up, Clearit Canada has ample resources on its website to serve your learning needs as well as to get things resolved. From services and pricing information to step-by-step guides on customs clearance to bonus tools, everything can be accessed from the official platform.
For anything you're stuck with, you can also reach out to the customer service team via phone, fax, or social media.