Citibank is one of the world most renowned banks that provide a wide range of financial services and products to individuals, businesses, governments, and other institutions.
It promises financial ingenuity and responsible financial services and aims to provide easy, innovative, and trustworthy solutions to its customers. With 200 branches in Canada and even more years of experience in the industry, Citibank provides financial services that enable growth and economic progress for its clients.
Citibank was first established as Citibank of New York in 1812. After eight decades of providing successful financial services to the customers in New York, the bank changed its name to the National Citibank of New York in 1894 and for the first time started globalization of its business by opening branches in other parts of the world. In 1976, the bank changed its name to Citibank and has operated with the same brand name globally ever since.

Citibank's presence in Canada goes back to 1919. The bank's headquarters is in Toronto and has various branches throughout the country including Vancouver, Calgary, Montreal, and Mississauga. It has around 1,700 employees who work tirelessly to meet with the bank's mission of enabling growth and progress. It also offers one of the most international standard financial services in Canada with quick and easy access to Citibank's global network in 160 different countries.
The major strategic focus of the Citibank in Canada is to provide services to clients with Citi Private Bank, Citi Cards, Citi Corporate and Investment Banking, Citi Treasury and Trade Solutions, Citi Markets and Securities Services.
Citibank Customer Care Services
With "Progress informed by the past and inspired by the future" as its motto, Citibank focuses on maintaining its long-earned reputation of responsible financial services, while providing innovative customer care solutions simultaneously.
Serving over 200 million customers around the world, Citibank places great emphasis on customer care service and support. Citibank facilitates progress on behalf of its customers, employees, and hundreds of communities that the bank serves around the world.
Customer Care Numbers
Citibank allows its customers to resolve their issues or make queries by calling a customer care number. There are different numbers to facilitate queries regarding different financial services offered by the bank.
Following are the numbers you can call for specific queries that fall under the suitable categories mentioned as under:
Head Office
The head office of Citibank Canada is Citigroup Place located on the south west (SW) corner of Front and York streets. You can call the head office from 9:00 a.m. to 5:00 p.m. from Monday – Friday at 416-947-5500.
Institutional Businesses
If you want information or have queries regarding the services offered by Citibank, you should contact on these numbers:
Corporate and Investment Banking: 416-947-5500
Markets and Securities Services: 416-947-5500
Citi Treasury and Trade Solutions: 416-947-5500
Citi Private Bank: 416-947-5300
Commercial Cards
For queries regarding Citibank commercial cards, you can find a bank's representatives at following help lines:
If you are in North America, you can call 24 hours a day and seven days a week at toll-free 1-888-834-2484 or fax 416-369-4878.
If you are outside North America, you can call 24 hours a day and seven days a week at 416-369-6399 or fax 416-369-4878.
If you are within Toronto, you can call 24 hours a day and seven days a week at 416-369-6399 or fax 416-369-4878.
Alternately, you can also send a postal mail to Mail to:
Citibank Canada
PO BOX 2053 STN B
Mississauga ON L4Y 0B6
Consumer Business
For consumer businesses, customers can reach out to a Citibank representative on the following help lines:
For Home Depot Consumer Card: 1-800-747-3787
For Home Depot Commercial Revolving Card: 1-800-668-5336
For Home Depot Commercial Account: 1-888-308-5080
For Retail MasterCard: 1-866-815-2911
For Retail Private Label: 1-800-233-8557
Media Inquiries
Like so many different customer support extensions, Citibank also provides a help line for media inquiries which can connect you to the bank's Office of Public Affairs and Communications. You can talk to a representative of public affairs and communications at 416-947-5687.
Citibank Customer Care Online
If you are unable to resolve your problem or concerns after talking to one of the bank's representatives on the provided helpline, you may forward your concern to a manager. If the manager is not available at that time, you can ask the representative to deliver your message to the manager or request for further contact with you.
If in any case you feel that the concerned authorities have not addressed your issues properly, you can contact Citibank Canada Ombudsman at 1-888-245-1112 (or 416-947-4122 in Toronto) or send an email at citicanadaombudsman@citi.com explaining your problem.
Contact on Social Media Platforms
Apart from help lines and online queries, Citibank also operates different social media accounts for customers to interact with the bank online and learn about their financial products and news. It has a Facebook account, Twitter account, a YouTube channel, a LinkedIn account and an Instagram account.
CitiDirect Online Banking
Citibank also provides online banking services to its customers. This is done through a web-based banking platform that helps you put all your corporate banking functions in a single password protected place. CitiDirect online banking is a wonderful way of getting easy and quick access to your account information from anywhere at any time.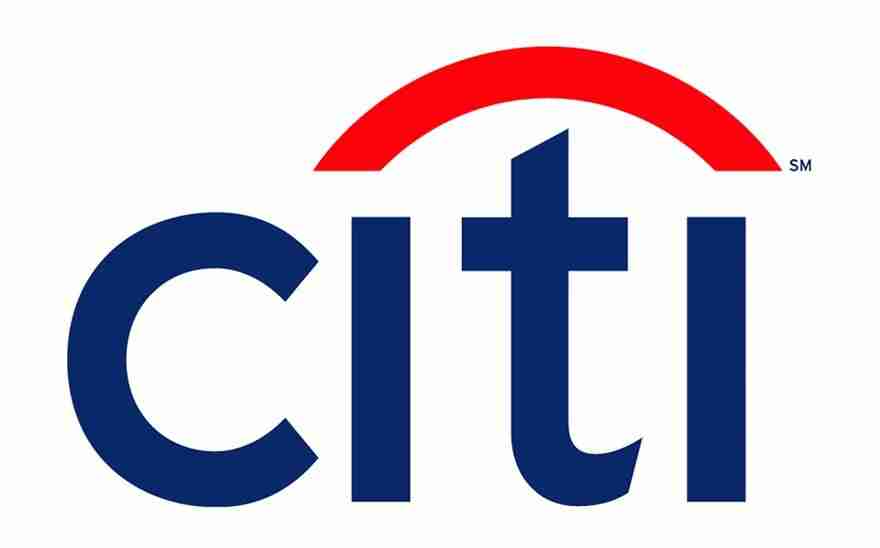 FAQ Search
Citibank also provides an FAQ search for its customers to get quick information regarding queries that are commonly made by other customers as well. The FAQ search page provides the visitors with a list of topics to choose from to find the most frequently asked questions regarding each topic. This eliminates the need to contact a help line representative for a simple query.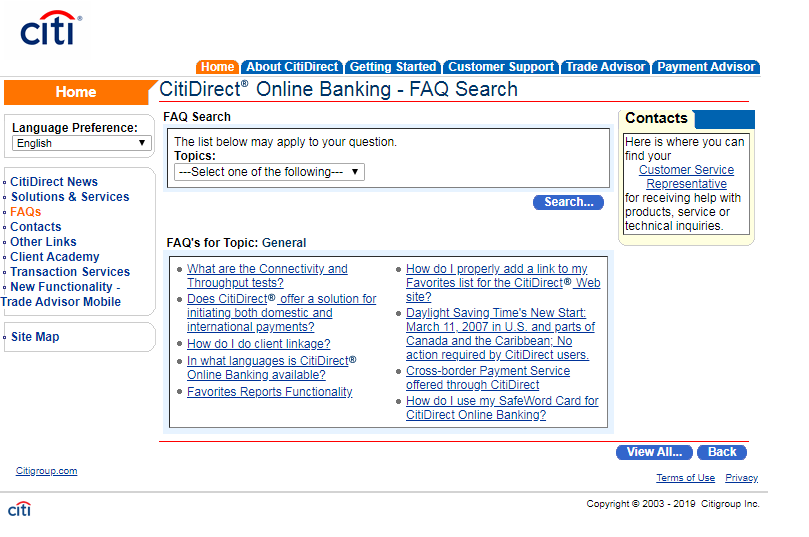 Citibank is one of the largest international banks operating in different cities of Canada. It has well-trained and professional helpline representatives who are quick to respond and helpful to customers regarding their queries and complaints. By reaching out through any of the above mentioned channels, you can get a prompt response from the Citibank team.