Chipotle is a well-established US chain of fast-casual restaurants that specialize in serving delicious Mexican dishes, such as burritos and tacos, to its customers.
Chipotle believes in sourcing its ingredients from high-quality, organic foods. The company firmly believes that high-quality, conscientiously-raised meat and organic produce will always taste exquisite and help change the future of our planet.
This is why Chipotle never uses any artificial coloring, preservatives, or flavors in its food.
Chipotle brings the best ingredients, time-tested recipes and techniques, and distinctive décor to the fast-paced world of quick-service restaurants.
Chipotle tries to extend the same commitment, care, and belief into its customer service. The company strives to keep its customers satisfied via its official Canadian website.
How to get in touch with Chipotle Customer Services
Chipotle Customer Support Services
Here are some ways in which Chipotle offers consistent support to its customers.

Find a Chipotle
The website has a locator feature that allows you to find the Chipotle that's closest to your location.
All you have to do is choose between pickup and delivery and enter your city, province, or postal code and the website will highlight all the Chipotle restaurants that are near you.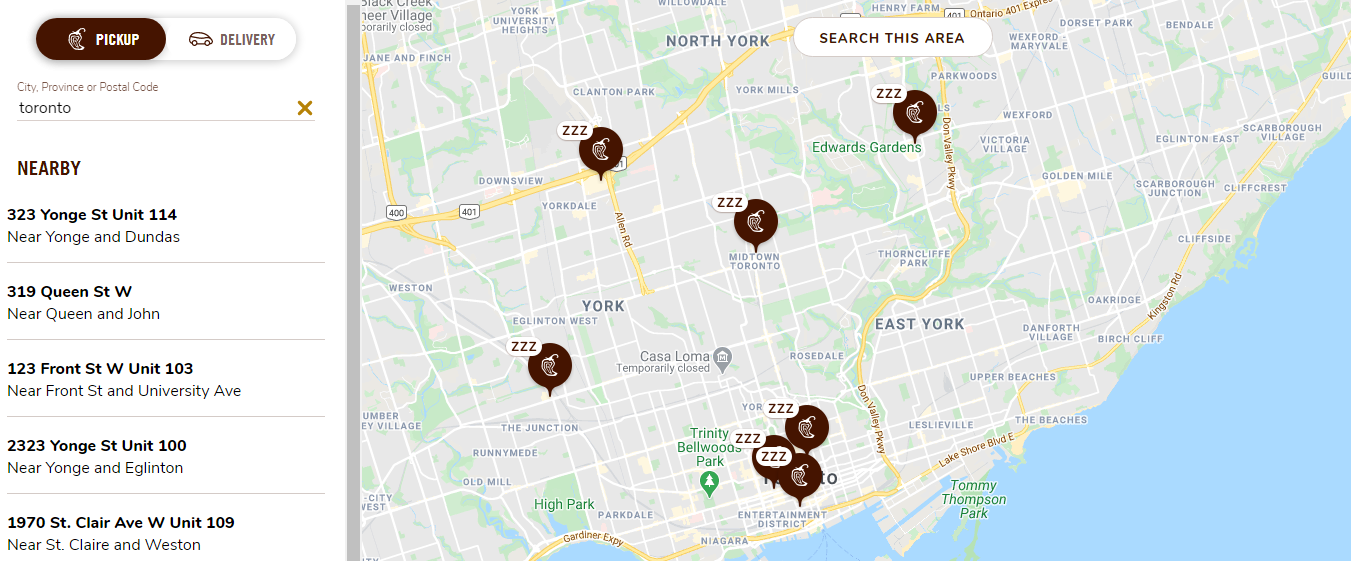 Simply click on any of the options given and you will have access to its contact info and directions. You can then go ahead and order from that restaurant via the website.
Contact Chipotle
Chipotle provides you with various avenues to contact the company and seek help from its website.
You can check out Chipotle's contact support webpage to access common questions, report an issue, and make a suggestion to the company.
Common Questions
Chipotle has a wide variety of common questions listed on its contact support webpage. All these questions are divided into various categories such as:
Top questions
Catering
Company info
Delivery
Food
Ordering
Each category is further divided into more categories. All you have to do is click on your chosen category to view the questions related to it. Simply click on the question you want answered to access its comprehensive answer given by Chipotle.
Report an Issue
Chipotle provides you the opportunity to contact the company if you are facing any issue related to your order or your experience at a Chipotle restaurant, your account, catering, and more.
Each of these categories is further divided into numerous categories.
Once you have selected your topic of concern, all you have to do is fill the form on the website and share your detailed comment. You can also add a picture of your Chipotle receipt if you want.
Make a Suggestion
Chipotle values the opinions of its customers and in that stride, it offers you the opportunity to send your suggestions directly to the company.
You can suggest a new restaurant location by entering the ZIP code of the area. You can also suggest a new menu item by sending its name. You can also send the company your opinions on what you would like to see at their restaurants.
Chipotle's Social Media Presence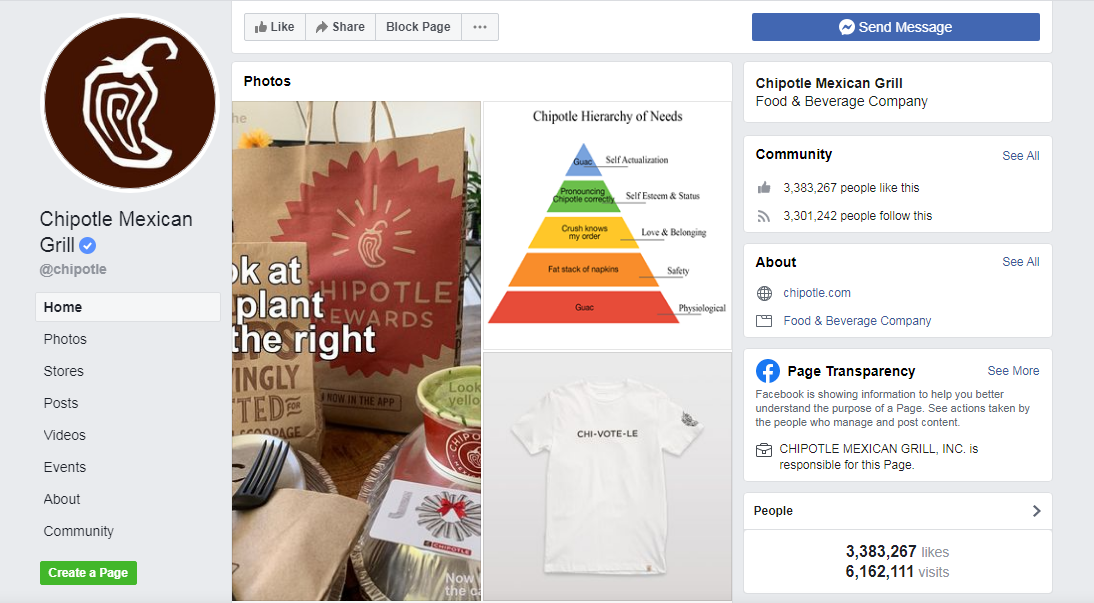 If you want to stay connected with Chipotle and learn about any changes in their menu or the launch of any new location, then you can do so by following it on different social media platforms.
The company is quite active on the following social media platforms:
If you want to reach out to Chipotle's customer service representatives, then you can do so via these platforms. Simply message them your queries, concerns, or suggestions on any of these platforms or comment on their posts, videos, pictures, and tweets to get their attention.
Contact Chipotle's PR Team
Chipotle also has a helpful media contacts webpage.
If you want to reach out to Chipotle's PR team, then you can do so by sending them a mail at the following address:
610 Newport Center Drive, Suite 1300
Newport Beach, CA 92660
You can also send them an e-mail at:
Additionally, you can send your press inquiries to the company by submitting your name, e-mail, organization name, deadline, and nature of your inquiry.
Chipotle's App
Chipotle values the safety of its customers during the ongoing pandemic.
This is why the company is offering Contactless Pickup and Delivery via its new app that you can download from the iPhone App Store and Google Play Store.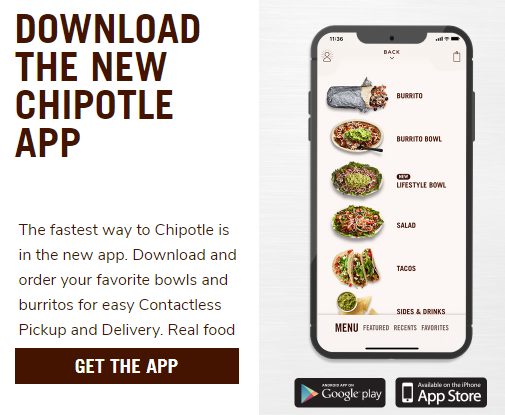 Nutrition Calculator
Chipotle understands that its customers might have different dietary requirements. This is why the company provides you with a separate webpage where you can make your own Chipotle meal by following your dietary requirements to the T.
This nutrition calculator feature allows you to calculate the calories and nutrition in your meal.
You can also create customized vegan and vegetarian meals and avoid common allergens, such as soy, dairy, and gluten. You can also take a look at Chipotle's comprehensive "Allergens and Special Diet" list for more clarity on which Chipotle ingredients you can safely consume.
Catering and Group Order
Chipotle also offers you the opportunity to hire the brand to become your caterers for an event. You can access the catering webpage on its official website to create your catering menu and to choose your build.
Chipotle provides you with various options that allow you to go all out and keep things simple as well. You can also create an account with Chipotle to enjoy its group order feature. You can make a group of up to 20 people and enjoy personalized chipotle meals.
Chipotle Careers
If you're looking for a work opportunity at chipotle, then you can browse the company's careers webpage. You can search for your preferred job on the website and learn what it's truly like to work for Chipotle from its employees.
The Bottom Line
Chipotle believes in offering only the best, most nutritious food to its customers.
The company also devotes itself to offering the best customer care services via its helpful website and active social media handles.
You can reach out to Chipotle with your concerns and suggestions and the company will surely get back to you as swiftly as possible.