The real estate industry is a confusing place. Whether it's for business purposes or residential purposes, it's always hard to find the right place or sell your place to the right person.
That's why you need the help of an excellent real estate company, such as CBRE, with a reliable customer support team.
CBRE (CB Richard Ellis) has been in business for more than 100 years with more than 530 offices and 100,000+ employees, all ready to help you with your real estate needs. CBRE has been awarded Fortune's number one most admired real estate company award among various other awards.
How to Get in Touch with CBRE Customer Support Services
CBRE Customer Support Services
CBRE has a reliable and responsive customer support team that is always ready to help you with your real estate needs. They have designed their website with a focus on their customers.
The website is neatly divided into various sections so visitors can reach whichever section they are interested in directly. Besides that, even if customers have any other queries or complaints, there are several ways to reach CBRE's customer support team. 
General Inquiries

CBRE has a detailed Contact Us page with various ways to contact the right department as well as other information you might be interested in.
If you're not sure which department will be able to answer your query, or you simply have a general inquiry or complaint, you can reach out to CBRE through their general inquiries number:
CBRE also has a comprehensive policy on Accessibility for Ontarians with Disabilities Act (AODA) for people with disabilities. Such people can leave any feedback or complaints at the following number or email address.
Contact Corporate Headquarters
There are some matters that are too important or sensitive to be sent or dealt with at your local offices. That's why you might need to contact CBRE's customer support team at their corporate headquarters directly.
Fortunately, there are many ways to do that, too. You can call them, send them a fax, or even send them a mail at their address. Here are the details you need to know.
Number: +1 416 362 2244
Fax: +1 416 362 8085
Corporate Headquarters Address:
CBRE Limited,
145 King Street West, Suite 1100,
Toronto, ONM5H 1J8
Department-Wise Contacts
If you already know which department you need to contact for your query or feedback, that makes things a lot easier. Rather than just sending a general inquiry or contacting the wrong department and waiting till you get redirected to the right department, you can do so yourself from the very beginning.
Here are the department-wise contacts you need to remember.
Market Research – Marc Meehan: +1 647 943 4205
Media Relations – Ryan Starr: +1 647 943 3662
Finance & Accounting – Jeff Cook: +1 416 815 2381
Accounts Payable Inquiries – Rosemary Smith: +1 416 775 3349
Human Resources – Martha Mclver: +1 416 815 2323
Information Technology – Frank Rovito: +1 416 775 3975
Find Properties
If you want to find properties yourself or browse through the different property listings available throughout Canada, you can do so yourself from CBRE's Find Properties section. You don't need to send any query or contact anyone right away.
CBRE has a detailed section for finding properties. You can select the category you're interested in including hotels, lands, offices, and more. Moreover, along with that, CBRE also provides other resources to make the task easier for you.
You can look at case studies, advantage insights, and other information from the CBRE Canada Research Centre.
Locate Their Offices
Sometimes, calls and emails are just not enough, and you need to speak to a representative, face to face, to get all your questions answered or queries resolved. For that reason, CBRE has multiple offices in various optimal locations, making it easy for you to visit them any time you want.
Moreover, they have also made it quite easy to find the office you're looking for. If you know your agent's name and location, you can use that to find the nearest office near you from their People and Offices page. Alternatively, you can also click on the cities mentioned and browse through the offices listed.
Careers
CBRE is a great organization to join if you happen to be interested in the real estate industry. You can visit their Careers page for more information regarding their open positions as well as all the reasons why you need to join them.
You can browse through the open positions according to the different categories. Moreover, at the end of the page, you will also find a FAQs section where you can find answers to various common questions regarding applying or working at CBRE.
Investor Relations
If you are contacting CBRE for any queries related to investor relations, you don't need to go through the regular channels. To save your time and efforts, CBRE has a separate section for Investor Relations.
You can view their press releases and download their annual and corporate responsibility reports. You can subscribe for any alerts or contact them at the following email address.
Social Media Platforms
CBRE is also available on various social media platforms, such as Facebook, Instagram, Twitter, LinkedIn and YouTube. You can follow them here for the latest updates and news regarding their projects, reports, interviews, and much more.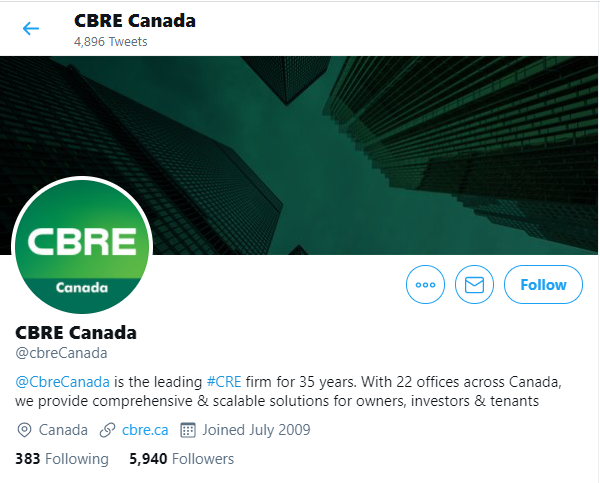 The Bottom Line
When it comes to real estate matters, you want to be 100% sure and satisfied before you make any decision. That's why it's crucial to have a good customer support team that is always available to cater to your needs.
Luckily, CBRE has a quick and reliable team that efficiently deals with all their customer's queries and complaints.