Whether it's for wealth management or you are experiencing some issues with your credit cards, sorting out bank matters is always tricky.
You never know which department you have to go to, and there's always a long queue to stand behind in. Luckily, you don't have to face those troubles with TD.
TD is one of the top 10 banks in North America and is ranked number one for Canadian mobile banking apps. It was also named as one of the best places to work in Canada and has received many similar awards.
The team of experts at TD is dedicated to helping out its customers with their every need and resolving complaints right away.
How to Contact TD Bank Customer Support Services
TD has a highly responsive and committed customer support team that is always ready to assist you with any concerns. They have a comprehensively designed website that allows you to search and find solutions to your problems yourself.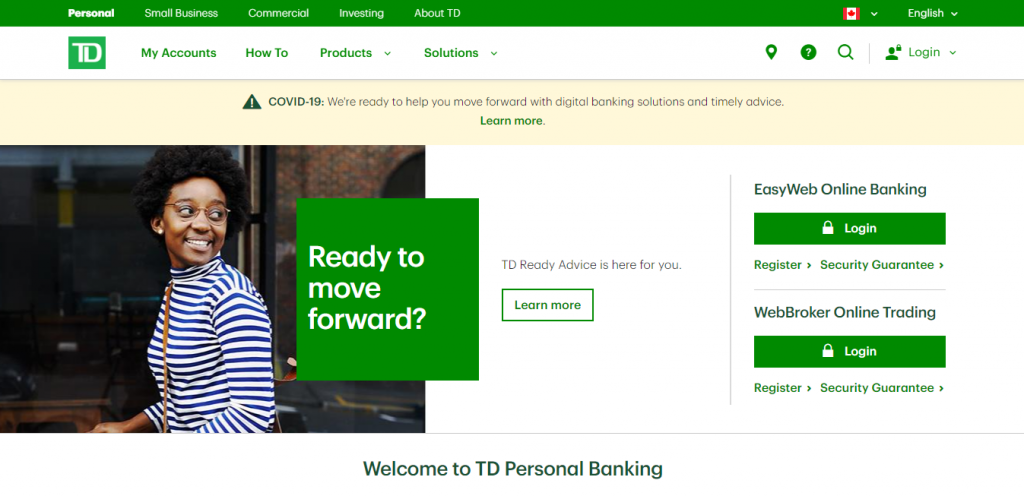 However, if, in any case, you are unable to resolve your problem on your own, their customer support team is always on standby to assist you. Here are all the ways you can reach out to TD's customer support.
Contact Them
TD has a simple-to-navigate Contact Us page.
Rather than getting transferred from department to department, you can reach out to the right person the first time around. There's a list of topics on which you might need help.
Once you select the relevant topic, there are different numbers displayed on which you can contact TD.
For instance, if you have to speak to someone about your credit card, once you select credit cards from the topics, you are presented with some of the following numbers to call:
1-800-983-8472 (English)
1-800-983-8472 (Option 2) (French)
416-307-7722 (to Collect)
1-866-704-3194 (Text)
Similarly, as you select different topics, you will see different numbers to contact. Moreover, in case you don't want to talk to anyone on call, you can also type in your query or question in the search bar given below the page to find answers to your questions.
Book an Appointment
If you think you need in-person assistance or you're simply not comfortable speaking over the phone, you can also book an appointment online.
You will have to answer a series of questions, such as whether it's an appointment for personal reasons or business purposes, what you want to talk about, etc.
Then you will be redirected to their branch locator, where you can select which branch you want your appointment at, on which date, and at what time. Finally, you will have to fill in some contact details so that the bank can reach you if the need arises.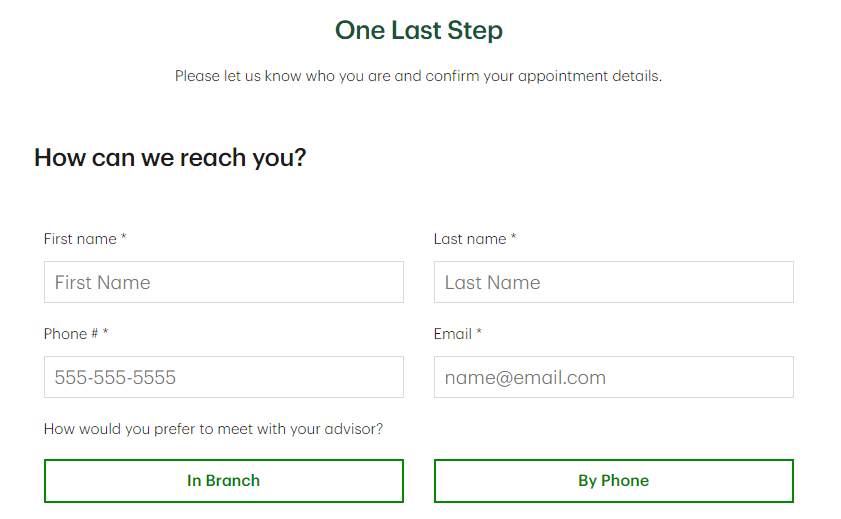 Feedback Form
On the Contact Us page, there's also an option for leaving feedback. You can click on the Feedback Form, after which you will be redirected to a new page and can fill the feedback form.
You can give any feedback if you have been satisfied with their services or you noticed any room for improvement.
Resolving Complaints
If you specifically have a complaint to resolve, TD has an entirely separate procedure for that as well. They have several steps mentioned on their Complaints Resolving page.
The first step is to voice your complaint, and again, depending on the topic or department, there are several numbers you can call. For instance, if you have any complaints regarding personal banking or lending services, here's how you can lodge your complaint:
Similarly, there are different numbers for complaints related to investment services, wealth management, securities, etc.
If your complaint is not resolved in step 1, you can proceed to step 2, where you have further contact details.
For instance, for personal banking or lending services related complaints, you can reach out to TD through several ways:
Phone Number: 1-888-661-9029
Email Address: customer.care@td.com
Mail: Customer care,
Toronto-Dominion Centre,
P.O. Box 193,
Toronto, ON M5K 1H6
After that, there's another option, step 3, if you want to further escalate your complaint.
Help Centre
TD's website also features an excellent Help Centre. You can type in the search bar whatever help you're looking for and find the most relevant answers.
Alternatively, there is also a lot of information mentioned below, divided into various topics. So, whether you need help logging into your account or are confused about paying a bill, you might be able to find what you're looking for in the Help Centre.
Besides that, the website also has a How-To section in case you are wondering how to carry out a specific action. There are various Tutorials to watch and learn what you need to do as well.
Branch Locator
If you directly want to visit a branch and speak to someone in person right away, or if you're looking for the nearest TD ATM, you can use TD's Branch Locator to do so. Simply add the nearest street, city, or even postal code to see all the TD branches and ATMs nearby.
Careers
If you are interested in joining TD, you can visit their Careers page to check upcoming job opportunities and vacancies. The separate page saves you from the hassle of going through their customer service site and wasting all that time.
Investor Relations
TD also has a separate Investor Relations page, where you can find all the relevant information. You can sign up for alerts or download different reports according to your needs.
Social Media Presence
TD is also available on several social media platforms, such as Facebook, Twitter, Instagram, YouTube, and LinkedIn. These are a great place to follow any new updates from the bank.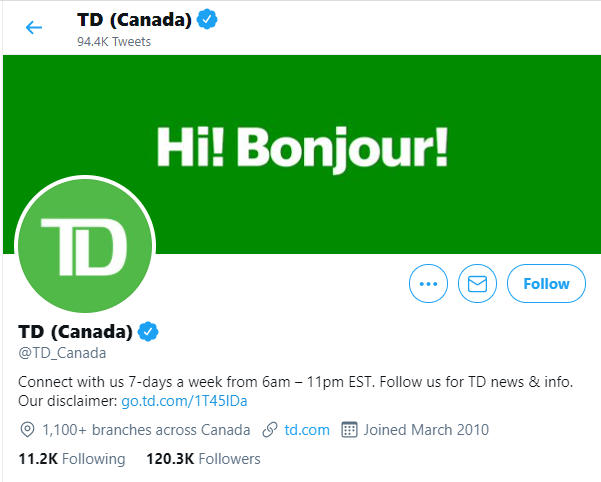 While these are not official customer support platforms, sometimes, you can comment your concerns, and a representative can get back to you.
The Bottom Line
Bank-relared matters are always worrisome. However, when you have a reliable customer support team attending to your every concern, such as at TD, it's easy to relax and not worry about any complicated processes!