Want to give your body a high-energy boost? Then head over to Booster Juice!
What's Booster Juice?
Booster Juice is a popular juice bar that sells fresh lip-smacking smoothies, frozen yogurts, juices and frozen fruity platters. There are not many companies that'll proudly say that they started their business in the owner's backyards.
But Booster Juice happens to be an exception to that rule. The company's tag line says 'proud to be Canadian born and blended worldwide'.
This statement gives us a snippet of how this delicious franchise came to be.
It all started with owner, Dale Wishewan's visit to America back in the 90s. The Canadian born observed the obsessions with health drinks across the border. And so he decided to dabble in the fruity concoctions at his home turf.
Many friends and family believed that the venture was silly.
But now 20 years later, Booster Juice defies all odds by thriving and expanding its business each year. The company has opened up shop in countless other locations. But Canada still serves to be its home base.
Despite the successful run, Dale's motto remains the same. He wants to offer Canada a taste of fresh naturally refreshing goodness. And he wants each customer to go home with a happy heart and a healthy glass of fresh fruity drink.
That means customer service and unconditional support is always on the team's agenda.
Do you wish to contact Booster Juice's Customer Support? The article highlights the prominent ways to do just that. From emails, call services to social media pages― Booster Juice leaves no stone unturned when it comes to connecting with customers.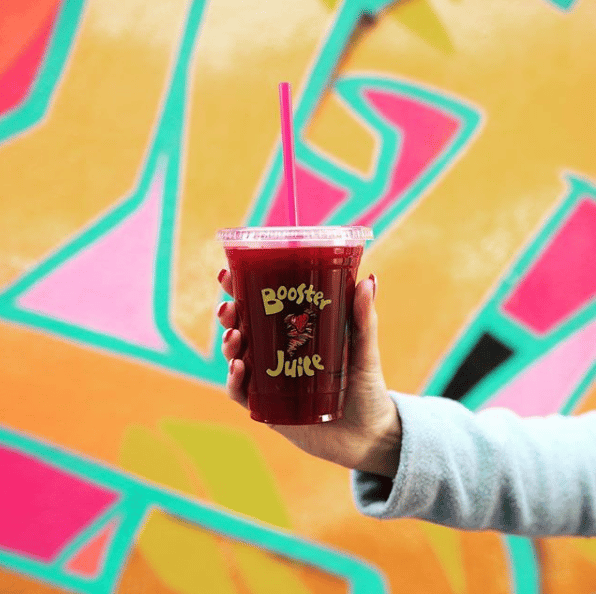 Calling Customer Support
'Hello, Booster Juice?'
Why would you call a juice bar? There are multiple reasons why calling up a juice bar would be necessary. From delivery issues, bulk orders to partnerships―some things can only be resolved over the phone. That's why Booster Juice has set up a hotline for your fruity emergencies.
All you have to do is dial:
HQ at Western Canada: 780-440-6770.
HQ at Eastern Canada: 416-621-6767
Once that's done, someone from customer support will be ready to assist you. However, customer support is only available between 8:00 am to 8:00 pm each day.
Pro tip: You can find location-specific phone numbers with the help of their virtual store locator.
Connecting via Email and Post
Want to hit up Booster Juice for a tasty new venture? Wish to send them a complaint?
Some matters are more suitable for detailed correspondences. That's why email proves to be the best format to send over your official and sometimes not so official messages to the company. Now, Booster Juice hasn't set up a proper customer support email account. But you can still reach them through other means:
This includes:
Bonus: Booster Juice Canada is happy to receive mails by post for their corporate contacts.
Being Social: Booster Juice Social Media Channels
What's brewing and blending at Booster Juice?
Booster Juice's social media profile is an explosion of colors. They feature a fine mix of information about new store launches, fresh new recipes, ingredients and exclusive deals. With an occasional chatter about what happens behind-the-scenes of this delicious venture. All in all, their digital presence is as lively and refreshing as their blends.
You can connect with Booster Juice on:
However, the social media accounts aren't there just to serve up some tasty tidbits about the business. They also function as another medium for communication. So you may feel free to hit the customer support up on this social platform. From queries, complaints to delivery issues―they'll handle all things related to their services.
Self-Help Guide: FAQs
Does Booster Juice offer vegan alternatives?
Dietary restrictions always crop up in the food industry. Most customers find themselves in a dilemma when the food joints fail to have the right answers. But Booster Juice proves to be different from the rest. The management makes sure that you can get help from the on-site staff about all your specific needs. They've also created a handy guide for online visitors.
All you have to do is go to their official website and click the FAQ page. You'll find the answers to all your Booster Juice centric questions there. From allergy an issue, superfood benefits to franchising prospects―the page has it all covered. They've even installed a search bar to optimize your search.
A quick skim of this list will let you know everything about the ingredients and dietary restrictions. Yet, if you still need more information then you can opt for direct contact.
Other Customer Service Options
Location Specific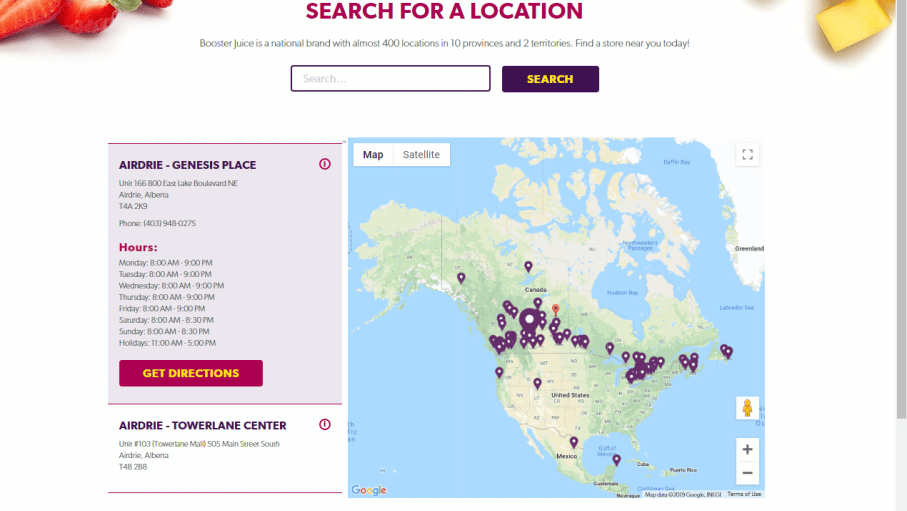 Is there a Booster Juice bar near you?
There are times when a simple Google search might not give you the answer. That's why you should go right to the source. Booster Juice has set up a nifty store locator for this purpose. Once you land on the page, you'll see a well-marked map of Canada and a list of addresses. Use the search bar to type in your locations and find out about the Booster Juice near you.
Apart from the address the website also shows:
The phone numbers of each juice bar
The business hours
Synchronized Google map to get directions
In short, this nifty feature ensures that you get to your favorite juice bar without any trouble.
Stay Updated
What's new at Booster Juice?
Booster Juice Canada is always coming up with yummy smoothie recipes, speciality shots and secret blends. If that is something you're interested in then their newsletter is a great fit for you. Not only will it prove you with fresh scoops on this fruity joint. But you will also learn about new deals, exclusive offers and fun competitions before anyone else. All in all your email subscriptions are the best way to get the 411 on Booster Juice.
Let's Sum It Up…
In a nutshell, Booster Juice Canada offers a seamless customer service to the residents of Canada. The clever store locator is the ultimate source for location-based contact. Plus, the active social media front never fails to come through during emergencies.
Overall, Booster Juice has set up a pretty effective and responsive customer support service.