Benecaid was formed in 2000 by a group of Health Benefits Professionals. They believed there had to be a better way for small businesses to offer employee health benefits, without exorbitant costs. The idea was that if a collection of small businesses could be treated as a group, each company would be able to enjoy all of the price breaks, enhanced products and service advantages usually only available to large Canadian companies.
Benecaid is a member of the Better Business Bureau, the International Foundation of Employee Benefit Plans (IFEBP) and the Third Party Administrators Association of Canada (TPAAC). The company uses Chartered Accountants, acting in the capacity of independent trustees overseeing their claims adjudication. Benecaid offers health benefit solutions such as Group Plans, Flexstyle, Flexfit, Health Spending Account (HSA) and Beneguard to small and medium sized companies in Ontario.
Benecaid Customer Support
Benecaid has an excellent customer support team that is always ready to help in any way. Complete a detailed support ticket or check out the extensive FAQ for Plan Administrators or FAQ for Plan Members. When you want to file a claim, you can quickly and easily fill out one of the online claim forms. All correspondence is very important, so you can rest assured your queries or claims will be handled as quickly and efficiently as possible. You can send an email to sales or customer care or speak to a live agent by calling toll-free 1-866-361-2998 or 1-877-797-7448.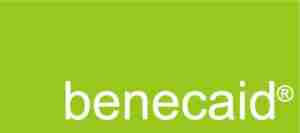 Benecaid is located at
185 The West Mall,
Suite 800,
Toronto, Ontario
M9C 5L5
The office is open weekdays from 8:30 am to 5:00 pm EST, closed Saturdays and Sundays. Call the office during normal business hours at 416-626-8786 or send a fax to 416-622-5312 – long distance charges may apply.
Insurance companies use a lot of confusing terminology, find out what these terms mean by friending Benecaid on Facebook, following them on Twitter or staying in touch with Google Plus. Their glossary of commonly used lingo, with descriptions and some images, clearly explain what these terms mean. Everything on these pages can easily be shared with your social media network.
Find out what Benecaid customers say about the company and the excellent service they provide. If you want to learn more about the inner workings of an insurance company or why thousands of Canadians trust the company, sign up on Twitter for an informative webinar, hosted by the best in the industry.