Beats by Dre is one of the top headphone brands out in the market right now. It's known for making high-quality products that are great for everyday use.
Beats by Dre has ensured that it stays accessible to its customers by making a comprehensive support page on its and a dedicated customer support account on Twitter. Here's a quick overview of Beats by Dre customer support services.
About Beats by Dre
Beats by Dre (Beats Electronics) makes audio products. Itsproducts include headphones, earphones, speakers, and other audio-related accessories. It was founded by American rapper, Dr. Dre, and record producer, Jimmy lovine. Since 2014, Beats by Dre is owned by Apple.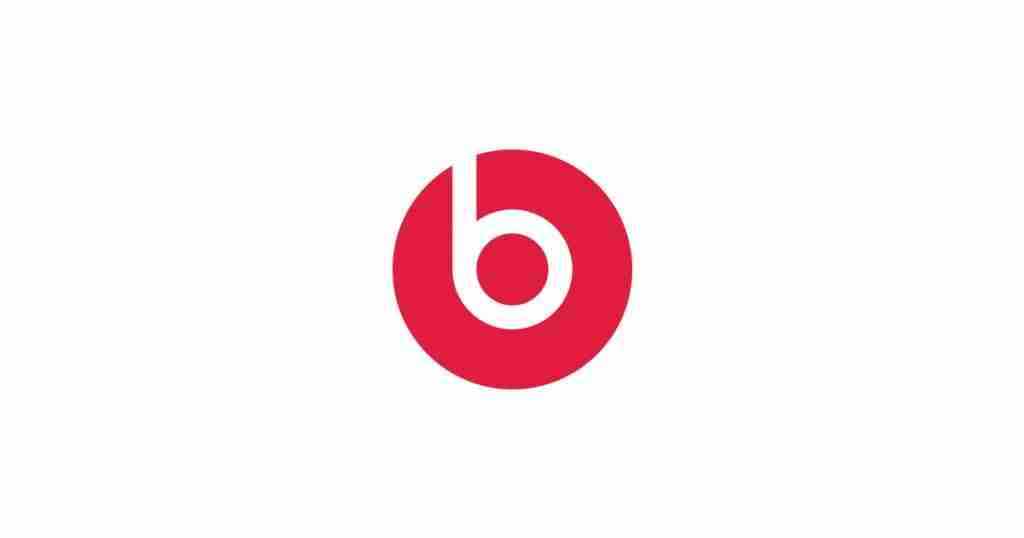 Beats by Dre Website Customer Support Services
Beats by Dre has one support page, which includes support on each of its products and services. Here's an overview of the Beats by Dre support page.
Use the Get Support Page to Specify Your Problem Before You Make Contact
Before you get in touch with an Apple Support representative, you can use the Get Support page to specify the topic of your inquiry. This way, the representative will know what you want to learn about, and it'll save your time in the process.
You can choose any one of the eight topics on the page. These include:
Audio Quality
Battery, Power, and Charging
Wireless Connectivity
Service Request
Accessory Issue
Feature Questions
Lost or Missing Beats
Buy AppleCare+
Once you pick your topic, you can 3 ways to get in touch with Apple. These include:
Call Apple Support
Chat to Arrange a Repair
Make a Reservation
Call Apple Support for Your Beats by Dre Products
The contact number for Apple Support for residents in Canada is as follows. This number can be used for support services in both English and French if you're calling from Canada.
You can contact Apple support services from 08:00 a.m. to 08:00 p.m. Central. Also, Apple Support provides you with a Case ID. You can mention this ID during your call so that the support representative is aware of what your call is about. This means that you can spend less time on your call. You can find the contact numbers for other countries here.
To call Apple Support, you can provide Apple Support your contact details and give them a call whenever it's convenient for you. This way, the customer support representative will know who you are and what your topic of inquiry is.
If you're facing a problem with your product, they can diagnose it over the phone. They will also tell you what you can do to fix the issue with your product.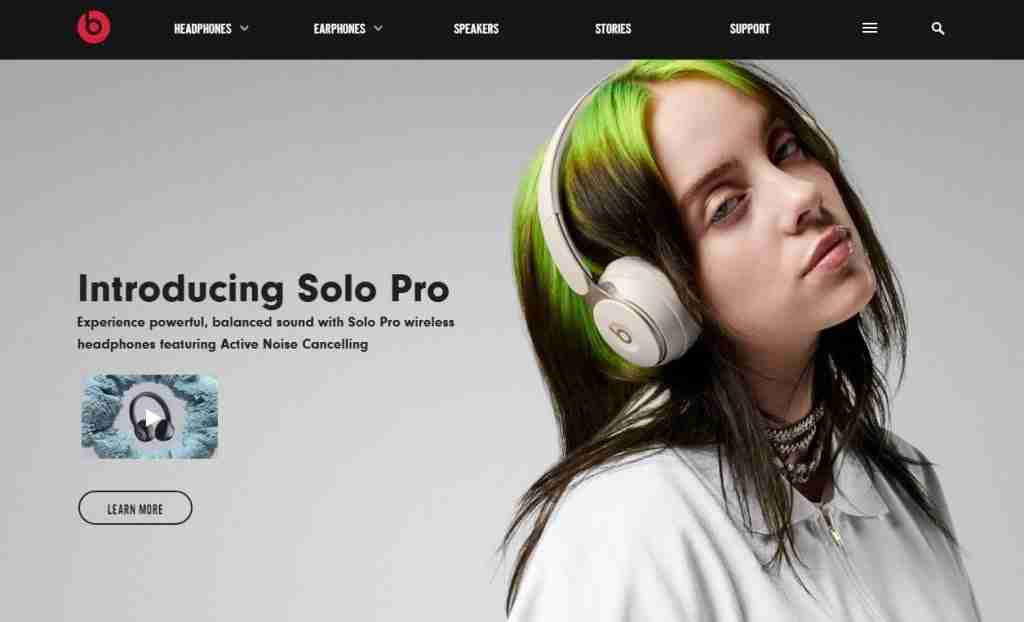 Chat with a Customer Support Representative
Other than scheduling a call, you can have a chat session with an Apple Support representative. Chat with the representative in real-time to discuss the details of the problem with your product over the internet.
You can also have Apple arrange for shipping in case you need to send your product to them for repairs. The wait time for this option is 5 minutes or less.
Make a Reservation to Drop Off Your Beats by Dre Products for Repairs
If your Beats by Dre needs repairs, you can drop off your faulty product at a Beats by Dre store. The store will then ship the product to an Apple Repair Center and repair your product as soon as possible.
You can make an appointment with the store before you drop it off so that they make shipment arrangements beforehand. You can pick up your product from the store once it has been fully repaired. Also, you can coordinate with a store representative for the exact date.
The Contact Us page is offered in English and French, making it more accessible for consumers.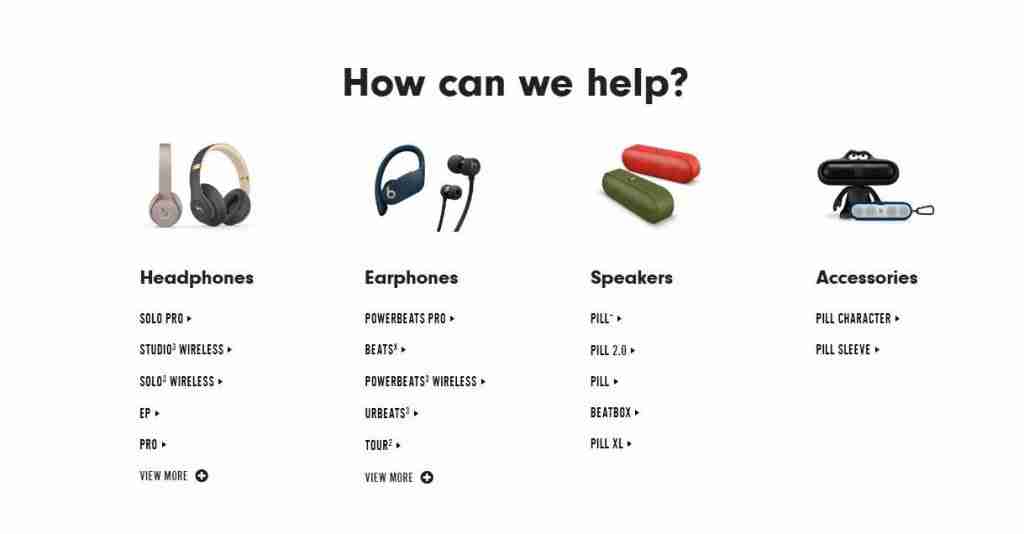 Read FAQs and Articles on Beats by Dre Products Support Page
On the Beats by Dre support page, there are helpful tips for each of its four product categories. These categories include:
Headphones
Earphones
Speakers
Accessories
Within each of these product categories, there are links for support on each of its product models.You can use these links to read FAQs and articles on common problems you may face with your product.
This way, you can get support for the exact product model you have without making a call or writing an email.
Browse through the Popular Topics Section for Technical Support
If you scroll lower on the support page, you will find a Popular Topics section. This is a self-support section that focuses on technical support. This means that you can get support without needing to contact a customer support representative. It contains three categories which include:
Bluetooth Pairing
Sound Help
Firmware Updates
Each of these categories has links to support articles related to these categories.
For example, if you expand the Sound Help category, you will find a link to an article called Headphones and Earphones. Clicking this link will redirect you to an article on some common issues you may face with headphones or earphones by Beats by Dre.Within the article, there are subheadings that tackle different issues that include volume control and compatibility issues.All of these are addressed within one article.
Social Media
You can find Beats by Dre on all of the major social media websites. It also has a dedicated customer support page on Twitter called Beats by Dre Support. The page hasn't tweeted since November 2018, so it's not the best place to get updated information.
That said, the page is fairly active; it responds to other users' tweets that address issues they're facing with their Beats by Dre products. So, you can consider that option for getting support for your Beats by Dre product. In addition to that, you can always send the page a private message and wait for a representative to address your issue.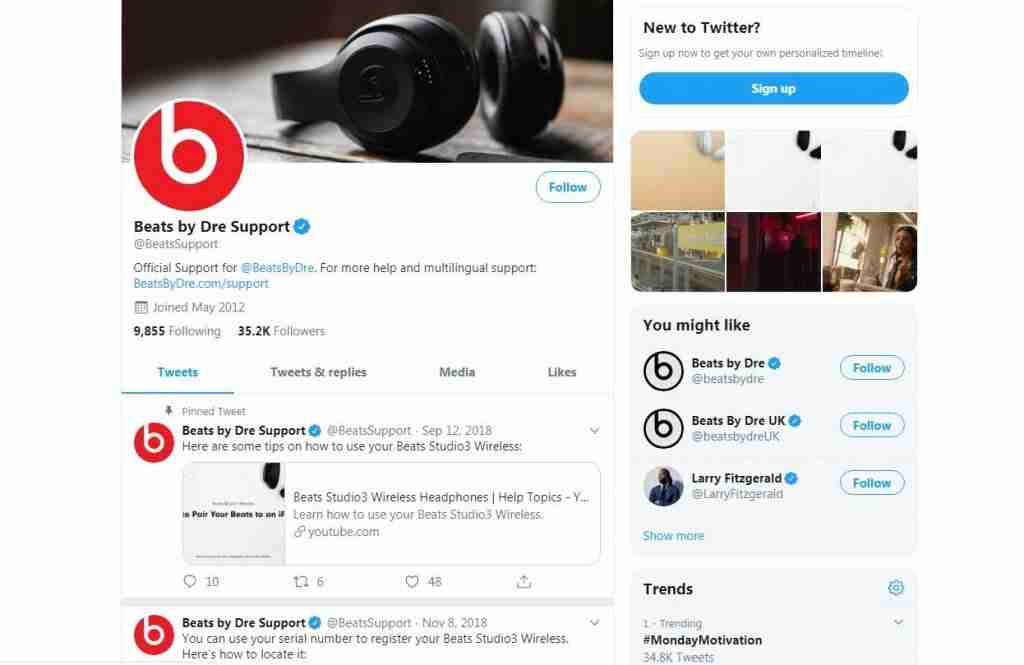 Stay In Touch with Beats by Dre
Beats by Dre hasn't been around for nearly as long as its competitors, but it still has managed to attract customers around the globe. If you want to learn more about the company, you can visit its website or its social media pages.