Based in Taiwan, ASUS is a multinational computer hardware and consumer electronics firm operating since 1989. Not only does the brand rank among the top three consumer notebook vendors in the world, but it's also regarded as the world's number one gaming motherboard provider.
The Interbrand has ranked ASUS as the most valuable international brand for four consecutive years and the company also appeared in the list of Fortune Magazine's list of the world's most admired companies in 2015 and 2016.

With a world-class Research and Development team and 17,000 employees, the company made around US$13.3 billion in 2016 and won 4,385 awards. Its commitment to quality and innovation can be seen in its dedication to creating smart life products for the future.
ASUS became popular in North American markets, including Canada, in 2007 when it revolutionized the PC industry through its launch of the Eee PC. On top of that, it seems like it won't ever stop innovating.
The brand's ASUS ZenFone Series features new mobile trends, while it is currently working on robotics technologies, IoT devices, and virtual and augmented reality products. Zenbo, its latest product, is a smart home robot that offers companionship, entertainment, and assistance to homeowners.
Asus Canada support service: the complete guide:
ASUS e-Store
Besides its corporate website, ASUS also has a separate e-store that allows customers to place orders directly with the company. All you need to do is to visit ca-estore.asus.com, create an account, and begin shopping.

You can explore notebooks, desktop accessories, phones and tablets, gaming products from the Republic of Gamers (ROG) section, peripherals, and accessories. Like any other e-commerce site, it allows you to add products to the cart and complete the purchase. In case of any queries, you can click on the "Order Support" link on the top right side.
ASUS Online Service Desk
The ASUS Online Service Desk works as a separate customer service platform that lists commonly-searched topics or frequently asked questions (FAQs) and allows you to enter keywords to search for specific information. Its massive knowledge base should help you with everything you need to know about phones, computing, gaming, and other devices.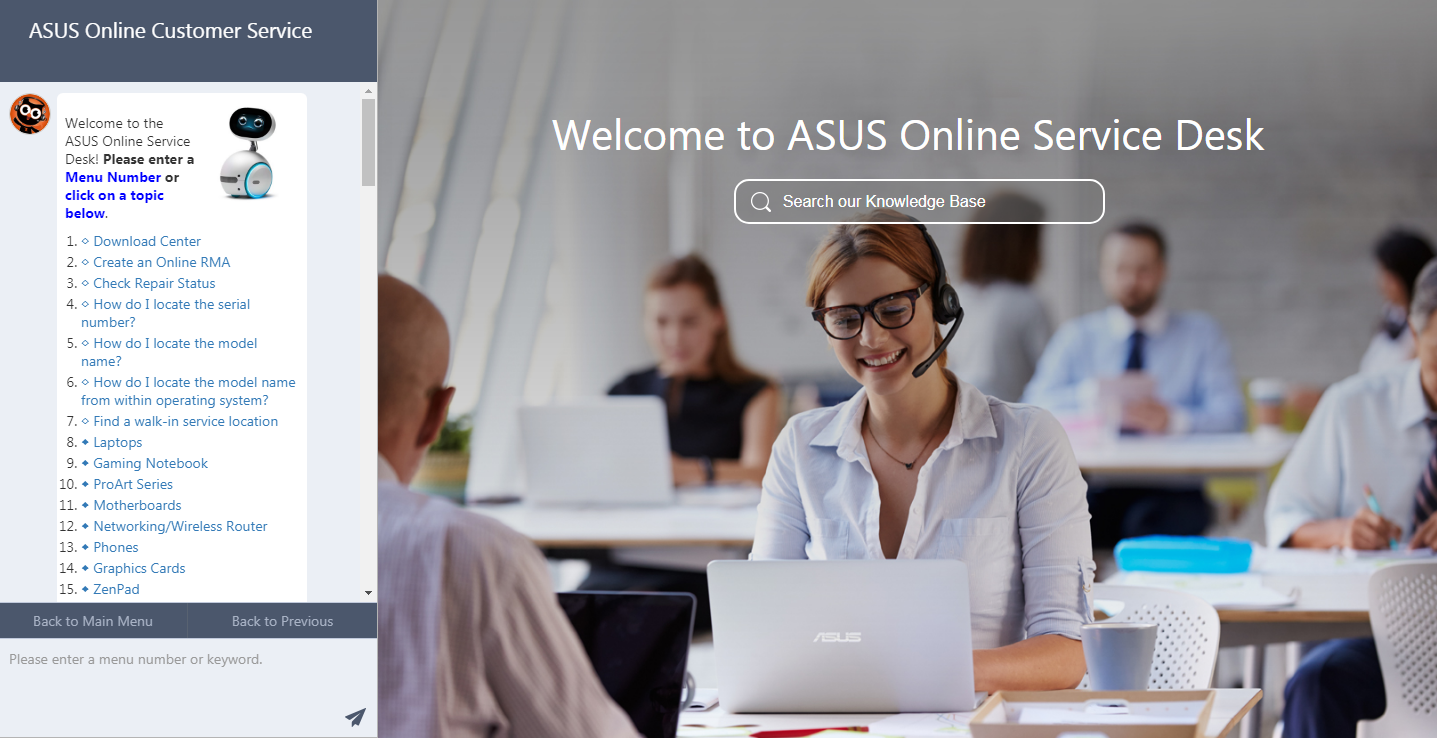 Let's dig deeper into how it helps you out:
Download Center
If you have queries related to specific products, you can go to the "Download Center" section and enter the model number or choose a product from the list to obtain relevant information.
From drivers to product manuals to warranty information, you can access and download all information about the product. You're also presented with a set of FAQs specific to the product you search for.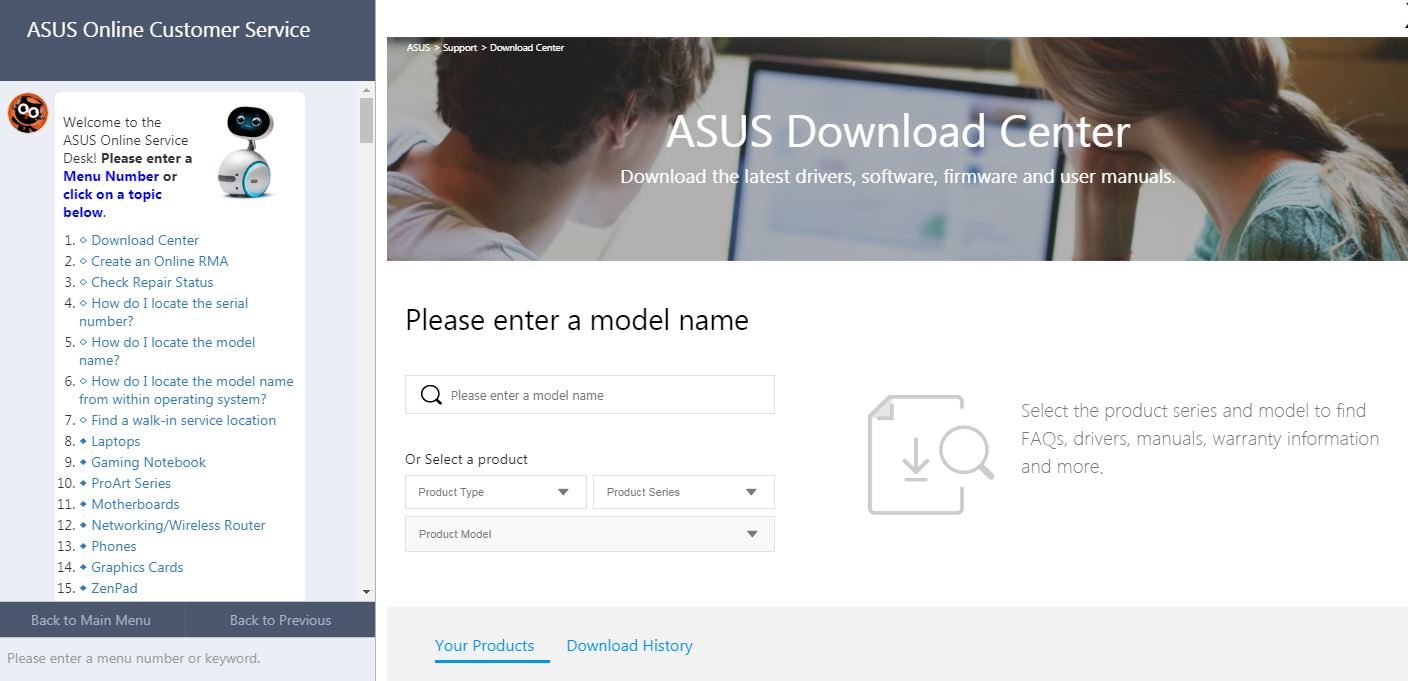 Online RMA
If you wish to know whether your product is under warranty, you can click on the "Create an Online RMA" link and enter the serial number of the product in the given field. The same link will help you claim a warranty for an ASUS product. For example, if you've created an online RMA to claim warranty for repairs, you can check the repair status any time through the platform.

Store Locator
The same platform can be used to locate a walk-in service location. Once you click the relevant link, you have a complete map at your disposal. You just have to enter your location in the given field and the map will illustrate all the closest service stores near you.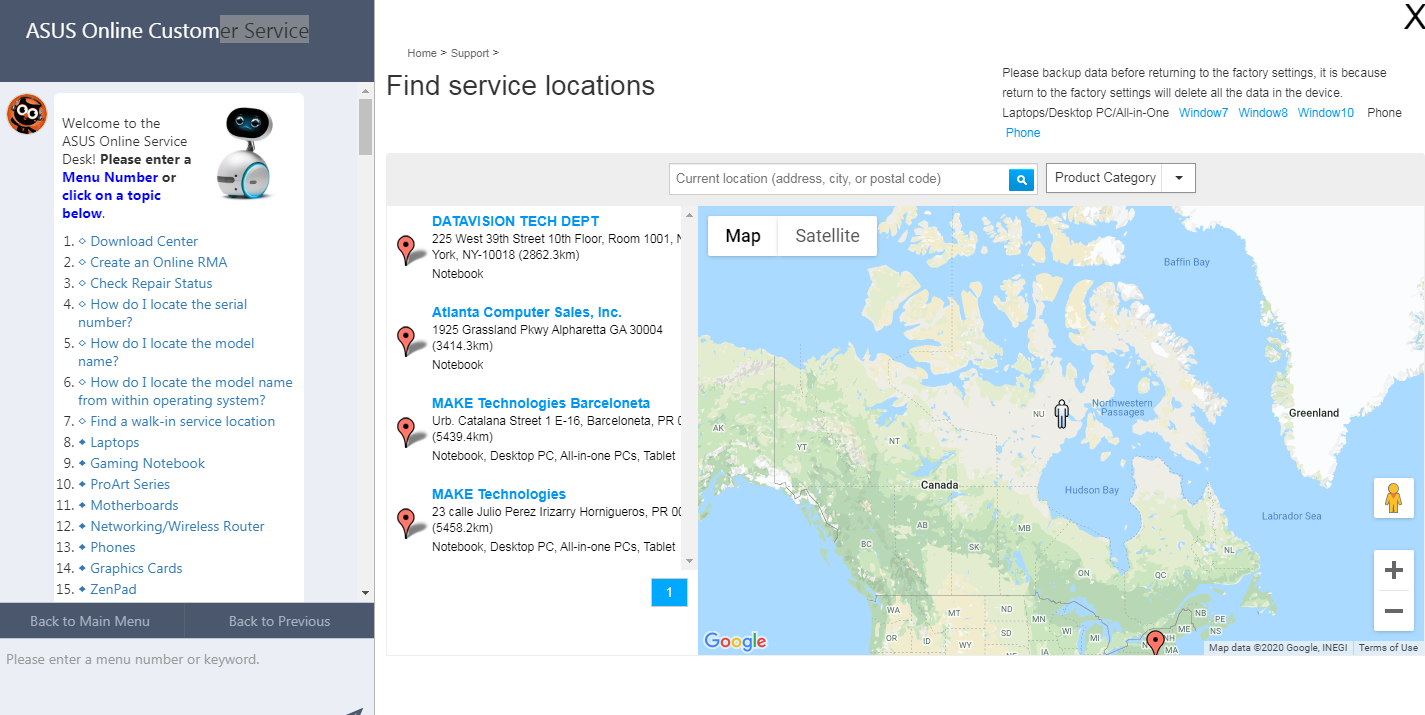 Over the ASUS Online Service Desk, you can also connect to a live agent by entering "111" in the field or clicking on the "transfer to agent" link that appears for unsearchable queries.
MyASUS- Service Center
MyASUS is an Android mobile app that operates as a support facility for ASUS customers. It helps you locate the nearest ASUS retail outlet, register a newly purchased ASUS product, access product-related information, find out about order and repair statuses, and connecting to customer service personnel for other inquiries.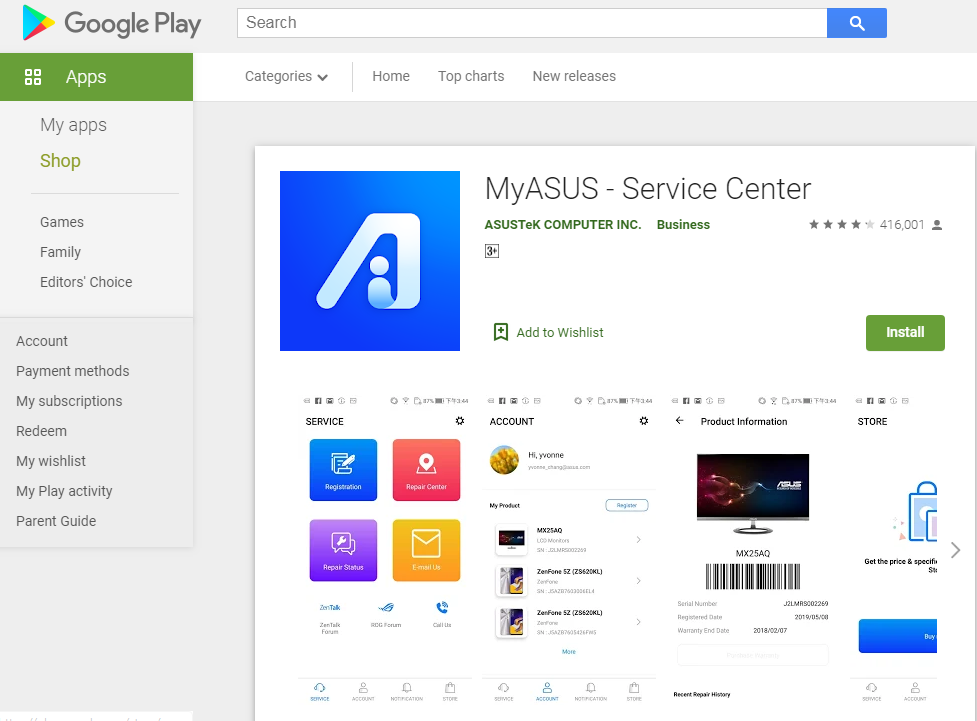 When it comes to registration, all you need to do is scan the product bar-code via the app. For rapid issue resolution, you can capture an image of the product and share it with the customer service department that will quickly identify and address the problem for you.
Its most recently updated features allow you to place orders and benefit from fast home delivery. They also connect you to customer service staff through a one-on-one call at any time.
Offering support in 26 different languages, you also regularly receive newsletters and information on the latest launches, discounts, and other offers. If you wish to install My ASUS on your PC, follow the steps for MyASUS for Windows.
Customer Engagement Through Social Media
The easiest way to stay informed about all the latest ASUS updates is to follow its social media pages. Also, you can expect quick responses to any of your queries or complaints on these platforms. Its dynamic presence on Facebook, Twitter, Instagram, and YouTube are aimed at keeping you highly engaged. You can explore the company's social media pages/ handles/ channels by following these links:
Closing Thoughts
To sum it up, ASUS Canada hasn't left any loopholes in its customer support. Its responsive customer service, particularly its comprehensive ASUS Online Service Desk, caters to every possible customer need.
Yet, it doesn't limit you to that platform. If you think social media is more accessible to you, you can always find the company there. To make it even more convenient, you can download the MyASUS app and access all pieces of information right on your phone.