It's pretty annoying when you keep getting spam calls from random salespeople selling insurance schemes. But, you know what's worse? When you try calling an insurance company, and there's no answer.
Thankfully, that's not the case with the Allstate Insurance Company.
They have a large customer support team that is always ready to cater to their customer's needs and requests.
If you happen to be one of those customers and are looking for a way to reach Allstate Insurance, keep reading because there are several ways to do so.
About Allstate Insurance Company
Allstate Insurance Company of Canada is part of a larger group, the Allstate Corporation, which is one of the biggest insurance companies in the world. The Allstate Insurance Company was founded in 1953, and since then, it has been loyally providing its clients and customers with the best services.
It consists of a vast network with over ninety community-based agencies and more than 2,400 agents and employees. It offers a wide range of insurance policies for your home and automobiles for your peace of mind.

Allstate Insurance Company Customer Support
Unlike other companies, Allstate Insurance has an entire section of their website just for their customers.
This Customer Care section covers various methods to contact the company as well as assist customers in their other needs.
Call Allstate Insurance Customer Contact Centre
If you want to call the company for any insurance-related matters or a general query, you can reach out to their customer contact centre by calling them on the number provided on their Contact Us page.
There are different numbers, depending on where you're calling from. Here are the numbers you should refer to:
For calling from within Canada: 1-800-255-7828
For calling from the USA: 905-475-4963
The customer contact centre is available Monday through Saturday. It remains closed on Sundays. Here are the timings during which you can contact them:
Monday to Friday – 8 AM to 9 PM ET
Saturday – 9 AM to 5 PM ET
Allstate Insurance Contact Us Form
Not everyone is comfortable calling and talking to an actual representative. Therefore, there is also an option for submitting a Contact Us Form on the website.
This form is a bit long and requires quite a lot of details. Even though it's not mandatory to provide all the information, the more information you provide, the better Allstate Insurance representatives will be able to help you resolve your problem.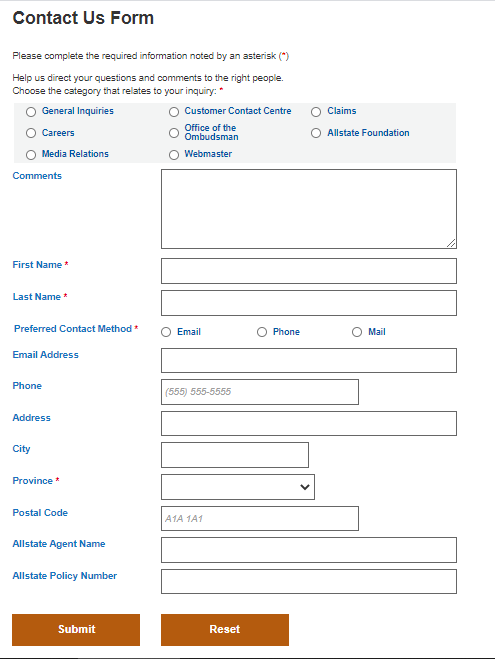 The form asks for the nature of your inquiry, your first and last name, a preferred method of contact, the province as mandatory information. Besides that, you can add in your email address, comments, policy number, etc., as additional information.
Visit Your Nearest Allstate Agency
Insurance policies and their details can be a sensitive matter. Many people even get scammed by other people pretending to be their insurance company representatives and asking for valuable information.
You can read more about these insurance scams and frauds here.
Considering all this, if you would prefer to go to a physical agency and going over your inquiry or complaint in person, then you can easily do that as well.
You can use the website's Agency Locator to find one near you and go visit it to talk to a representative.
File Claims and Resolve Complaints
Insurance policies can be complicated, and that's why it often involves a lot of claims and complaints to get things sorted and corrected.
To make sure this process goes as smoothly as possible, Allstate Insurance provides several numbers for different provinces to get in touch with the company easily.
These company representatives are available 24 hours a day, 7 days a week.
You can call on the following numbers to file claims or resolve complaints.
For people residing in Alberta, British Columbia, Manitoba, and Saskatchewan
Toll-Free Number: 1-800-661-1577
Local Number: 403-974-8700
For people residing in Ontario
Toll-Free Number: 1-800-387-0462
Local Number: 905-477-5550
For people residing in Quebec
Toll-Free Number: 1-800-463-2813
Local Number: 514-351-5335
For people residing in Nova Scotia, New Brunswick, Prince Edward Island, and Newfoundland
Toll-Free Number: 1-800-561-7222
Local Number: 506-859-7820
For people residing in the USA
If your claim or complaint isn't resolved even after talking to an agent, you can also Allstate's Ombudsman toll-free line:
For English speakers: 1-877-726-6786
For French speakers: 1-866-348-5598
myAllstate Mobile App
Allstate Insurance also has a very helpful mobile app that is available on the Google Play and App Store.
It provides various information regarding your policy, billing, payments, proof of insurance, and the status of your claims as well.
The app also sends important alerts and notifications about your account directly to your phone. Additionally, if you do face any problem with the app, you can email the company on this address:
Media Inquiries
Allstate Insurance provides a different number for media inquiries so that they don't get mixed with the general customer queries and complaints. If you have any media inquiries, you can reach Allstate Insurance company at this number:
Allstate Assistance
Car troubles are not uncommon for anyone, and they often come unannounced.
If you happen to have some car trouble or it breaks down in the middle of the road, you can call the following Allstate Insurance number for immediate roadside relief.
This service is available 24/7 and currently only for those living in Quebec.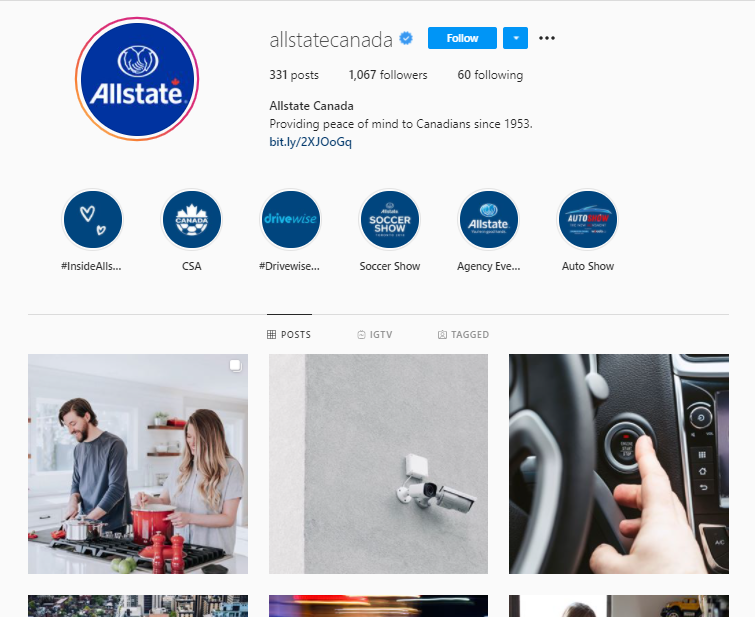 Connect Through Social Media
Allstate Insurance Company is also quite active on a number of social media platforms. You can follow these accounts to get quick updates or even ask your questions directly.
Allstate Insurance is available on Facebook, Twitter, Instagram, YouTube, and LinkedIn. It even has a blog that has plenty of information regarding insurance and where you can post your comments as well.