Air Transat, or Transat A.T. Inc., is a tour operator with 25 international destinations. They specialize in holiday travel and offer hotel and air options as well as vacation packages to 26 countries in Europe, the Middle East, and the Americas.
Transat A.T. Inc. is a Montreal-based travel company that employs approximately 5,000 people. They are committed to sustainable tourism and base many of their travel options on internal assets rather than outsourcing from thousands of supplier services.
The main Air Transat website is full of travel and booking information so, it may be difficult to locate their contact information beyond the basic toll-free number. This article will explain how to navigate their website to get the information you need for different concerns.
Toll-Free Booking Phone Number
The first thing you will notice is the toll-free phone number for bookings. Dialing the booking center at 1-866-322-6649 is available 24 hours a day, 7 days a week.
Only call this phone number, however, if you have booking needs. For other inquiries or comments, these agents may not be able to help you.
Navigating the FAQ Page for Air Transat
From the main webpage, you can scroll to the bottom to find the FAQ/Contact Us link under the "Choosing Transat" heading. Or, you can click here.
The FAQ page does not have the typical question and answer format that other websites have. Instead, there is a list of contact information for different inquiries.
Media Relations
If you need to make inquiries to the media relations department for Air Transat, there are different ways to do it depending on the specific category or department.
Transat Tours Canada and Transat Distribution Canada
For operational issues and routine requests regarding Club Voyages, Voyages en Liberte, Voyages Transat, TravelPlus, and Marlin Travel, please use the contact information below:
Debbie Cabana
Director, Public Relations and Social Media
Transat Tours Canada
+1 514 987-1616, ext. 4662
Email: Debbie.Cabana@transat.com
If you need to leave a message on voicemail, leave your name, media outlet name, the reason for your call, and a contact phone number. Voicemail is checked regularly.
General Air Transat Media Contact Information
Debbie Cabana handles media relations for Canada and other European countries. You can dial her directly at +1 514 987-1616, ext. 4662 or email her at Debbie.Cabana@transat.com. Contact information for media relations in other countries is as follows:
United Kingdom
Reach Lesley Kane directly at +44 141 223 7504, or email at Lesley.kane@transat.com
BENELUX. Germany, Switzerland, and Austria
Additionally, you can reach Anne Laure Moerenburg at +31 (0)20 655 11 33, or email her directly at A.Moerenburg@airtransat.nl.
France
Lastly, for media concerns in France, contact Noemie Lacroix by dialing +33 (0)1 55 09 42 21, or send an email to Noemie.Lacroix@airtransat.fr.
Transat A.T. Inc. Financial and Strategic Issues
You can contact the director of Communications and Corporate Affairs, Odette Trottier, during regular business hours at +1 514 908-8891. Also, you can send an email directly to Odette.trottier@transat.com.
For Canadian Affairs, contact Paul Moroney at 0207 616 9158, or email him at paul.moroney@transat.com. As with other corporate contacts, it's a good idea to call during regular business hours only.
Lastly, for genuine emergencies leave a message at the following phone number: +1 514 987-1616, ext. 4662.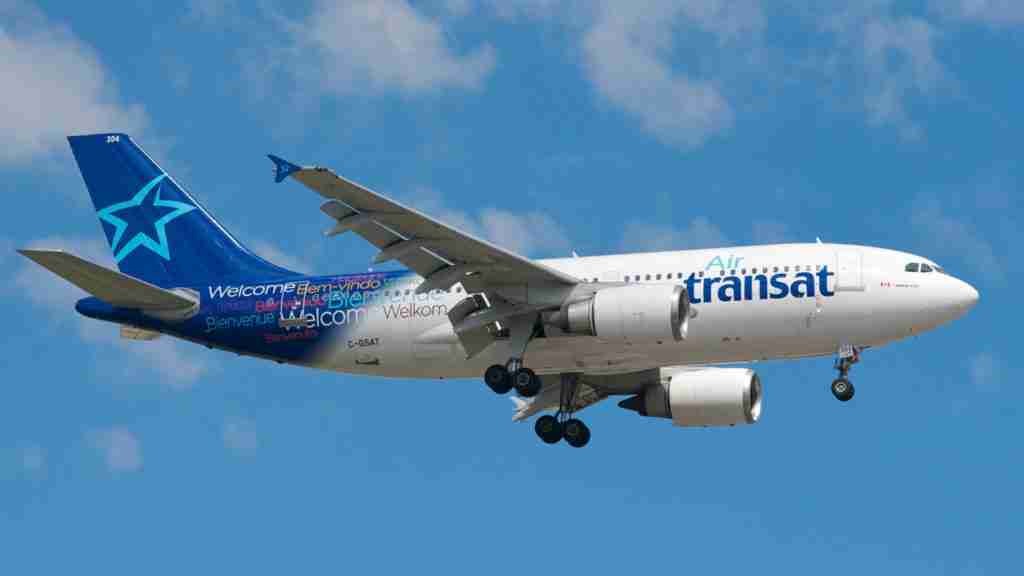 Partner Airlines and Arrivals/Departures
Travelers who need more information on Air Transat partner airlines can click here for additional information or access the webpage from the FAQ page under the "information on Transat partner airlines" heading.
Additionally, travelers can also find arrivals and departures for the next 48 hours by clicking here to access the flight schedule.
Customer Service Request Form
You can also find electronic forms to submit requests for information or share comments in the FAQ/Contact Us section. Or, you can click here to quickly access the forms.
There are 3 different form categories, and each subcategory has its own form. These are the quick links for each form:
Preparing for My Trip forms
Use these forms before your actual travel date. Please note that if you are military personnel you need to submit your military form at least a week prior to traveling. This is so travel privileges can be arranged for you.
Additionally, note that the baggage form in this section is for general questions, not for claims or tracing.
During & After My Trip forms
If you have questions or comments while you are traveling, or afterwards, fill out the appropriate form below.
Other issues
Unfortunately, the website does not have contact information for technical difficulties on the website. But, the following forms are for miscellaneous concerns that may not fall under any other category.
Submitting Your Resume
Additionally, you can submit your resume directly to the human resources department for Air Transat at emplois@transatcom.
Corporate Responsibility
For comments and questions about environmental development, sustainability, philanthropy and community support, email transat@transat.com. And, use the subject line "Corporate Responsibility website."
Flying to and from the USA
If you used Air Transat, but flew to/from the USA, you can address comments and complaints directly with the US Department of Transportation Aviation Consumer Protection Division, or ACPD.
Use one of the following contact details to contact ACPD:
Aviation Consumer Protection Division, C-75
U.S. Department of Transportation
1200 New Jersey Avenue, S.E.
Washington, DC 20590
USA
Log onto the Aviation Consumer Protection Division website here, and select the appropriate category.
You can also call the ACPD offices directly by dialing +1 202 366 2220. Or, if you are hearing impaired, the TTY phone number is +1 202 366 0511.
Transat Customer Relations Department
Finally, if you've already taken your flight or come back from a tour and have an issue or compliment, you can address them to the Transat Customer Relations Department. Alternatively, you can also fill out the appropriate form from the FAQ/Contact Us page.
Email: customerrelations@transat.com
Toll free: 1-800-387-2672
Fax: 1-866-828-6099
Mailing Address:
Transat
ATTN: Customer Relations Department
300 Leo Pariseau, Suite 500
Montreal, Quebec H2X 4C2