Air China Limited is a well-renowned flag carrier of the People's Republic of China. It is one of the most important airlines in the region with flights catering to 102 million passengers across the world. Air China's main head office is located at Beijing Capital International Airport.
The airline was established on 1 July 1988, when the Chinese government split the Civil Aviation Administration in China (CAAC) into six airlines. Quickly, Air China became one of the largest shareholders and rose to popularity.
In 2013, Air China launched and tested wireless LAN on the flight during its 25th Anniversary. While it previously offered free Wi-Fi to passengers on the flight, it now uses global satellite internet for passengers within Mainland China.
The airline's route network stretches across Asia, North America, Western Europe, and the Middle East. In 2019, Air China remained one of the World's Most Influential Brands in the world. The company takes pride in its legendary logo that entails a bird being worshipped and celebrated. It's a symbol of happiness and luck.

Air China treats its customers with the highest regard. With the company's principles rooted in ancient Chinese morals, Air China knows how to keep its customers happy and satisfied. Keeping up with the times, the airline offers many channels through which passengers can express their queries, concerns, and complaints.
If you're a Canadian citizen flying with Air China, then keep reading. Here's a detailed guide on how to get in touch with a representative for any questions or complaints.
Air China Customer Support
Air China is a global leader when it comes to its unbeatable flight experience. Even though it is a Chinese company, the website caters to customers of different countries across the globe. Once you click on its website, you can choose your country and language. You will then be directed to the personalized website.
Air China for Canada
Air China offers a user-friendly website for Canadian passengers. With a hotline and search bar right at the top, customers can quickly find what they're looking for.
The website's main page is visual, displaying common customer queries like Ticket, Refund, Guidelines and Flight Cancellation.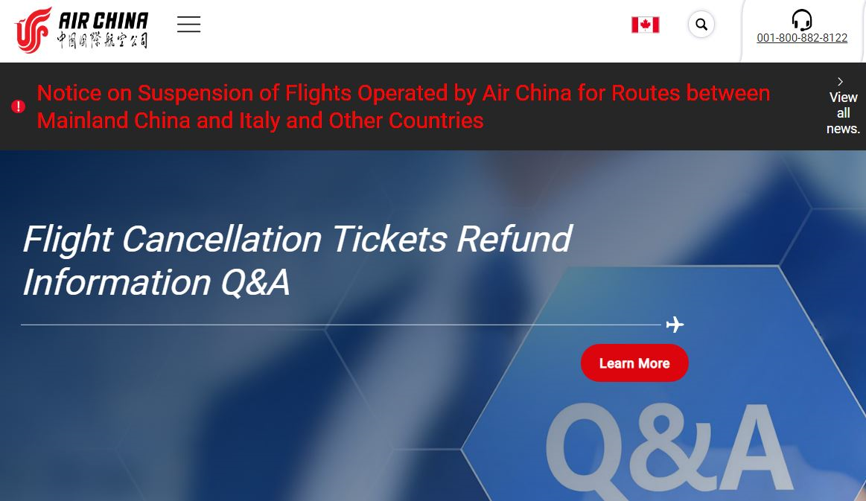 By clicking on the topic of your choice, you will be re-directed to an informational Q/A section. For example, if you've booked a flight from Vancouver to another country, but wish to cancel it, this is the section that will guide you.
With the step-by-step process to get your ticket refunded, Air China offers an easy and helpful network to its Canadian passengers.
Online check-in
As you scroll down the main page, you'll find a quick and easy option for searching and checking in your flight. You can book a flight from or to Vancouver from anywhere across the world through Air China.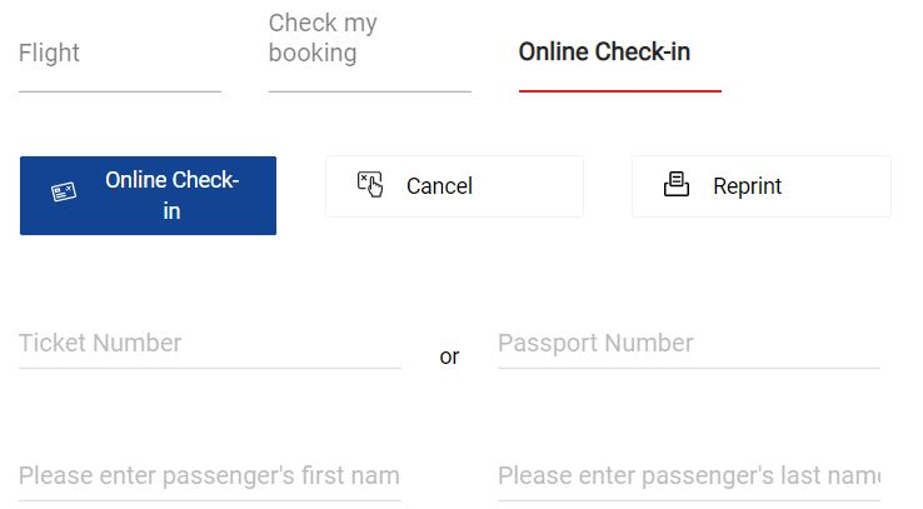 You can also do an online check-in by entering your ticket details. This way, Air China makes it easy for you to pick your seat without any hassle.
Travel Deals Guide
Air China also offers attractive travel deals for customers traveling to or from Montreal, Toronto, Calgary, and Edmonton. The website displays economical rates and the cities it's offering a flight from. If you're visiting any of these places, this is the section to visit.
Reserve a Seat
Air China also gives its customers an exclusive option to book a seat in advance. You can download their app or dial 95583-1-2 to book a seat directly. Air China understands the disappointment of losing the best seat and therefore, offers advanced bookings.
Air China Call Center
Air China has a separate helpline for different countries. For Canada, you can call on 1(800)-882-8122. By dialing this number, you will be directed to a representative who can further answer your queries and concerns.

The service hours are from Mon-Fri, from 6:00 am to 9:00 pm, and Sat-Sun, from 7:30 am to 4:00 pm. The call center service is available during the most crucial hours of the day. If you have trouble with flight cancellation, baggage claim, or want to know the head office address in the city you're calling from, this is the number to dial.   
The page also offers numbers for China, Europe, and Russia. If you're a Canadian passenger who is in either of these countries, you can access the helplines from here.
E-mail support
Additionally, Air China also offers prompt e-mail support to its customers. Their universal e-mail is ffp@airchina.com.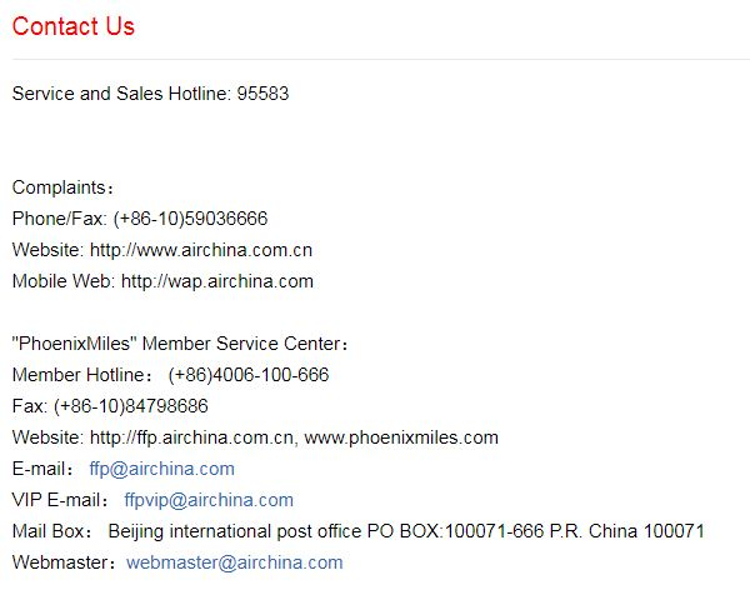 If you think it's more appropriate to drop them an e-mail before your actual flight date, then contact them at this address. Air China is extremely responsive and will assign an assistant to get back to you with answers.
Passenger Feedback
The main website also encourages its passengers to provide feedback. Air China takes its customers' opinions very seriously and aims to better its services each time. You can call them or e-mail them at customer_relations@airchina.com.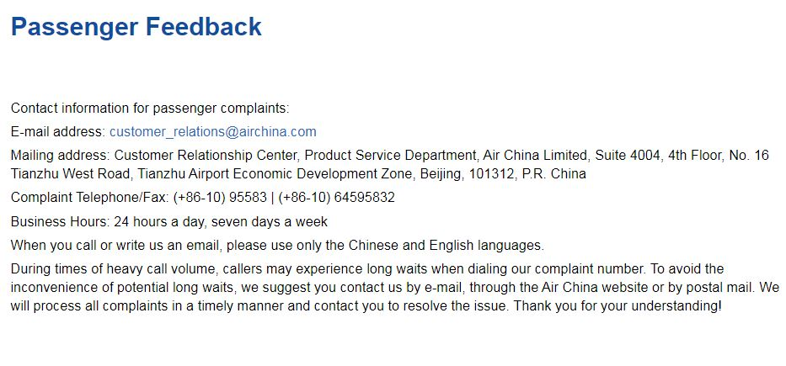 This feedback is received by the chief authorities of the airline and is always greatly valued. If you want to compliment the flight experience or menu or express an issue you faced, you can do so through customer feedback.
FAQs
Air China's website also has a separate page with helpful FAQs for passengers. If you want to make changes to your ticket, get a ticket refund, or buy a ticket online, the FAQs section will give you the guidelines.
The FAQs section has a variety of topics like baggage, API information, check-in, and special services. Each section answers all the questions you may have.
Social Media
As a global leader, it only makes sense for Air China to be omnipresent when it comes to social media. You can get in touch with them through Facebook and Twitter. Their social media handles are usually active and they interact with customers by always updating their pages with flight deals, discounts, and fun tourist spots.
Air China understands the value of its customers. It communicates with its customers through a user-friendly and interactive website, feedback forms, and a detailed FAQs page. You can use the contact information mentioned above to get in touch with an Air China representative.