Do you feel like modern love in the age of the internet is easier? But at the same time, do you also feel that meeting a potential partner is always an annoying process? What if you had the power to control who you meet and how?
Well, this is where Bumble comes in.
Founded by Whitney Wolfe Herd in late 2014, Bumble prides itself on being a women-centric dating app. Herd founded it on the premise that women should be able to 'make the first move.' And so, Bumble allows women to message first and initiate conversations with their potential love interest.
As of 2017, Bumble has allowed for 1.5 billion first moves.
Currently, Bumble is much more than a dating app. It has evolved into a networking platform. Used for business networking (Bumble Bizz) and finding platonic relationships (Bumble BFF), it has taken over the global market with its presence in almost 150 countries.
How to Get in Touch with Bumble Customer Care Services
Bumble, although primarily used in the form of an app, also has a website. It includes everything from making the first move (you will have to sign in or create an account) to a blog. It also offers multiple customer support services online through this website. Customer services offered include:
Contacting Bumble
Bumble's webpage includes a 'Contact Us' feature at the bottom. It contains four different options, depending upon your issue. However, the website does not feature an official email or landline to talk to a customer representative directly.
But that does not mean that your issue cannot be solved. Here are four options.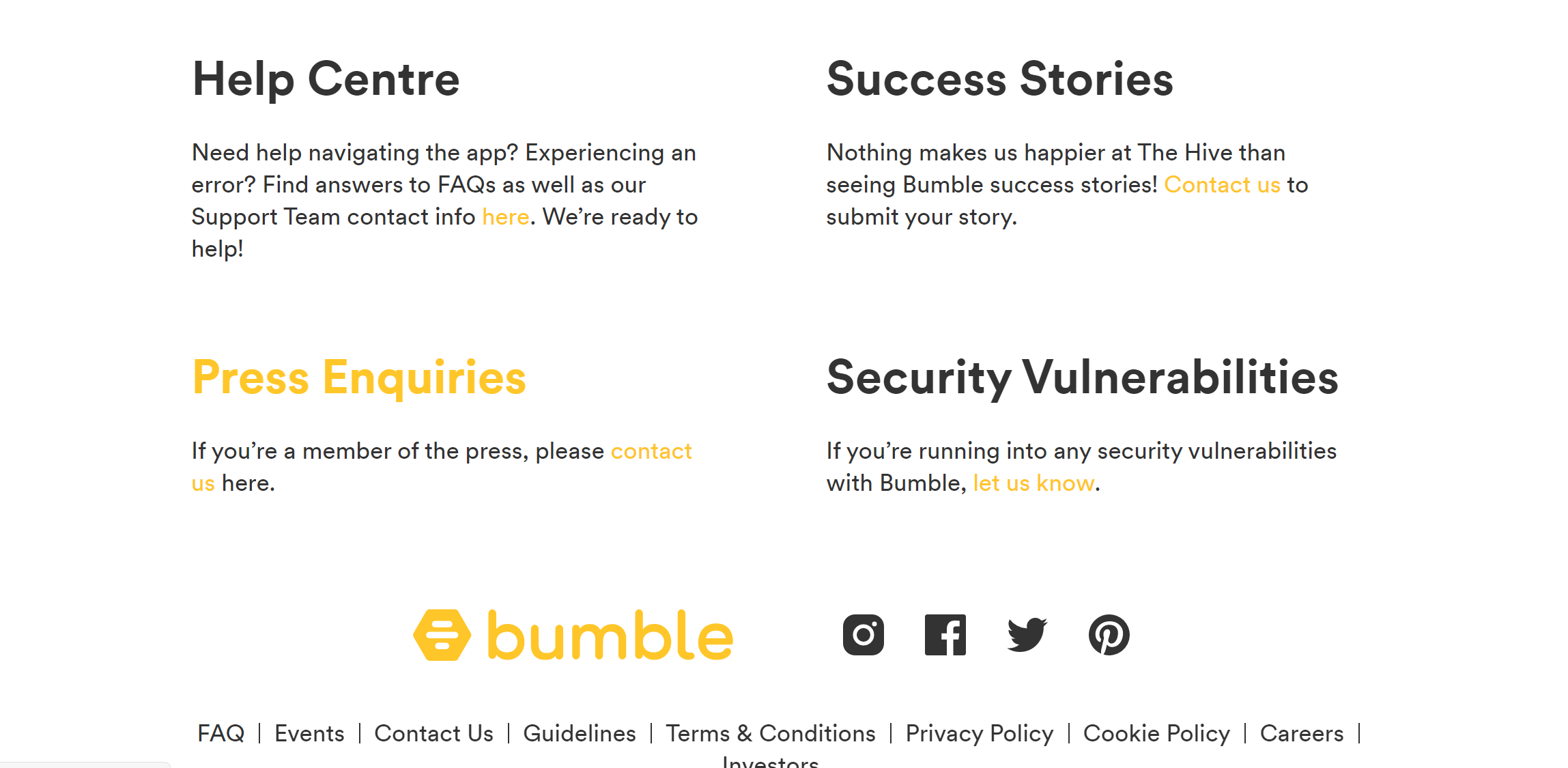 Help Centre
Help Centre includes a list of popular questions that the Bumble Team has compiled. However, there are three areas where you may need help. If you're having problems with Troubleshooting, such as signing in or cropping photos, you can use this option to go through an updated step-by-step guide.
Similarly, if you are concerned about your Privacy and Safety, such as reporting an abusive message, then you can file your report here. This is a general form that most sub-pages of Bumble lead to. You can use the form for general queries, FAQ's or just getting to know more about Bumble.
If you are totally new to Bumble, there is a crash course available by the name of Bumble 101, which includes all your first-timer questions.
Success Stories
Of course, no dating app is complete without informing about its successes in finding love. If you're someone who has a success story (not just love, it could be finding a business partner, etc.), then you can fill out this Typeform.
Press Enquiries
If you're someone from the media and have any queries regarding Bumble, you can fill out this form to contact the Bumble press team. It asks for your name, email and, the publication of which you're a part of. However, Bumble's press team will only get in touch with you if you're part of the media, so don't forget to include your publication name!
Security Vulnerabilities
If you suspect your data is compromised and the Bumble team needs to be involved, then you can fill out this form. A good feature of this form is that it lets you select the 'severity' (Low, Medium, or High) of your issue, which will expedite the teams' response.
If there are any issues that you feel need the Bumble team's involvement, then filling forms on their website is the best way to go.
FAQs
The FAQ page is an extension of the Contact Us page. If you're someone who does not need customer support but has questions regarding Bumble, then this page is for you.
Apart from an existing list of anticipated questions, you can also type out your queries in the type box.
Careers
Bumble's Career page offers opportunities for which you have to click 'Join Now.' It leads to a variety of open jobs that are listed worldwide, each with its description. All you need to do is click 'Apply Now.'
Apart from this, Bumble's Career page also offers other things apart from jobs. It gives an insight into Bumble's values, its team culture, and the benefits it provides to its employees.
While some may say that Bumble's customer service should include a direct email option or a phone number, it operates in 150 countries. A website is a good option since it contains everything in one place. You need to know what to look for and navigate the website accordingly.
Social Media Presence
Bumble is present on almost all social media except for LinkedIn (which is understandable since it is a networking site too). It can be followed by the handle @Bumble on all social media. Currently, it is present on Instagram, Facebook, Twitter, and Pinterest.

As is the case with social media, anyone with any type of complaint or query can DM (direct message) or Tweet. A good feature of social media is that you can be anywhere globally and still contact a customer services representative on their social media accounts.
Bottom Line
Just the idea of a women-centric app is great. It not only shifts the ever-present dynamic of men making the first move, but it also provides an opportunity for people to connect outside the ambit of love and relationships.
Moreover, Bumble's customer support services allow for every kind of problem to be streamlined and dealt with easily on one outlet – their website.