Does getting to know someone romantically feel like a chore? Does it feel too mechanical? Well, it doesn't have to be this way at all. Join Plenty of Fish for an immersive, flexible, and fun online dating experience!
Plenty of Fish is one of the early pioneers and most established Canadian platforms in the online dating industry, with one of the biggest and most diverse communities of singles.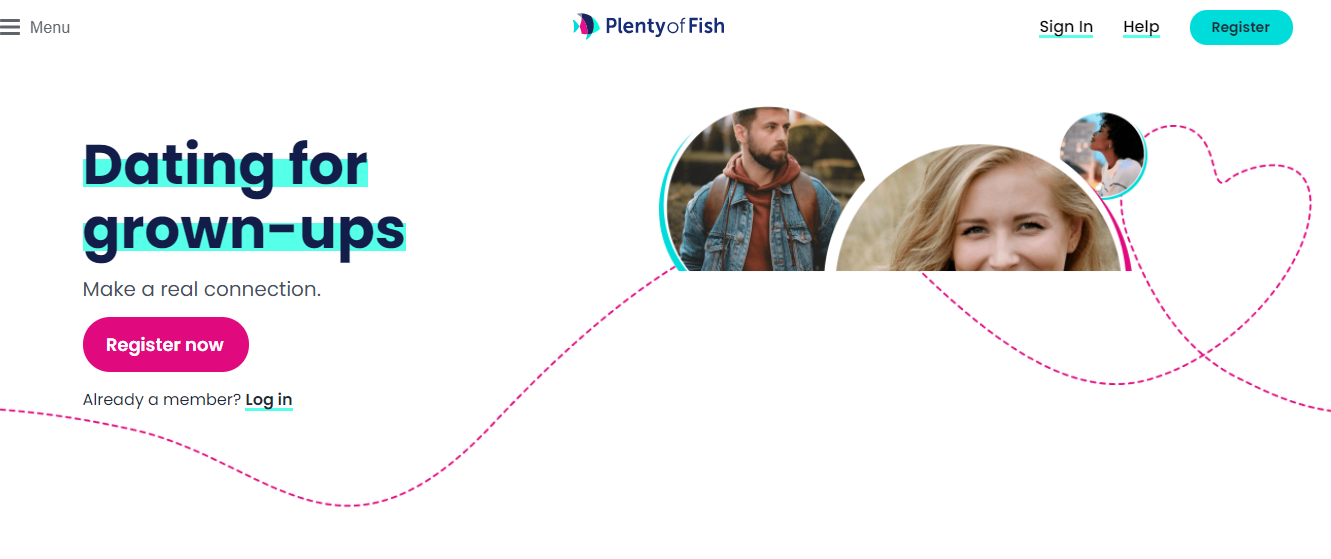 Founded in 2003 in Vancouver, British Columbia, Plenty of Fish is deeply passionate about creating and nurturing relationships by offering its members a low-pressure, flexible user experience. It allows singles to discover the love they've been looking for!
The company strongly believes in building a community where individuals feel no pressure to be anything other than their authentic selves. It upholds this principle by banning the use of face filters to ensure that people can move beyond the superficialities and focus on building meaningful, real connections.
Plenty of Fish is now available in more than twenty countries on iOS and Android devices, and you can use the app in eleven languages. This dedication to making the platform as accessible as possible is an essential part of the company's customer service. You can further benefit from its exemplary customer care services via its official website.
How to get in touch with Plenty of Fish's Customer Support Services
Plenty of Fish is committed to providing its members with an exceptional experience. To ensure this, the company has immaculate customer support services in place. Let's take a look at how Plenty of Fish facilitates its members:
Plenty of Fish's Contact Information
If you need to get in touch with Plenty of Fish in whatever capacity, you should reach out to the company via email. Send your query, concern, or suggestion at:
A customer care representative will get in touch with you and resolve your query as soon as possible.
Additionally, the company explicitly states that it does not have phone service. So, if you find any support service number in a Google search, remember that it's not the company's official line.
Moreover, if you are a member of the media and would like to gather more information about the company, such as company policies, new updates, guidelines, safety measurements, dating insights, and more, please get in touch with Plenty of Fish on:
This email address is strictly for media inquiries.
Help Center
Plenty of Fish offers its members a handy Help webpage, where you can enter your search query in the search bar to find relevant answers. You can also navigate the drop-down menu on the page to access the help options, including:
Each of these webpages has topics that have numerous categories that you can browse, and if you want to find what you are looking for, you can simply click on the category.
The webpage will direct you to a helpful webpage that will answer your query or concern. If your concern remains unaddressed, you can contact Plenty of Fish via email at:
Dating Safety Tips
Plenty of Fish has a comprehensive webpage dedicated to ensuring the safety of its members. The company wants you to follow its safety guidelines and security practices. This webpage provides you with detailed tips to ensure your online and real-life safety.
The company urges you to report your concerns about any suspicious behavior exhibited by any profile by contacting:
Additionally, this webpage has a detailed section on sexual health and consent along with numerous resources that can provide you with the help you need.
Social Media Presence
Plenty of Fish is quite active on numerous social media platforms as well, such as:
You can follow the company on these platforms to stay up to date about its policies, learn about the inspiring stories of its customers who were able to find love, and entertain yourself from its fun and creative posts, stories, and videos.
You can also reach out to Plenty of Fish's customer service representatives by messaging them directly on these platforms.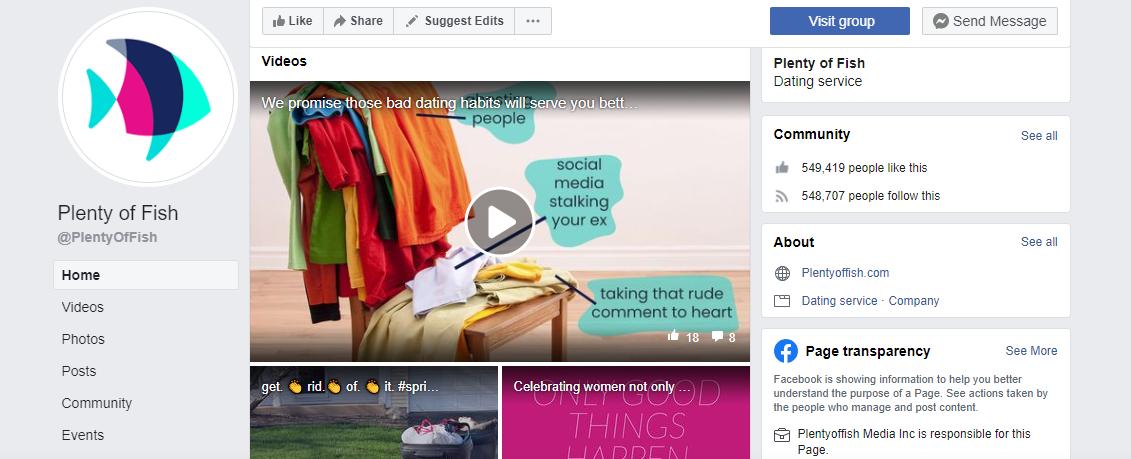 Similarly, you can interact with them by commenting on the company's posts, tweets, and videos. You can also watch the video content that Plenty of Fish regularly posts on its YouTube channel. It will also give you an excellent opportunity to interact with the community of its members in the comments.
Success Stories
Plenty of Fish has a helpful and uplifting webpage dedicated to all the success stories of couples who met through the company's platform.
You can simply click on a couple's picture to read their story. You can also submit your story to the company to be featured on its website. All you have to do is fill out the form on its website by entering your name, country, partner's name, province, relationship status, story, and a picture of you and your partner.
You can also choose if the company can use your story for marketing purposes and share it with other Plenty of Fish members.
Plenty of Fish's Blog
Plenty of Fish also has a fun, active, informative, and creative blog that covers numerous trending topics in the dating world.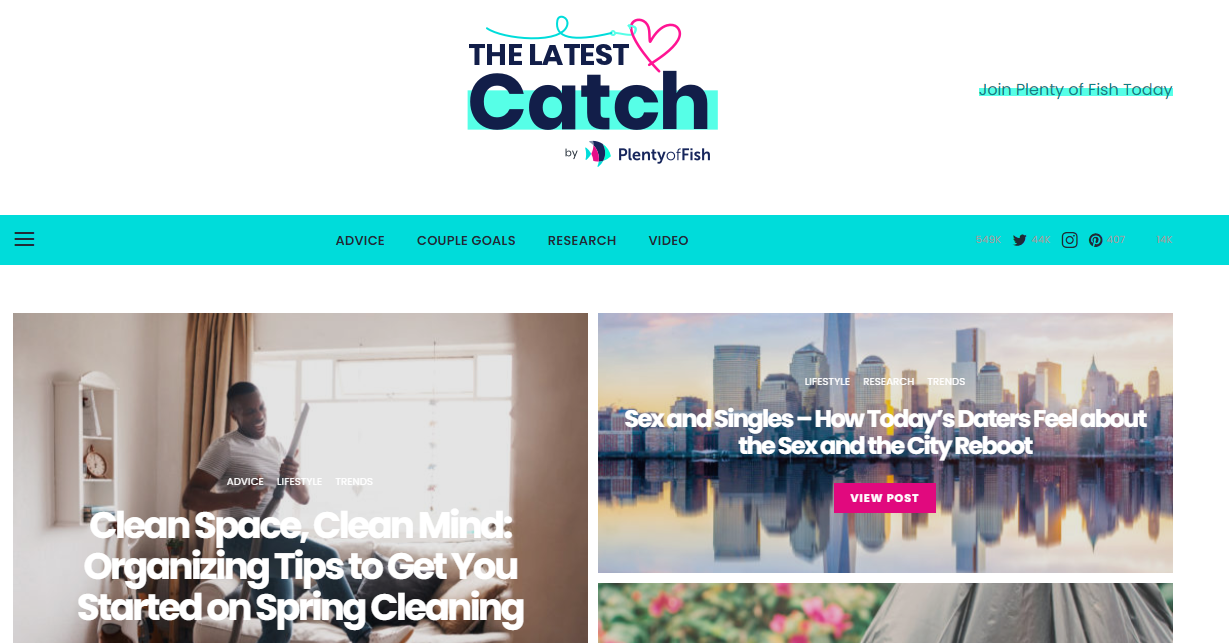 It is divided into four different categories:
Each of these categories has many different blog posts covering a whole host of important topics that you can read all about on the website. You can also scroll down the main blog webpage and access the trending topics across all categories.
The company also gives you the option to subscribe to its handy blog posts on dating tips. All you have to do is scroll to the bottom of the webpage and enter your email address in the subscription tab.
Plenty of Fish Community Guidelines
The company also has an extensive webpage dedicated to its community guidelines. This webpage is designed to ensure that its members feel safe when using the company's platform.
It details every rule that Plenty of Fish expects its members to follow and includes a code of conduct that the company expects you to uphold.
Career Opportunities at Plenty of Fish
If you're looking for a job opportunity at Plenty of Fish, you can access the company's "Careers" webpage. It has all the details that you need to know about the company, its work culture, and the benefits that it offers to its employees. You can take a look at the current job openings at the company to see if you qualify for any of them.
The Bottom Line
Plenty of Fish is one of the most widely used online dating platforms in Canada and other countries. The company focuses on creating an authentic, flexible, and fun user experience for its members. It strives to provide them with seamless customer care services and facilities via its website, email correspondence, and social media platforms.